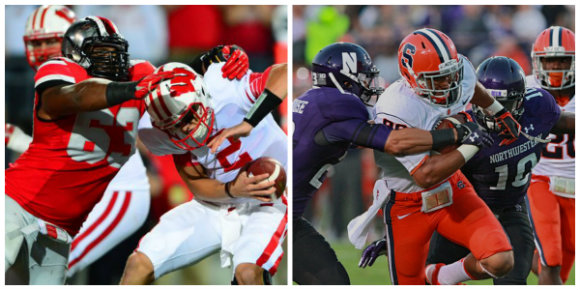 This week we'll turn all of our attention to Northwestern, who is likely the Buckeyes' only remaining challenge until the Big Ten Championship. While we wait on the results of the Wisconsin game charting project, I'll preview Northwestern's exciting offense and uninspiring defense.
Northwestern brings the fourth-best scoring offense in the Big Ten (which has done surprisingly well on offense so far this season) with 41 points per game. Their defense? Not as much. The 52nd-best scoring defense is 119th in the country in passing defense. 
The Northwestern Defense
Yesterday Kyle reported from practice that,
Northwestern has struggled against the pass, allowing more than 300 yards per game. Miller said Ohio State has some packages that can exploit holes in the Wildcat secondary.
I have no doubt that Meyer and Herman have drawn up a few route packages to exploit the mostly vacant Wildcat secondary, but even a vanilla passing offense should be able to find some success against the Wildcat defense.
The Big Ten's Stats Guy likewise believes that the Gameday matchup will come down to the Ohio State passing offense vs. Northwestern secondary, giving the undeniable edge to the Buckeyes. He notes that, 
Despite Northwestern's aforementioned struggles against the pass, it has allowed just two touchdowns on play-action. Forcing turnovers in the air also has been a strength for the Wildcats, whose 10 interceptions lead the Big Ten and trail only Virginia Tech and Tennessee among FBS teams, with 11 each.
While Miller (and Guiton) might need to watch for aggressive coverages and defensive backs eager to trigger on screens and short passes, the randomness of turnovers (especially fumbles) can hardly be overstated. 
However, of the cellar-dwellers in pass defense (including Colorado, Air Force, and Nebraska), Northwestern actually has one of the lowest yards per attempt at 6.2. Most extremely poor pass defenses have an opponent YPA over eight, indicating that opposing offenses 1. throw early and often against Northwestern, and 2. completions are generally shorter rather than long touchdowns. In fact, Northwestern has only allowed 15 passes of 20+ yards. Ohio State has allowed 11 (though besides Cal, neither team has played a proficient passing offense). 
Who Has the Better Offense?
While Northwestern's offense has received a considerable amount of hype on the way to this matchup, the Football Outsiders' S&P ratings have Ohio State as the (albeit narrow) favorite. 
|   | Succ. Rate | PPP | Rush S&P | Pass S&P | STD. Downs | Pass Downs |
| --- | --- | --- | --- | --- | --- | --- |
| OSu Offense | 52% (9) | .68 (14) | 1.1 (15) | 1.3 (18) | 1.2 (22) | 1.25 (7) |
| NW Offense | 50.9% (13) | .62 (21) | 1.05 (20) | 1.3 (19) | 1.3 (8) | .8 (81) |
While posting nearly identical numbers across the board for most categories – Ohio State and Northwestern are the 18th and 19th-best passing S&P offenses, respectively – the Buckeyes gain a big lead in passing downs S&P.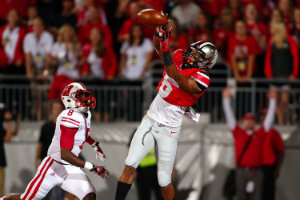 Passing downs are defined as second down and more than eight yards to go or third and fourth down and five or more yards to go. Interestingly, the Northwestern third down conversion rate is fairly high at 51.7% (which is higher than Ohio State's).
Essentially, get Northwestern in to long passing situations and it will struggle. Yet isn't this true for almost any offense? 
With the return of Northwestern's dynamic rusher Venric Mark, the Wildcats will be that much more potent on standard downs in order to avoid second and third down and long situations. 
However, the Buckeyes demonstrated a real ability to completely shut down the run against Wisconsin that I did not see coming.
If the Buckeyes can manage a similar performance against Kain Colter and Venric Mark then the Wildcat offense should struggle to convert passes that aren't of the screen or quick pass variety. 
Other Notes
Northwestern had a fairly close call against Maine, winning by 14 off of two interception returns for touchdowns. The Wildcats rushed 49 times and only passed 17 times between their two quarterbacks. 
The Buckeyes and Wildcats have one common opponent - Cal. Ohio State allowed 371 yards passing on 7 YPA while Northwestern allowed 460 yards and 7.1 YPA.