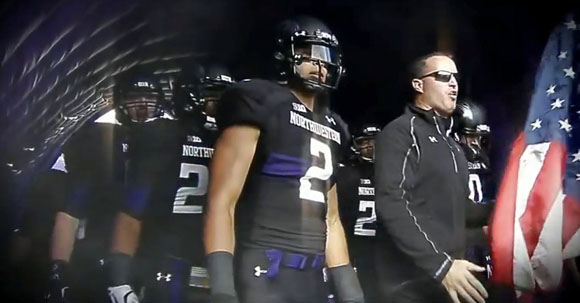 Urban Meyer is making his first trip back to Evanston since a signature win early in his career. His first game as Bowling Green's head coach resulted in a stunning win at Missouri, but the Falcons stumbled to three losses in the MAC. On Nov. 17, 2001, Meyer and Bowling Green were presented with another historic opportunity when they faced the defending Big Ten champions, Northwestern.
After four quarters, the scoreboard read: Bowling Green 43, Northwestern 42. And that scoreboard tells an incredible story.
The game was played in late November because the terrorist attacks of 9/11 canceled the original date. So the Falcons loaded the buses and headed to Evanston.
"Coaches are weird ducks, man. I don't know my address, but I can tell you every play in that game," Meyer said Monday.
Current Northwestern head coach Pat Fitzgerald was the Wildcats' linebackers coach that day. And funny things happen when you lose. Asked if he remembered anything about the day, he couldn't recall a single detail.
It was a back-and-forth game but only after Northwestern built a two-touchdown lead. From there, the teams traded points as if it were a basketball game. 
"It was a pretty memorable game," Bowling Green offensive lineman Dennis Wendel said. "It seemed like we were down the whole game, always playing from behind. Every time we'd score a touchdown to pull within seven, they'd score again and go up 14."
In the fourth quarter, the Falcons again pulled within seven. Even with plenty of time remaining, Meyer opted to go for the onside kick. The defense had offered little resistance all game, so defensive coordinator Tim Beckman unselfishly went along with the plan.
"It's one of those memories that you'll never forget as a player or coach," Beckman said this week, looking back the game.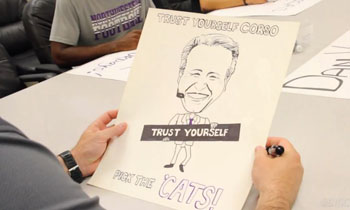 The Wildcats recovered the kick and as they were running out the clock, All-Big Ten running back Damian Anderson fumbled. Bowling Green recovered.
"All they had to do was get a first down to run the clock out," Wendel remembers. "It was a miracle we even got the ball."
The Falcons marched down the field to score a touchdown with 36 seconds left. But Meyer was going for the win, a decision that was made midway through the fourth quarter. Bowling Green was an innovative team and had several trick plays in its back pocket each game. The one they chose to run against Northwestern was called "Wildcat."
"We pitch it to a kid from Alaska (Cole Magner), and he goes in to score and we win," Meyer said.
Sounds easy, and according to Wendel, it was. Asked if the team thought the play would work, he didn't hesitate.
"Oh, yeah. Absolutely," Wendel said. "We had a lot of plays like that each week. We did fun things with formations all year. I don't know how many halfback passes and quarterback throwbacks we ran that season. Almost all of those plays worked."
Bowling Green quarterback Josh Harris finished with over 500 yards of total offense and was named the national player of the week. The Falcons walloped arch-rival Toledo the next week to finish the season at 8-3, a six-game improvement from the previous year's 2-9 record.
"It was basically Urban's big coming-out party," Magner said. "That's what I think makes Urban such a good coach. He really gets the most out of his guys. Maybe we had no business being in that game. But not a single player on the field felt that way. We always thought we had a chance to win, we always thought we were going to win. We'd be shocked if we lost."
The following year, Bowling Green started the season 8-0 and climbed as high as 16th in the rankings. Meyer took the Utah job following the season and has enjoyed two undefeated seasons and two national championships since. But all these years later, he still looks back fondly at that November 2001 day in Evanston.  
"We had a six-hour bus ride, and we refused to leave the locker room for about two and a half hours," Meyer said. "Those kids wouldn't leave and I wouldn't leave with them. We were just crying and enjoying it. It was an incredible comeback."
Said Wendel: "The locker room was mass chaos. We always sing our fight song, Ay Ziggy Zoomba, but you were scared you were going to get trampled. It was an unbelievable atmosphere." 
Opponent Breakdown
The anxiousness for Ohio State when scouting Northwestern starts and ends with the Wildcats' offense. Northwestern's dynamic spread offense is led by two quarterbacks, one that primarily throws the ball and one that's used more as a runner.
Trevor Siemian is the passer, completing 67 percent of his passes with four touchdowns and two interceptions. He's thrown for 671 yards in four games this season. Kain Colter, the runner, gets a majority of the snaps, but Siemian can be effective when called upon.
Colter has been a sensation throughout his career at Northwestern, literally doing it all, no matter the position. This season, he's rushed for 237 yards on 39 carries, a healthy average over six yards. But he's improved his passing, completing an astounding 77 percent of his passes. That completion percentage has kept defenses honest when Colter is behind center.
Linebacker Curtis Grant admitted that the Wildcats are a little easier to defense since each quarterback has their specialty. But head coach Urban Meyer sees the challenge awaiting Ohio State.
"I don't think we're going to play them much different," he said. "Of course, the one's a little more run heavy and you have to be aware of that and the other's more pass-heavy, but it's not drastically different as far as their ability."
Combined with running back Venric Mark, Northwestern possesses one of the top backfields in the Big Ten. The senior suffered a leg injury in the season opener at Cal, but he's expected to return against the Buckeyes. He rushed for 1,366 yards and 12 touchdowns during the Wildcats' 10-win season in 2012. Mark doubles as the active career leader in punt return average.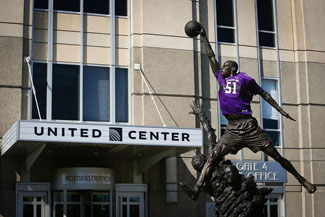 "We just got another weapon on our offense," wide receiver Tony Jones said. "At any given moment, Venric can make a big play. That's definitely going to be helpful on Saturday."
Fitzgerald referred to Mark's return as "a heck of a free-agent pickup." It certainly left Colter happy. His job is to get the offense humming, and with Mark playing alongside him, that task becomes a whole lot easier.
"He's going to make a guy miss and get some yards," Colter said. "He has a chance to take it the distance every play. It's going to be great [having him back]. It's going to help our offense."
Northwestern runs a similar offense to Ohio State, and the Wildcats are sure to watch film of the Cal and Indiana games of recent past. Both games show that the Buckeyes struggle when opponents get in space. But what about the Northwestern defense?
The unit isn't particularly eye-catching. The Wildcats give up 300 passing yards a game, but they also have 10 interceptions, including four pick sixes. Northwestern leads the Big Ten in takeaways by a wide margin. It's getting plus-three per game.
The struggles in the secondary exist because of every coach's nightmare – youth, inexperience and a lack of depth. The Wildcats are playing all underclassmen. Pressure on the defensive line could provide a boost for the maligned unit. Defensive lineman Tyler Scott has three sacks a year after recording nine.
Allowing big plays to the Buckeyes could be the backbreaker Fitzgerald fears most. Ohio State's offense has a boatload of playmakers who can step up at a moment's notice. Their 48 points per game average isn't by accident. Ten touchdowns have come on what coaches would define as "big plays" – those of 25 or more yards. Northwestern ranks 11th in the Big Ten with eight touchdown passes thrown against them.
Two Wildcat linebackers to keep an eye on are Damiem Proby and Chi Chi Ariguzo. Proby, incredibly, has two pick-sixes on the season, while Ariguzo is Northwestern's leading tackler with 35 stops. He's averaging nearly nine tackles per game and finished with a career-high 12 in the Wildcats' last outing against Maine.
A key in most big games is to score early. When you're the road team, it helps take the crowd out of the game, and when you're playing at home, it keeps the fans loud and boisterous. An early touchdown by the Wildcats on Saturday night would send Ryan Field into hysteria. Ohio State hasn't trailed all season and could become rattled.
Buckeye Breakdown
Wacky, turbulent, you name it. The past several weeks for the Ohio State Buckeyes has been nothing short of newsworthy. With the Miller-Kenny Guiton debate coming to a halt, normalcy is now taking over the Buckeyes.
Meyer and Tom Herman admitted they were worried during Miller's three-game absence. They feared Miller would be out of sorts when he eventually returned. Maybe he'd be timid, too. Instead, Miller thrived against the best defense Ohio State has faced all season.
"I don't think he's been set back as much as I was worried that he would be," Herman said.
Miller threw four touchdown passes against the Badgers and he entered Saturday's showdown at Northwestern filled with confidence. He knows big games are the moment to prove yourself individually and as a team. During his career, the spotlight games are when Miller has come up the biggest.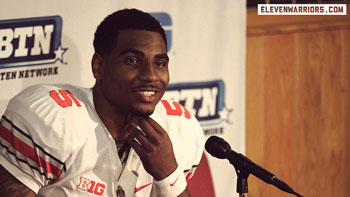 This week, he gets to face off against a Wildcat secondary that's struggled. One week ago, Miller's four touchdown passes occurred on a defense that had given up zero touchdown passes all season. He said the offense has some formations that can exploit Northwestern's deficiencies.
The Buckeyes already have 19 touchdown passes on the season, two more than all of last year. The school record could come down in October. In 1995, Ohio State had 33 touchdown passes.
"We couldn't do that last year," Meyer said. "There were games I refused to call it because they were going to be covered and we couldn't throw it. Now, this Saturday, we are going to try the same thing. That's a big part of who we are."
A big part of who the defense is will be on the sideline. Christian Bryant's season-ending injury cast a major shadow over a big win last Saturday.
"Honestly, I didn't even enjoy the win," safety C.J. Barnett said.
Meyer called it a "sucker punch." But the team realizes the season must go on and injuries are part of the game. The goal now is to find a replacement and rally. Bryant wasn't just a good player but also a solid leader. Someone, or even multiple players, must step up.
"Our job is to be prepared," Meyer said. "It's going to be hostile. It's a big game for them, but I've got news, it's a big game for us, too. There are two teams out there playing for a lot."
On Saturday, Bryant's coverage ability and statement tackles will be missed. With Northwestern's up-tempo offense geared on attacking the secondary and finding space, a big-hitter becomes an asset.
"Pitt Brown is going to be in his place and Tyvis Powell and Vonn Bell – those are the three people you're going to see start running around out there," Meyer said. "There's no secret formula. Someone's got to step up."
How it Plays Out
Ohio State lost to Northwestern in 2004. Since then, the Buckeyes are 4-0 against the Wildcats, winning by an average margin of 43 points – 52-9. Ohio State has won 28 of 29 games against Northwestern, dating all the way back to 1971.
Saturday presents a monumental opportunity for the Wildcat football program. They're coming off a 10-win season, finally won a bowl game and now they get all the national attention that comes with College GameDay and a primetime TV slot on ABC.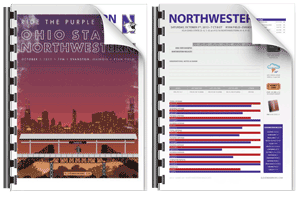 Past history points to a Buckeye win, but history isn't playing on Saturday night. Northwestern is a football team that's on the rise, armed with legit football players. For so many years, everyone in Big Ten country is used to seeing an overmatched Wildcat team, even with the back-to-back Big Ten titles in 1995 and '96 and another in 2000.
Fitzgerald, an All-American on the conference championship teams of the 90s, has turned the program around. And this time, it doesn't look like a couple year stay. He and the program are in it for the long haul.
Saturday night just doesn't figure into the plans. Ohio State is in the midst of a 17-game win streak and on a mission to the national championship game. Fitzgerald is only 2-6 against top 10 teams during his eight-year career, while Northwestern has lost its last 36 games against top-5 opponents.
The Buckeyes have outscored opponents 116-21 in the first quarter this season. Another quick start in a hostile environment would quiet the crowd, though Ohio State is expected to have 10-15,000 fans in attendance.
A fully healthy Miller and a bevy of offensive weapons should win a game that could evolve into a shootout. The bottom line: the Silver Bullets can slow down Northwestern's offense, but the same task for the Wildcat D presents a significant challenge.
---
ELEVEN WARRIORS STAFF PREDICTION: Ohio State 40, Northwestern 24