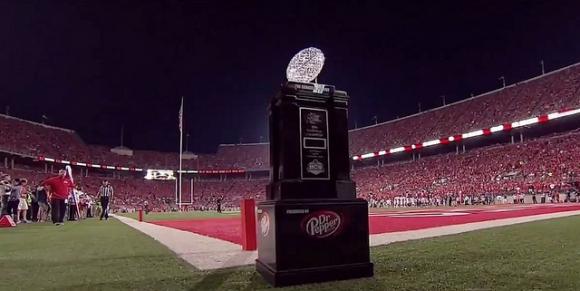 The best thing about being 5-0 is a chance to go 6-0. Those are the words of Urban Meyer. He utters a similar phrase each Saturday and again on Monday. Notice the simplicity of it all. Wins, nothing else.
Ohio State is undefeated and ranked in the top 5. Still, there is grumbling around Columbus and the rest of the nation. Saturday night's 31-24 win over a ranked opponent wasn't enough to excite fans and pundits. For Meyer, the win was just fine.
"I heard something about style points," Meyer said. "We're not really concerned about that – we won the game."
He'll leave the style points to gymnasts and runway models. This week presents another opportunity for the Buckeyes to extend their nation's best win streak to 18 games and make college football fans around the country respect them a little more.
Northwestern is 14-3 in its past 17 games, undefeated in 2013 and ranked No. 16 in the country. College GameDay isn't in Evanston just for show, it's located in Chicagoland because it's the game of the week, featuring two of the sport's best.
Still, the perception of Ohio State is similar to that of 2007 and 2008 in the wake of national championship defeats. One sign prominently displayed at GameDay last week in Athena, Ga., read "Overrated" with a play on the Buckeyes' logo.
Many thought the Wisconsin game was an opportunity to light up the scoreboard against a quality opponent. Ohio State has few challengers standing in the way of an undefeated season, both a luxury and deterrent. In the age of the BCS, winning impressively is better than just winning. College football is part barbarians, part beauty pageant.
A 31-14 lead in the second half over the Badgers looked like it could swell into 38, 41 and 48. But alas, the Buckeyes failed to add to its lead, holding on for the seven-point victory.
"Do the fans want to see everything they saw in the first quarter in the fourth quarter? Absolutely," offensive coordinator Tom Herman said. "Good for them. But it's not going to happen. We have a responsibility to win the game. We don't have a responsibility to put up 'x' number of points or 'x' number of yards. There were certainly very justifiable reasons for approaching the game the way we did there in the fourth quarter."
No. 1 was turnovers. Meyer said the only way Ohio State was going to lose the game was by turning the ball over.  So Tresselball once again made an appearance in Ohio Stadium. The Buckeyes threw a grand total of eight passes in the second half and punted four times. Cameron Johnston was one of the players of the game, pinning Wisconsin inside the 20 on all six of his punts.
The Buckeyes haven't exactly been the Mariano Rivera of the 2013 college football season. The Badgers were the first true challenge, but Ohio State's ability to close string has been non-existent so far. Even with good field position in the second half Saturday, the Buckeyes couldn't and chose not to move the football.
"Every time we had the ball was near the midfield area, and we have a very good punter. I trust our guys that we are going to down that ball and we are going to make them drive it 90 yards," Meyer said.
On Wisconsin's final position, Johnston boomed the ball inside the 10, and the Badgers were only able to return it three yards. That set up the scenario Meyer spoke of: 90 yards to tie the game. It didn't come close to happening.
In a field position game, the Silver Bullets, a unit that's been chided, rose to the occasion and made the Wisconsin running backs irrelevant. The goal was to force Joel Stave to beat Ohio State with his arm, and while he had success throwing the football, he still came up short. Mission accomplished for Luke Fickell's gang.
"Would we have liked to convert maybe a few more third downs and keep drives alive? Absolutely," Herman said. "But I think what gets lost is the offense and defense and special teams, they're not mutually exclusive. We all work together. And when you've got a 17-point lead in the fourth quarter, the way you approach how you're going to call the came changes significantly. I would think any football coach would tell you the same."
So don't expect Meyer or Herman's strategy to differ anytime soon. They may listen to the DubCast and read articles on Eleven Warriors, but they're steering clear of the forum.
"There's a reason there is talk radio and message boards and everybody in here has a job," Herman told reporters. "And that's to discuss things that are probably never, ever, ever discussed in the staff room. You guys decide to lose sleep over it, and that's fine."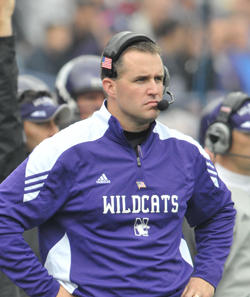 Purple Haze
While Northwestern was enjoying it's bye week, quarterback Kain Colter was busy watching college football, even rooting for a future opponent. With his eyes trained on the Horseshoe, Colter cheered on the Scarlet and Gray – because he wanted College GameDay to travel to Evanston.
His wish was granted.
GameDay will be in Evanston for the first time since 1995. Also appearing on the Wildcats' campus is Mike and Mike. The show will broadcast live from Deering Meadow on Friday. Co-host Mike Greenberg is a Northwestern alum.
Just how big is Saturday's game? The average ticket price is $162 – for a Northwestern home game. It's uncharted waters for the small, private school that's routinely been a Big Ten whipping boy. But under the guidance of head coach Pat Fitzgerald, the Wildcats are now one of the conference's best.
Saturday marks arguably the biggest home game in school history.
"I'm not gonna lie, this is a game I circled on my schedule just because I haven't played these guys before," Colter said, a strange fact. Ohio State and Northwestern went four seasons without playing.
The excitement in and around Chicago has reached a fever pitch. Fitzgerald, a straight-laced, no non-sense coach, admitted that he's having a hard time blocking out all the chatter surrounding the game.
Northwestern has had two weeks to prepare and deal with all the hubbub. They last played on Sept. 21, a 35-21 win over Maine. Since the final whistle, all the attention has been focused on the Buckeyes.
"I think you embrace whatever it is that comes along with college football," Fitzgerald said. "That's why we have the structure within our program. Nothing changes for us this week. Our routine is our routine. We do what we do, and hopefully we put together our best week of preparation."
The Wildcats have defeated Ohio State once in the past 40 years. That was an overtime win in Evanston in 2004. In four games against Northwestern since, the Buckeyes have won by an average score of 52-9. The smallest margin of victory has been 35 points.
Fitzgerald knows 2013 presents another challenge. But unlike in years past, the Wildcats have an equally talented team.
"They're really good," Fitzgerald said of Ohio State. "I had a chance to watch a couple of the top five teams," he said. "They're incredibly talented. But I think we're pretty darn talented too. … But obviously those top five teams are talented because they play up to their talent consistently."
R-E-S-P-E-C-T
Ohio State players have fallen victim to Twitter in the past. Carlos Hyde spouted off about playing time in 2011, even Urban Meyer's daughters have taken to social media, only to be scolded by their father.
Wide receiver Philly Brown became the latest Buckeye to air his complaints on Twitter, to his 18,000-plus followers. He tweeted, "It hurts y'all to see us win lol," after Ohio State's win over Wisconsin.
Before the game, he tweeted, "It never fails... They get a team hype them up and you know what we do to them??? Smack them right back down."
On Monday, Brown added another: "It's a big game this week because WE made it a big game not them..."
It's a tough-guy persona not seen out of Brown last year. But he's backed up his words with impressive play. Brown has a team-high 24 receptions for 254 yards and five touchdowns. Saturday night he finished with 85 yards and two touchdowns, including one on a 40-yard bomb right before halftime that took away the Wisconsin defense's confidence.
"I don't think he took his approach to the game very seriously," Herman said about the 2012 version of Brown. "Everything about him was kind of three-quarters in, 75 percent in."
Now?
"He's probably the closest thing we have to a rah-rah guy," Herman said. "He's very vocal, he's very energetic."
Brown isn't thrilled with what he perceives as disrespect toward the Buckeyes. He feels their 17-game win streak has been diminished by opposing fans and national media.
"I'm just saying because of the amount of games that we've won in a row, everybody's waiting for our downfall," Brown said. "But the way that the team's working right now and how we're playing, I just don't see that happening."
Mark down a victory against Northwestern. Brown has already declared Ohio State "the best team in the country." That tweet arrived in the days prior to the Wisconsin game.
"It's just the way I feel," he said. "Whatever I tweeted I meant. When people take shots at our team it's like taking shots at my family. I take that personal so whatever I say on Twitter or whatever, I really mean it."
Point taken. It's been no secret that Brown has disagreed with Mark May's treatment of the Buckeyes. The ESPN analyst doesn't hide his distaste for all things Ohio State, routinely picking against the Buckeyes and having an uninformed opinion.
"I think a lot of those people on ESPN that do those shows, they're the same way as all the haters that we have around here," Brown said. "They say we have a weak schedule, so they say that we're not ready for the big game or whatever," he said. "But we're just going to keep doing the same thing that we've been doing, and we're going to keep winning. They're only going to hold us down for so long."