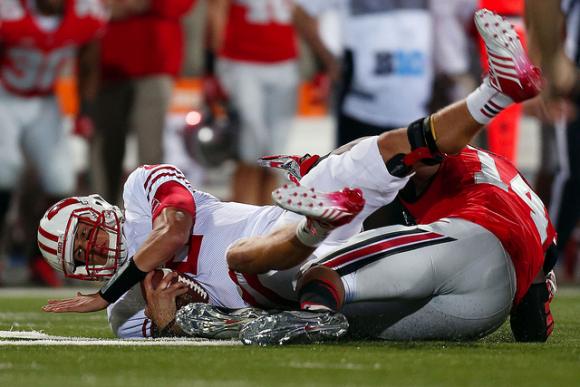 On Saturday night, following Ohio State's biggest win of the season, a 31-24 triumph over Leaders Division rival Wisconsin, it took head coach Urban Meyer more than five minutes to even mention the victory. Instead, he was trying to take in the news he just received: senior safety and captain Christian Bryant was lost for the season with a broken ankle.
That Bryant's injury occurred on the game's second-to-last play was cruel. But the team can't spend the week moping. They've already said they'll rally around their leader and patch up the secondary.
Once again, on Monday, Meyer spent the beginning of his press conference lamenting the loss of Bryant. The emotion Meyer displayed Saturday night had subsided with the reality starting to take hold.
"We had a shot to our team. We still feel that way," Meyer said. "It's complicated. Last year, I probably would have put my hands all over that, because I didn't really know Everett Withers very well. But he's an excellent football coach. I have great confidence."
Meyer met with his defensive assistants early Monday morning and again in the afternoon to discuss the next move at safety. Pittsburgh Brown, Vonn Bell and Tyvis Powell were all mentioned as possible replacements. Cornerbacks coach Kerry Coombs said as of now Brown would be the guy to step in.
The Buckeyes are taking on a Northwestern team that can successfully get playmakers in space, forcing defenses to make tackles in space. It's an area Ohio State has struggled in recent seasons. Last year's Indiana game and three weeks ago at Cal being the latest examples.
But Northwestern's defense also struggles against offenses that run an up-tempo system. The Wildcats will be faced with stopping the reigning Big Ten offensive player of the week in Braxton Miller.
"I thought his preparation for the game was one of the best he's had," Meyer said. "His practice was one of the best he's had as far as Tuesday and Wednesday and Thursday, and I thought his accuracy on the deep ball was outstanding. I thought he did well."
Miller threw a career-high tying four touchdown passes and ran for 83 yards, passing Cornelius Greene as the top rushing quarterback in school history. Miller did not grade out well, though, according to offensive coordinator Tom Herman. Mental mistakes were the main culprit in the grading process, Herman said.
Northwestern has the luxury of getting the Buckeyes after a bye week. And this isn't your typical football team from Evanston. The Wildcats are undefeated and 14-3 in their past 17 games. College GameDay is in town for good reason.
"Some people say bye weeks don't matter," Meyer said. "You'll never hear me say that. Bye weeks are very important. As a matter of fact, if I were scheduling, I would always try to put it against a [good] team. You deal with injury and fatigue in the middle of the season, and then obviously back-to-back [ranked] opponents, especially when you're playing against a team like Wisconsin, a physical game.
"We had to be very cautious on how we operated yesterday. We have to be very smart on how we do Tuesday and Wednesday. Today, I'm getting a feel for how our guys are as they're going through the training room and getting treatment. It is what it is. It's part of the season."
It won't be October until tomorrow, but fans are still getting antsy with the rankings. Ohio State is third in the Coaches Poll, which is part of the BCS. But the Buckeyes have fallen since the pre-season, when they were second behind Alabama.
Saturday was an opportunity to roll up some points on national TV with all eyes turned to Columbus. When Ohio State opened up a 31-14 lead, it appeared a blowout could be in order. Conservative play-calling took over instead.
"I heard something style points," Meyer said. "We're not really concerned about that – we won the game."
A familiar scene each season in the Big Ten is running backs getting worn down. Having multiple backs is a welcome amenity for the league's head coaches. Interestingly, though, Jordan Hall, who rushed for more than 400 yards in the season's first four games, had but one carry against the Badgers.
Meyer was discouraged with the lack of involvement for Hall. Herman took the blame, saying he fell into old habits as a play-caller, a reference to last year's ground-and-pound tandem of Miller and Carlos Hyde. The re-emergence of Hyde didn't come as a surprise. The disappointment centered on Hall's disappearance.
"Jordan Hall has got to be involved," Meyer said. "That was a decision we kind of made. We thought and we knew it was going to be very hard to run in there the way they play their defensive line. Those are our top two backs, and we are working on that now.  So I want to make sure we get Jordan Hall involved."
Said Herman: "We failed him a little bit. It certainly wasn't by design."