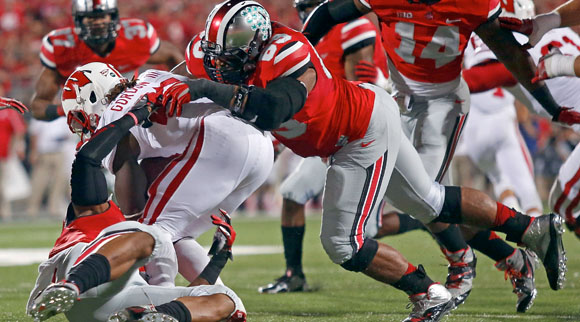 Saturday night in Ohio Stadium may have been a matchup of the Big Ten's two best teams. That will play out as the season progresses, but what is known now is that Ohio State is the class of the conference and in command of the Leaders Division after just one game.
Northwestern, Michigan and a possible to-be-determined opponent in the Big Ten Championship Game is all that stands between the Buckeyes and an undefeated season. Suddenly, though, the trip to Evanston became more difficult with the loss of senior safety and captain Christian Bryant.
He's the total package – a leader, an experienced player and someone who gets results on the field. Bryant is the most vocal player on the team and someone who commands respect in the locker room and in the huddle.
You know how profound Bryant's impact is when the head coach becomes emotional upon learning he'll be lost for the season.
"Just tough news," Urban Meyer said. "That's the hardest part of this whole job, to see that happen. My goodness. I just love that kid. That darn kid has done so much or our program, come so far. Incredible leadership skills, and he's going to be even more valuable outside of football. I love that guy. Doggone it. Hard part of the game."
"Everyone's hurt about it, especially me because he's my cousin," wide receiver Devin Smith said. "I'm very tight with him. He's worked his tail off and just wanted to have a great season."
"That's a big loss," linebacker Joshua Perry said. "He's a leader for us, a guy you can trust and count on. We're going to have to work to fill his void. I feel we have enough depth to be able to do that."
"I'm not worried about the playing aspect," senior safety C.J. Barnett said. "I'm worried about the leadership aspect. It's going to take all of our leaders to do more. I've got to do more."
Bryant's injury became a black cloud on a day that feature picture-perfect blue skies in Columbus. The win is not to be taken lightly. Its importance in the conference race can't be overstated.
"It's a great win," Perry said. "It gives us a lot of momentum going in to next week. We have another ranked opponent, it's on the road and we have a week to prepare. Having a win like this is a great way to enter a week of preparation."
"I don't know if we made a statement," Barnett said. "We know we had our doubters. Hopefully, we proved them wrong. But if not, it doesn't matter. We're just going to keep working."
"I really think we showed to the country that we can stop the run and that we're not anybody to be messing around with," linebacker Ryan Shazier said. "They have a great offensive line, and I feel like our D-line is going to be great also."
Wisconsin wide receiver Jared Abbrederis had a career day. He abused Bradley Roby throughout the game, finished with over 200 yards receiving and a touchdown. Still, the final result left a sour taste in his mouth. In his career, Abbrederis only beat Ohio State once.
"I'm not enjoying anything," Abbrederis said. "Individual stuff doesn't really matter at all. It's about the team."
Consider Meyer one of his biggest fans.
"He's got my vote for All-Big Ten," Meyer said. "He did an incredible job."
Saturday night's game was the 12th straight loss by seven points or loss for Wisconsin. Oct. 2, 2010 was the last time the Badgers lost by more than a touchdown.
"Just frustrating," Abbrederis said. "Being in close games and not being able to come up on the winning side is just frustrating. It doesn't matter how good you play or whatever, you've got to be able to win the game."
Arguably the biggest play of the game was Ohio State's touchdown with one second remaining in the first half. It came on 4th-and-2 from the 40-yard line. A breakdown in the Wisconsin defensive secondary allowed the Buckeyes' to convert.
"[Braxton Miller] doesn't really get discouraged during the game," wide receive Devin Smith said. "He's a strong kid, but I think the touchdown before the half was cool. For us though, it was important to make sure we came out in the second half strong."
"The end of the first half honestly wasn't deflating at all," Wisconsin safety Dezmen Southward said. "We do not allow ourselves to get down as a team. We are going to continue to fight regardless of the score."
Wisconsin abandoned the run fairly early, and instead went to a strong passing game from Joel Stave.
"I think a lot of that had to do with us," defensive end Adolphus Washington said. "We prepared this week to stop the run and we did. They had to adjust and made the decision to throw the ball more."