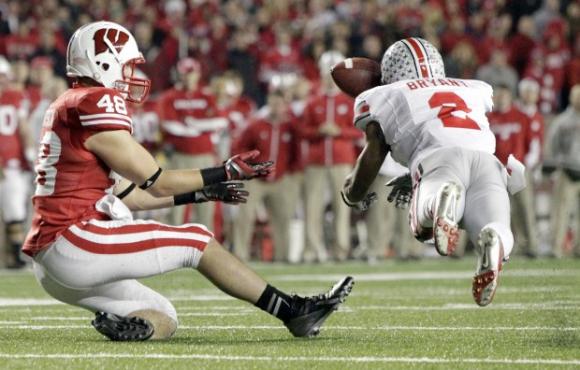 COLUMBUS – At Big Ten media days in July, Ohio State head coach Urban Meyer spoke so much about leadership that he could have been mistaken for a traveling motivational speaker. On Saturday night, it became evident just how much he values leaders in the wake of the fourth-ranked Buckeyes' 31-24 victory over No. 23 Wisconsin.
Told that senior safety Christian Bryant, a captain, would miss the remainder of the season with a broken ankle suffered on the penultimate defensive play of the game, Meyer became overcome with emotion, smacking the podium with full force. His voice cracked when he described the blow to the team.
"We lost our captain," Meyer said. "Just tough news. That's the hardest part of this whole job, to see that happen. My goodness. I just love that kid. That darn kid has done so much or our program, come so far. Incredible leadership skills, and he's going to be even more valuable outside of football. I love that guy. Doggone it. Hard part of the game."
Bryant was taken to the OSU Medical Center after the game and was scheduled to undergo surgery immediately. Ohio State is deep at safety, but getting up to speed in one week could be a tall order, especially with pass-happy Northwestern next on the schedule.
"Oh man, it's hard to even talk about," fellow senior captain Jack Mewhort said. "The energy he brings to this team and the juice – he's such a good guy. He cares about everybody. It's heart-wrenching. He's a great friend, a great football player and a great leader."
Pittsburgh Brown, Vonn Bell and Ron Tanner are all likely candidates to replace Bryant's 22 tackles, an interception and two pass breakups. The area that will be difficult to replicate, though, is his leadership. Bryant was the most vocal member of the defense and arguably the best leader on the entire team.
"Our leader is in an ambulance right now going to the hospital," Meyer said. "That's the concerning part. He's our leader, so that's concern No. 1, 2 and 3.
"Who is going to assume that leadership obligation? The responsibility that he has shown, he's an incredible young man."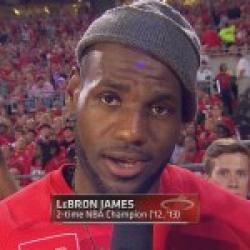 King of Ohio State
LeBron James has never hidden where his allegiance lies when it comes to college sports – he's a Buckeye. James may have spurned his home-state Cleveland Cavaliers, but he's never wavered on Ohio State.
On Saturday night, he made the walk from the Blackwell to St. John Arena with the football team, and delivered a rousing speech to the 13,000-plus overflow, standing-room crowd at Skull Session.
"I promise, I say this all the time, if I had one year of college, I would have ended up here," James said. "No matter where I go in the world, no matter where it is, I will always rock Ohio State colors."
It drew a roar usually reserved for Meyer. The reaction to James' appearance was far different than the one he received the last time he was on campus. When James and Dwyane Wade showed up for the basketball team's showdown with Duke in 2011, the sellout crowd in Value City Arena booed them overwhelmingly. But the anger toward James has since subsided.
Meyer has long been in James' corner, speaking glowingly about him at Big Ten media days the past two years. The Meyer family has attended Miami Heat games in the past and been photographed with James. Meyer and James' relationship began when Meyer recruited him to play wide receiver at Notre Dame.
"LeBron is one of, arguably, the greatest champions, greatest competitors and most importantly, a Buckeye," Meyer told the crowd in St. John. 
This weekend was Ohio State's biggest of the football season. More than 50 high-profile high school football players were guests of the Buckeyes. Thad Matta's top target – Luke Kennard – was also in attendance. James' visibility didn't hurt.
Tight end Mike Gesicki tweeted, "Just watched Lebron James give a pre-game speech in the team room, so sick. #buckeyes This is the real deal."
Said Meyer: "To have him come and be gracious with our team, visit our team, speak to our team. He loves Ohio State. And he's made that clear several times to me throughout the year."
James shared in the revelry with fans and played catch on the field before kickoff. The Ohio State basketball team was honored on the field during the first half, and they were seen chatting with James on the Buckeye sideline. James watched the second half from athletic director Gene Smith's suite.
Ohio State recently renovated the locker rooms at Value City Arena and added a LeBron James locker, complete with LeBron-issued team apparel to show recruits on visits. In 2007, the Buckeyes were the first school to wear James' Nike gear.
"I couldn't believe he was on the sideline," wide receiver Devin Smith said. "When I heard he was coming, I was at a loss for words."
Anything You Can Do I Can Do Better
For six days, the Ohio State defense heard all about Wisconsin's rushing attack. Melvin Gordon entered as the top running back in the country, while James White had gained more yards during his career than any other active running back.
After 60 minutes with the Silver Bullets, the Badgers could only find room for 104 rushing yards, nearly 250 less than its season average. Gordon was held under 100 yards for the first time all season – 74, with no touchdowns. White had 31 yards and a score. The Buckeyes passed the test against the run game, but surprisingly, quarterback Joel Stave was able to get production through the air.
Stave finished with 295 yards passing, two touchdowns and interception. Jared Abbrederis had a career-high 207 yards receiving and one touchdown, with much of the yardage coming against Bradley Roby.
Ohio State, averaging 311 rushing yards per game, was held well under that, gaining 192 yards. But it averaged 4.5 yards per carry and could go to the well when needed.
"Everyone knows Wisconsin's run attack and how it's a power run game," Meyer said. "But we are a power run football team. It may be out of different sets, it may not be with a bunch of tight ends and fullbacks and everyone on the field, but we are still going to run right at you and hit you in the mouth."
Miller had 83 yards on 22 carries and Carlos Hyde tallied 85 yards on 17 carries. Interestingly, senior running back Jordan Hall, who started the first four games and was still considered the starter, had only one carry for five yards. Meyer said it was strictly a coach's decision. He wanted to get Hall more touches, but said the opportunity never arose.