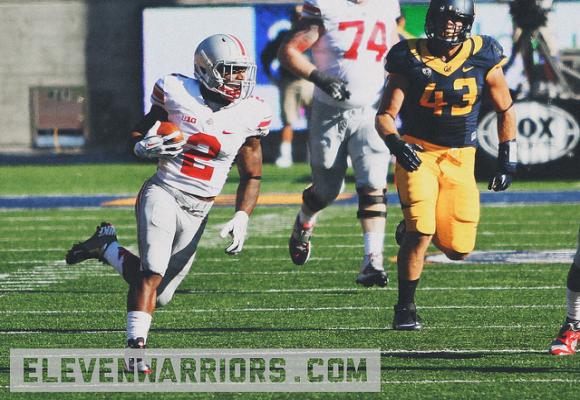 It's difficult to scoff at the SEC after seven consecutive national championships. Even the Big Ten's most ardent supporters realize that. But to recognize the country's foremost supplier of running backs, you must go far north of the Mason-Dixon Line to the Upper Midwest.
For 20 years, from Brent Moss to Melvin Gordon, Wisconsin has set the gold standard for running backs. Going back decades, the Badgers also lay claim to Elroy "Crazy Legs" Hirsch and Alan Ameche. In 1999, Ron Dayne won the Heisman Trophy and became the NCAA's all-time rushing leader.
But Ohio State is no stranger to producing top-flight tailbacks. During the same time period of Wisconsin's recent dominance, Eddie George won the Heisman, while Maurice Clarett and Chris Wells also suited up in scarlet and gray. However, the Buckeyes have never had the level of production or the number of capable backs that they've encountered in 2013.
Ohio State has eight players – seven running backs and a quarterback – with at least five carries averaging more than five yards. Jordan Hall has the most rushing touchdowns in the country with eight and ranks 13th nationally with 422 rushing yards. 
"There's a lot of backs in the backfield," he said. "That's what makes us go hard in practice every day."
It's gone so well for Hall that he's utilized referees as an extra blocker, as seen on TV.
"He was in my way, and I was yelling, 'Move, move,' so I tried to stiffarm him out of the way," Hall said, referring to an 18-yard touchdown run against Florida A&M that resulted in a referee being planted on the Ohio Stadium turf.
Depth was never more evident than in the 76-0 dismantling of FAMU. The Buckeyes nearly eclipsed the 400-yard mark before settling for 388 rushing yards. Six backs received carries for an average of more than eight yards per carry.
Perhaps the shining example of just how gifted Ohio State is was Ezekiel Elliott's performance in the second half – 14 carriers, 162 yards and two touchdowns. It was the Buckeyes flexing their muscle. A year removed from a one-man show with Braxton Miller, the team now has several viable options.
Carlos Hyde and Rod Smith were suspended a combined four games. Still, they've rushed for more than 100 yards and seven yards per carry.
"Most teams have more than one running back nowadays," Hall said of Hyde's return. "I think that will be good for our offense, especially when Braxton and Kenny and the receivers are playing well, too. We've got good things going."
Hyde is coming off a year that featured 970 yards and 16 touchdowns. He's in the background now, though, due to Hall's reemergence and his own suspension. Smith has kept his firepower going after making several big plays in Ohio State's undefeated 2012 season.
The Buckeyes' "Big 3" is listed on the depth chart together this week for the first team all season – Hall as the starter with Hyde and Smith as co-backups. Philly Brown is slotted at the H position, somewhere Hall could find himself at times. His versatility, along with Hyde and Smith's running style, allows the coaches to get creative.
"Jordan Hall gives you flexibility," Meyer said. "I'm evaluating what to do with him, because I know he's a heck of a tailback as well."
On Saturday, Meyer said Hall should have received more carries than the four he got. Hall finished with 20 yards and two touchdowns.
"I try to do the best I can, just run the ball every snap and let guys earn an opportunity to get on the field," Meyer said. "Thing is, if you get depth on your field, you tell Ezekiel Elliott not to run hard, he'll look at you like, 'I'm running hard, because I have to get more carries.'"
Said Elliott: "We've got a great stable of running backs. Every day we compete. It's hard to get a spot and hold your spot because the guy in front of you is great and the guy behind you is great."
Elliott's career day came as the fourth-stringer. No. 5 – Warren Ball – gained 49 yards on seven carries. Even Devonte Butler, a 5-foot-nothin', 100 and nothin' walk-on, tallied a 3.5-yard average on four carries.
"I think Warren Ball ran hard, and I think Ezekiel Elliott's got an incredible future here," Meyer said. "I wanted to reward him a little bit."
Some point to Ohio State's competition during the first four weeks. The defenses have been sub-par at best. But it's not as if the Buckeyes take the field with zero effort.
"I'm cool with games like this," Hall said on Saturday. "It's a chance to get back to the fundamentals and make sure techniques are right. We need that going into the Big Ten."
The backfield is full of problems with that conference slate looming. The quarterback position is a quandary, and the running backs aren't far behind. The difference is too many running backs are welcome. Ohio State has six backs that have a legitimate claim to playing time.
Someone who hasn't even been mentioned is Dontre Wilson, a freshman playmaker whose speed makes him arguably the biggest threat on offense. Another unmentioned running back is Bri'onte Dunn. He was named the Big Ten's freshman of the week following a November game against Illinois last year, but Dunn is headed toward a redshirt season in Year 2.
With so many weapons, Meyer has elected not to waste a year of eligibility on a handful of plays. He believes Dunn has a bright future and wants to get space between the running backs.
"It's tough," Hall said. "There is only one football. When you come to Ohio State, there's competition everywhere, so a lot of backs in the backfield, that makes us go hard in practice every day, and I think that's helped us in a way."