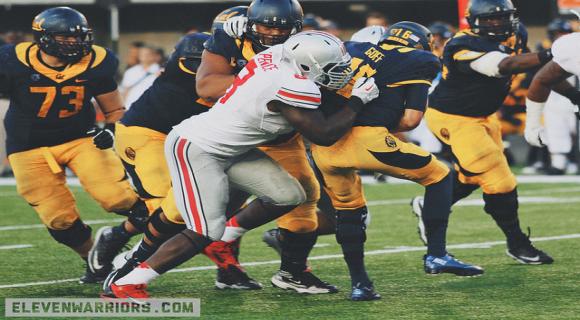 For years, the most unpopular person in Columbus was the offensive coordinator. The win percentage was irrelevant. A conservative game plan left butts in seats but caused yelling to rise. Rarely did a week pass without criticism directed toward Jim Bollman.
Ohio State now has an up-tempo offense filled with playmakers. In a role reversal, it's the defense that has drawn disapproval. Suddenly, Luke Fickell, the man who kept the Buckeye football program from caving in on itself, is the target of endless scorn.
It started last year, when the Silver Bullets played uninspired football the first half of the season before bottoming out at Indiana, allowing the most points ever in an Ohio State win – 49. They closed the season strong, finishing as the second-ranked defense nationally for the month of November. Even that came with head coach Urban Meyer being present in defensive staff meetings.
The unit lost its entire defensive line in the offseason. The lone returning starter along the front seven is linebacker Ryan Shazier. They've been adequate through four games, though rumblings could be heard after the Buckeyes gave up 34 points and 500-plus yards at Cal.
Enter Wisconsin and its ground-and-pound offense. The Badgers rank third nationally in rushing offense with 350 yards per game and 12th in total offense with almost 550 yards per game. It will be the first test for the newly formed front seven, and possibly the biggest of the season.
"It's not as tricky as you might think, but that doesn't make it easy," Fickell said. "Some people say, 'Wow, this isn't a tough one to prepare for.' Oh, yeah, it is."
When it comes to producing running backs, Wisconsin's factory would make Henry Ford proud. The program spits out All-Americans on a near annual basis. On the current roster is the NCAA's active career rushing leader, James White, and the season's top rusher, Melvin Gordon, who's already tallied over 600 yards and seven touchdowns.
"Two great backs," Meyer said. "I don't know where the heck they keep getting these guys, but they have great backs. We have our hands full."
The Buckeyes will field a young, inexperienced front seven combined with a veteran secondary. The Badgers' power-run game will provide the first litmus test for Ohio State's much-maligned linebacker corps. The nickel and dime defenses used the first four weeks will take a week off.
"This will be the biggest challenge for our defensive front seven to this point and maybe the rest of the year."
"We need to take our game to a different level," linebacker Curtis Grant said. "In games like this, everybody has to maximize their talent."
The defense welcomes back Michael Bennett after a one-game absence. Adolphus Washington is probable. He's sat out the past two games with a groin injury. Joey Bosa, Steve Miller and Chris Carter are just some of the names that have emerged as depth along the defensive line in light of injuries. 
"We've had a lot of guys who have stepped up this year and we needed that," Miller said. "We're just going to keep it going."
It's the linebacker position where the concerns lie. Grant still hasn't had a breakout performance that shows coaches he's finally put his struggles in the rearview mirror, and Meyer spent parts of last week lamenting the progression of Joshua Perry. Meyer declared Perry one of the most talented players on the defense, but acknowledged he's yet to blend that into productive play. It starts in practice.
"We're developing a lot of young guys," Fickell said. "We only have one guy with any true experience, and that's Ryan Shazier. A couple times he's gone down and we've had a true freshman [Trey Johnson] come in and take his spot. There's definitely [a depth issue]. We probably have 10 guys in that room. The thing that you see out of that room is there are a lot of guys that aren't there. In the last four or five years, we have had probably five or six guys that for different reasons are still not in that room. There are a lot of different things that have put us in that situation. We are still developing and we have got some depth issues."
Someone that many believed would help alleviate the issues at linebacker is Mike Mitchell. But a quarter of the way through the season, it appears he'll be redshirted. Mitchell is yet to appear on defense or special teams. Fickell said Mitchell is ready to play, but the Buckeyes will hold him out unless the situation calls it. They aren't going to burn a year of eligibility for a handful of meaningless snaps.
"He still takes reps with the defense," Fickell said. "He's getting the best of both worlds right now because we might get an extra year out of him. He's willing and able, but his opportunity has to arise."
It's only September, but it doesn't diminish the importance of Saturday's game. Ohio State and Wisconsin are pegged to be the top two teams in the Leaders Division. With Penn State ineligible for the Big Ten Championship Game, the winner will hold an all-important one-game lead in the standings. Meyer referred to the Badgers as the king of the Big Ten since they're the league's three-time defending champion. But don't think the Buckeyes forget that they finished undefeated a year ago.
"This will be the biggest challenge for our defensive front seven to this point and maybe the rest of the year," Meyer said. "The run game's real. You get embarrassed real fast if you're not gap sound and handling your business."