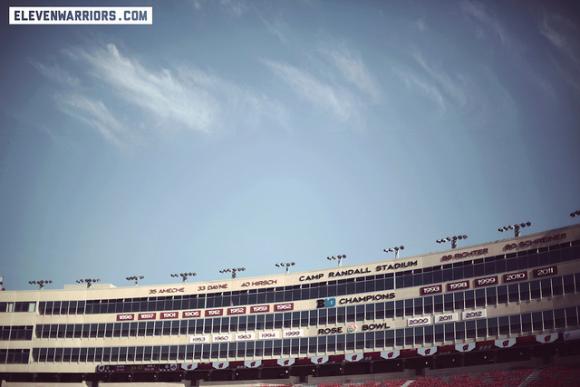 The 2012 Big Ten standings indicate Ohio State finished with a perfect conference and overall record. 8-0. 12-0. But atop the roll call is Wisconsin, a team that won only eight games on the season and lost four conference games, six overall.
The Badgers finished third in the Leaders Division, behind the Buckeyes and Penn State. NCAA sanctions to the first- and second-place schools sent Wisconsin to Indianapolis for the second straight season. And for the third consecutive year, it won the Big Ten title.
"We have a lot of respect for Wisconsin," Ohio State head coach Urban Meyer said. "In my opinion, they are the king of the Big Ten."
Many would disagree with that notion, Ohio State players included. Bradley Roby and Corey Linsley each admitted they have a sour taste that lingers because the Badgers were able to take advantage of the circumstances.
Wisconsin could catch another break this season, facing a Buckeye team using their backup quarterback. Some would scoff at that belief, however, considering Kenny Guiton's three-game stretch. Guiton was once again named the Big Ten's offensive player of the week, as well as taking the weekly Earl Campbell Tyler Rose Award winner, given to a Texas high school or college player.
In a now tri-weekly occurrence, Meyer was asked continuously about Miller's status. After a three-game absence, Miller has been tabbed at 90 percent healthy, with 100 percent on the horizon.
"He had a very good day yesterday," Meyer said. "I know Braxton, if he has a good week of practice, he will start. I'm much more confident. I'm saying he's around 90 [percent] right now, and he could be 100 by next week – I'm hoping."
Said Linsley: "I don't mean to talk too much, but he looked phenomenal. I could tell Braxton is back."
Following Saturday's 76-0 beatdown of Florida A&M, Meyer said Miller held himself out because he didn't feel healthy enough to play. That story changed on Monday, though, with Meyer saying it was a mutual decision between Miller and the staff. Meyer wanted to shake some of the rust off his quarterback, but the sprained MCL wasn't stable enough to allow it. 
Miller's status suddenly leaves Guiton in limbo. Guiton leads the nation in touchdown passes and set two prominent school records in as many weeks. One theory mentioned is having them on the field together. But Meyer shied away from that possibly when asked Monday.
"I don't know if that's reality," he said. "I just love both those players. I think they are good players, but I don't know what that gives you. If Kenny was a better wide receiver than one of our receivers, he would be playing receiver. If Braxton was a better running back, he'd be a running back. But they're not.
"So someone has to come off the field. I haven't decided how we are going to do it. We'll see how practice goes this week."
Regardless of who's taking the snaps, Meyer is "comfortable with both quarterbacks." Ask defensive coordinator Luke Fickell about the game and he's quick to point out the outcome will be decided on the lines, not the guy the offensive line is protecting.
"I don't care whether it's Cal and they are throwing the ball 75 percent of the time, the game is won up front," he said. "It will be evident this week, whether it's their offensive line or our defensive line, or our offensive line or their defensive line. That's where the game is going to be won."
Ohio State's rebuilt defensive line will face its first stiff test of the season. The entire front seven is new, minus linebacker Ryan Shazier. Michael Bennett will be back, while the status if Adolphus Washington is probable.
The Silver Bullets have held up well with so many new faces. They're ranked 13th nationally in total defense. Wisconsin is not Buffalo, San Diego State, Cal or FAMU. The Badgers rank third in rushing with 350 yards per game. Melvin Gordon leads the conference with 156 yards per game with seven touchdowns.
Meyer and Fickell each acknowledged the head coach at Wisconsin is irrelevant. Whether it's Gary Andersen or Bret Bielema, a power-run game is present.
"They have not received a challenge like this one," said Meyer, referencing the Buckeyes' front seven. "You have two backs averaging 150 each. This will be the biggest challenge to this point, and maybe the rest of the year."
If Meyer proves right, the 8 p.m. kick on ABC will be must-see TV.
"I think this will be a classic game," he said.