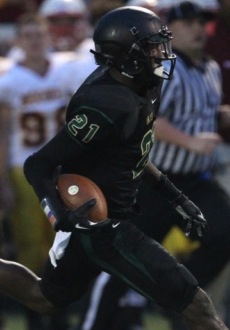 There's always a fear of being redundant when writing these weekly recaps, but when one team — and its two star players — continue to dominate each and every opponent so easily and almost effortlessly, it's impossible to not lead the weekend review off with their performances.
So, let's get right into it, because Parris Campbell and Dante Booker were key components in Akron St. Vincent-St.Mary's 25-0 win against Cardinal Mooney high school this past Friday night in Akron. It was the first time since 1988 that St. Vincent-St. Mary's was able to best Mooney.
For all the accolades being bestowed upon Campbell, the electric wide receiver/running back for the Irish, it was the stout Irish defense led by Booker — the nation's third-best outside linebacker according to 247Sports.com composite rankings — which held Cardinal Mooney to zero yards rushing on 33 carries that got some credit for once.
"I mean, I like hearing about Parris, but it's good to get some credit for defense," Booker told Cleveland.com after the rain-soaked victory. "We're a team out there."
Of course, that doesn't mean Campbell didn't have a hand in the game's outcome, because as usual, he did. In fact, with the Irish up through a sloppy first quarter and a half, Campbell took a simple hand-off 75 yards after one cut, displaying his blazing speed and finding pay dirt in what was essentially a game-ending jaunt. 
"That was probably my best game in the rain," Campbell said to Cleveland.com of his performance. "I see stuff pretty quickly, when I see it I take it and when I take it I hit it hard."
Booker finished the game with nine tackles, a fumble recovery and a sack after missing his team's last outing with a minor injury.
"I missed last week but it felt good to be back out," Booker added. "I gotta get back on the stats. (Fellow linebacker) Newman (Williams) probably had me after last week. We're fighting for most tackles."
As the state's top-ranked program in Division-III, the competition is going to get better for the Irish but Campbell and Booker will continue leading the way.
ST. XAVIER TOPPLES MCLAURIN LED CATHEDRAL
A week after an exciting come-from-behind win that saw a game-winning touchdown in the last minute of the game, Terry Mclaurin's Indianapolis Cathedral made the short trip to Cincinnati to take on St. X and key Buckeye 2015 target Justin Hilliard. St. Xavier kept the Irish offense off-balance most of the day and combined that with a steady ball-control offense of their own en route to a 15-6 win.
"We had opportunities to win the game," Mclaurin told Eleven Warriors. "We just didn't execute the way we could have. We started off slow and just couldn't get a lot going early." I had 2 rec for 21 yards TD and 8 rushes for 35 yards
Now 2-3 on the season, Mclaurin's offense may have struggled, but he was once again their primary offensive threat, finishing with two receptions for 21 yards and eight rushing attempts for 35 yards, he scored Cathedral's only touchdown.
Mclaurin was very impressed by Hilliard, the star linebacker on the St. X defense.
"Hilliard was a really good player," Mclaurin said of a potential future teammate. "He was incredibly instinctual and made plays from sideline-to-sideline and making plays all over the field on our power run plays."
With Hilliard tentatively scheduled to visit Ohio State as they host Wisconsin this weekend, he and Mclaurin — who will be making his official visit — the two may have a chance to get a bit better acquainted soon. However, the 2015 star is not entirely sure if he'll visit Ohio State or not this weekend, he could opt for a trip to Fayetteville to check out Arkansas instead.
"I'm not entirely sure if I'll be at Ohio State or not this weekend," Hilliard told 11W. "I might need to check out some schools that I've not been to yet, but we'll see. I know the atmosphere will be a lot different than it was against Buffalo."
COLLIER CHASES PERFECTION
If you haven't yet gotten to know the person beneath the facemask, here's a glimpse into the mindset of Buckeye quarterback commitment Stephen Collier.
Win. 43-14. 1 Passing TD 1INT, 3 Rushing TDs. My worst game up to date. Learned some valuable lessons though. We move forward from here. 4-0

— Stephen Collier (@Stephen5Collier) September 21, 2013
After yet another huge win, where Collier's offense dominated and his Trojan teammates went to 4-0 for the second straight year, the perfectionist signal-caller found more to grow on than to crow on. Five Lee County turnovers drew the majority of Collier's ire, and it's something he insists he will work tirelessly to rectify.
"I was not happy after the game Friday," Collier told Eleven Warriors. "I think people really downplay the importance of keeping a level head and it's crucial to the  success of any QB. There is always room to improve, even in the smallest areas but I expect more out of myself and I just felt like I let my team down by not doing more."
Collier ran for 128 yards on 11 carries and three scores, but he understands his role as a quarterback is more than just numbers. It's about leadership and accountability, he is the person and the player his teammates are leaning on. 
"The interception was a terrible ball on my part, it was the correct read but a terrible ball and that can be fixed during practice with reps," he said. "The first fumble was just a good play by the defender getting his helmet on the ball while I was tangled up and the second fumble was just a blind side shot; I tried to cut up front and the defensive lineman was expecting it and that's just a part of football. I just feel like the only way to stay on too is to keep learning and improving and getting better each day, even if it's something small. I need to eliminate the mistakes before they determine the result of a game."
Next week, Collier and his family will head north to Columbus directly following his Friday night game where they'll take in the atmosphere for Ohio State's night game against Wisconsin.
High School Football Review
| Position | Player | School | Opponent | Comment |
| --- | --- | --- | --- | --- |
| QB | Stephen Collier | Lee County (Ga.) | Morrow (Ga.) | Won 43-14, four touchdowns and 212 total yards. |
| WR | Parris Campbell | St. Vincent-St. Mary (Ohio) | Youngstown Cardinal Mooney (Ohio) | Won 25-0, 16 carries 178 yards and two scores. |
| WR | Terry McLaurin | Cathedral (Ind.) | at Cincinnati St. Xavier (Ohio) | Lost 15-6, scored lone touchdown. |
| OT | Jamarco Jones | De La Salle (Ill.) | Chicago St. Ignatius (Ill.) | DNP (Torn labrum) Won 55-28. |
| OT | Kyle Trout | Lancaster (Ohio) | Pickerington Central (Ohio) | Lost 27-12. |
| OG | Marcelys Jones | Glenville (Ohio) | at Cleveland Rhodes (Ohio) | Won 34-0. |
| OG | Demetrius Knox | All Saints Episcopal (Texas) | at Dallas St. Mark's (Texas) | Won 58-21. |
| DE | Jalyn Holmes | Lake Taylor (Va.) | at Norfolk Norview (Va.) | DNP (Suspension) Won 41-0. |
| DE | Dylan Thompson | Montini Catholic (Ill.) | Wheaton St. Francis (Ill.) | Won 30-7, had three sacks and four tackles. |
| OLB | Kyle Berger | Ignatius (Ohio) | Erie McDowell (Pa.) | DNP (ACL) |
| OLB | Dante Booker | St. Vincent-St. Mary (Ohio) | Youngstown Cardinal Mooney (Ohio) | Won 25-0, see recap above. |
| CB | Damon Webb | Cass Tech (Mich.) | Detroit Cody (Mich.) | Won 30-6, Webb had one catch for 55 yards as opponents avoid him on defense again. |
| S | Malik Hooker | New Castle (Pa.) | at McKees Rocks Montour (Pa.) | Won 32-13, had two TD catches and 123 yards receiving. |
| ATH | Noah Brown | Pope John XXIII (N.J.) | Sussex High Point (N.J.) | Won 68-13, had two catches for two scores and 33 yards. |
| ATH | Sam Hubbard | Moeller (Ohio) | at Louisville St. Xavier (Ky.) | Won 24-12, Hubbard had nine tackles and 2 PBUs. |
| ATH | Lonnie Johnson | West Side (Ind.) | Hammond (Ind.) | Won 58-18, had another touchdown reception as he continues to play all over the field. |
| ATH | Curtis Samuel | Erasmus Hall (N.Y.) | Cambria Heights Campus Magnet (N.Y.) | Won 42-0 |
| K | Sean Nuernberger | Oldham County (Ky.) | at Shepherdsville North Bullitt (Ky.) | Won 33-0, 6 touchbacks on 6 attempts and 3/4 on extra points. |
| TE | Tyler Luatua | La Mirada (Ca.) | at St. Francis (Ca.) | Lost 49-20. |
| TE | Mike Gesicki | Southern Reg (N.J.) | at Toms River South (N.J.) | Lost 27-20, had five catches for 93 yards. |
| OT | Chad Mavety | Nassau C.C. (N.Y.) | Erie CC (N.Y.) | Won 23-6. |
| OT | Damian Prince | Bishop McNamara (Md.) | St. Mary's Ryken (Md.) | Won 29-25. |
| DT | Thomas Holley | Abraham Lincoln (N.Y.) | at Tottenville (N.Y.) | Won 28-6. |
| ILB | Raekwon McMillan | Liberty County (Ga.) | at Cross Creek (Ga.) | Won 49-0, had three carries and a touchdown on offense. |
| S | Erick Smith | Glenville (Ohio) | at Cleveland Rhodes (Ohio) | Won 34-0 |
| ATH | Marshon Lattimore | Glenville (Ohio) | at Cleveland Rhodes (Ohio) | Won 34-0 |