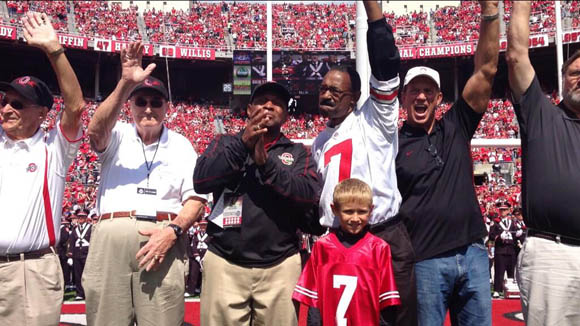 COLUMBUS – The narrative is growing old. But Ohio State backup quarterback Kenny Guiton just can't help himself.
Once again, this time in the Buckeyes' 76-0 win over Florida A&M, Guiton left fans shaking their heads in a record-setting performance. It took him one half to break Bobby Hoying and John Borton's record of five touchdown passes in a game.
Borton set the record in 1952 with Hoying equaling the mark in 1995.
Guiton had six scoring strikes at halftime, as Ohio State led 55-0. That is not a misprint.
He was a hero last season after he brought the Buckeyes back from an almost certain defeat versus Purdue. He upped the title to folk hero after an impressive outing against San Diego State. But the last two weeks have made Guiton a bona fide star. Incredibly, he is tied with Louisville's Teddy Bridgewater for the most touchdown passes in the country – 13.
Guiton finished 24-of-34 for 215 yards, six touchdowns and an interception. Even the interception turned into a positive play for Ohio State when the FAMU player fumbled at the three-yard line and the Buckeyes recovered.
"I had all day," Guiton said. "The coaches wanted to come out throwing the ball around and I thank them for the trust they had in me to be able to do that."
Guiton has thrown for 664 yards and 13 touchdowns on the season. The party could soon be ending, though. Head coach Urban Meyer made it clear Braxton Miller is still the starting quarterback. Guiton might get snaps, but they'll be limited.
"I wanted to play him. Braxton felt like he couldn't go," said Meyer, after the game. "He tried really hard, had a good week of pushing himself through it. But with good athletes those are tough injuries."
For the second time in as many weeks, Guiton said he took a majority of the first-team reps in practice. That gave him the impression that he would once again start come Saturday.
"It's a lot of fun," Guiton said. "It's a blessing."
Ten different receivers had a catch and five hauled in a scoring reception.
"It was good to see Kenny put up the numbers he did," said junior wide receiver Evan Spencer, who finished with 50 yards receiving and two touchdowns, including the record-setting sixth. "It's awesome and special to be a part of his record."
E-Z-E
When Ezekiel Elliott saw Florida A&M on the schedule, he thought it might be an opportunity to play. After a week of practice, he knew he'd be featured in Ohio State's game plan.
But 162 yards? Two touchdowns?
"We all came to compete," Elliot said, referencing the Buckeyes' loaded 2013 recruiting class. "Nothing is unexpected."
Elliott came to Ohio State with the goal of making an immediate impact. At the U.S. Army All-American game in San Antonio, he stated his goal was to get on the field as a freshman. Four games into the season he's already been a leading rusher and scored two touchdowns in a half.
"All that hard work you put in over the summer and fall, it feels great to finally get on the field and get some action," he said. "The O-line did a great job. It's what we expected.  Every time you get game reps it makes you better."
Each of his 14 carries came in the second half against a lowly opponent. But it doesn't change the stats. Elliott ran hard and exhibited the skills that made him such a coveted recruit coming out of Missouri. Prior to Ohio State's 76-0 win over FAMU, Elliott accumulated 37 yards on seven carries, so it's not as if he was a one-hit wonder.
But with a backfield that includes Jordan Hall, Carlos Hyde, Rod Smith and Dontre Wilson, is there space for Elliott? Warren Ball is another candidate for playing time, if it's available, and Bri'onte Dunn is well on his way to a redshirt season. 
"We don't really redshirt, but there are some guys that could be fine players down the road that I just didn't want to burn a year to get them five or 10 plays," Meyer said, mentioning Dunn. "That's the decision we made.
Appearing in three of four games, which Elliott has done, is a good sign for continued playing time.
"You just have to work hard every day and get on special teams to show the coaches you can play," he said. "We have a great stable of running backs. It's hard to get a spot and hold your spot. The guy ahead of you is great and the guy behind you is great. Every day we come hard to practice and try to earn our spot."
Hyde's return and ensuing performance added another wrinkle to the equation. He finished with 42 total yards and a touchdown on six touches. Hyde also received a warm applause from adoring fans who were happy for his return after serving a three-game suspension.
"We have some weapons and I kind of like where we're at," Meyer said. "The best way to think about it is checkers. There are pieces on the board, and I like the checkers we have right now, so it's just a matter of our staff putting them together."
Running back controversies pale in comparison to having multiple quarterbacks that could be the starter. Playmakers are desired, as are quarterbacks. But dealing with two quarterbacks who are constantly competing for the head job divides locker rooms and splinters team goals.
Not so for the Buckeyes' stable of running backs. The group of friends strives to not only get on the field but also improve the overall product. Fractured relationships are nonexistent.
"When we compete we make each other better," Elliott said. "We're a very close-knit group, and we work to get better as a team. We all came to Ohio State for a reason and that's to play."
In his senior season alone, Elliott scored 50 touchdowns and gained over 3,000 all-purpose yards. Reaching the end zone was such a common sight that he became numb to the feeling of scoring a touchdown. That was not the case on Saturday in front of 103,595 fans, including his entire family.
"It's a different experience than scoring a touchdown in high school," Elliott opined. "There's nothing like scoring a touchdown in the 'Shoe with everyone up out of their seats screaming."
The Depths
When something hasn't happened in 28 years, it's a clear signal that it's something major. In the case of the Ohio State Buckeyes, 2013 marked the first time they've replaced all four starters on the defensive line since 1985. Then they lost Tommy Schutt before the season even started and Adolphus Washington in the first quarter of the San Diego State game.
Still, the defense has allowed less than 90 rushing yards and accumulated nine quarterback sacks. Rushing yards given up on the season: 73, 64, 132 and 50.
The starters have performed admirably, but something else has also happened – depth was established. Despite four new starters on the line, the thinking was there would be zero drop in production. It was the depth, though, coaches fretted about.
Enter Joey Bosa, a true freshman who's playing like a veteran, and formerly-400-pound-now-340-pound Chris Carter. Bosa was one of the most coveted recruits last year and he's quickly shown why. He has 10 tackles and two tackles for loss, but it's his football savvy that earned him playing time immediately.
Bosa wasn't an early enrollee like a majority of the 2013 recruiting class. It has meant little, though, considering he came into fall camp and instantly grasped the defensive scheme. He's been a part of the line rotation since Day 1.
"His development was much faster than I think a lot of people thought it would be," Vrabel said. "Certainly he's a much smarter football player as a freshman than I had ever envisioned. Physically, we thought he could come in here and play, play at this level, play at Ohio State, play against the type of opponents that we are going to play against. But it was his mental approach and how quick he picked it up mentally that surprised me."
Meyer didn't stop with Bosa when handing out compliments. Someone else was just as responsible – Vrabel. Bosa's seven tackles and two tackles for loss at Cal earned him defensive player of the game honors from the coaching staff. It was a rare sight, even for Meyer, to see a freshman play 78 plays and be so productive in just his third career game and first start.
"That's good recruiting and good development by Mike Vrabel," Meyer said. "He has some depth there. We can play better, but the fact is that you lose Tommy Schutt and you lose Adolphus Washington for a couple games and are still able to keep a rotation going."
Carter's journey to playing time has been a three-year process. Legal troubles made him a late signee his freshman year, and then he came to Ohio State weighing more than 400 pounds. A redshirt year followed by a move from offense to defense gave way to 12 games on special teams in 2012.
But a strange thing happened once Meyer and Co. took over the Buckeyes. They gave Carter an ultimatum – drop weight, or else. That "or else" was there won't be a spot for you at Ohio State. Nutritionist Sarah Wick took over from there and Carter's weight plummeted to 340 pounds.
He's played in all four games this season, filling gaps as a run stopper. He's tallied seven tackles, a sack and a fumble recovery.
"It's rewarding," Carter said, "but even more rewarding is knowing I have teammates that will be able to depend on me. They know I've been working and have shown I want to be here and make an impact. That will make all of us work harder. It's a chain."
Party Like It's 1973
Many consider the 1973 Ohio State team to be the university's greatest of all-time, even though they didn't capture the national title. The infamous 10-10 tie against Michigan cost the team an opportunity at immortality. On Saturday, the team reunited and was honored at halftime of the FAMU game.
In a vote by the 10 Big Ten schools, the Buckeyes won out 6-4 and represented the conference in the Rose Bowl. Michigan State cast the deciding vote in Ohio State's favor. It would wallop USC in the Rose Bowl 42-21 and finish the season 10-0-1.
A series of upsets on New Year's Day gave the Buckeyes' hope that they would win the title. But No. 5 Notre Dame's 24-23 win over No. 1 Alabama in the Sugar Bowl ultimately did them in. Ironically, it was a missed extra point from the Crimson Tide that kept the game from ending in a tie, which more than likely would have made Ohio State national champions.