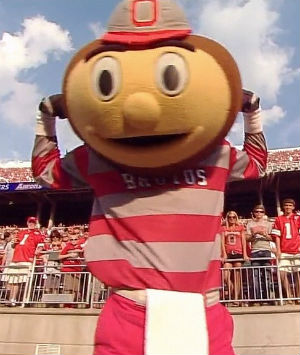 Three weeks into the college football season and we're starting to see which teams will be Ohio State's biggest obstacles in the Big Ten race.
Of course, injuries or other unforeseen circumstances may still impact the standings, but the picture is starting to become clearer on who may or may not present the biggest threats to the Buckeyes.
In looking at the road to the team's first conference title since the B1G's two-division era began, it's important to scrutinize the entire Leaders Division, plus the likely challengers from out of the Legends.
We'll lead with the... ahem... Leaders Division.
Leaders Division
Wisconsin (2-1)
The Badgers appear to be the clear-cut leaders among those challenging Ohio State as "the one who knocks" in the Leaders Division.  Two blowout victories over dreadful competition did not tell us much about Gary Andersen's Wisconsin team. However, the Badgers performed well on the road Saturday night at Arizona State and got screwed out of a shot at a potential game-winning field goal by officiating that makes Chicago elections seem perfectly by-the-book.
Wisconsin is still Wisconsin. The Badgers run the ball well and have playmakers in tight end Jacob Pederson and wide receiver Jared Abbrederis. The defense logged two shutouts, even though it was only against UMass and Tennessee Tech. The Sun Devils hung 32 points on them in the desert, but they're going to score a lot of points this season. It will be interesting to see how Wisconsin looks against a team like Ohio State next week in the B1G opener and it might be the battle for the division title. 
Penn State (2-1)
Although it features a freshman quarterback and several new starters on defense, Penn State is still pretty formidable. While I don't believe the Nittany Lions are as good as last year, it's early and they will grow as a team between now and the Oct. 26 showdown in the Shoe. The Nitts squeaked one out over Syracuse, blew out Eastern Michigan and lost to Central Florida. Bill O'Brien is doing good work in Happy Valley, but things will get worse before they get better due to depth issues.
Ohio State can't overlook a physical team like Penn State, but I expect the Buckeyes to make enough plays against quarterback Christian Hackenberg to win, provided they avoid turnovers on offense. This game will probably be viewed as Penn State's bowl game, so handling an emotional opponent early will be critical.
Indiana (2-1)
The Indiana Hoosiers have an offense capable of exploding on any given play.  In three games this season, Indiana has scored 150 points. Sure, 73 of those came in the opening win over FCS Indiana State, but that's still nothing to sneeze at (and really, you shouldn't go around sneezing at things). I was a bit surprised by the 41-35 loss to Navy, but the 42-10 win over Bowling Green was extremely impressive.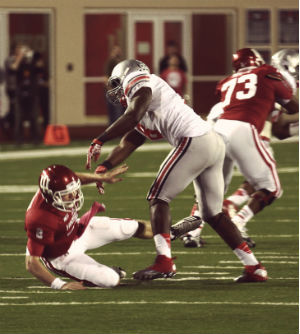 Where the Hoosiers still have to show more growth from last season is on the defensive side of the ball. That will probably keep them from seriously challenging for the division, but they will still be a threat every week with that offense.  I expect Indiana to finish with enough wins to play a postseason game this season, just not the B1G title game.
Illinois (2-1)
All of a sudden, Tim Beckman's Fighting Illini don't look like the dumpster fire we saw last year.  New offensive coordinator Bill Cubit has Illinois scoring points — 42 in an opening win over Southern Illinois and 45 in a beatdown of Cincinnati. The Washington Huskies held the Illini to 24 points, but considering the competition, Illinois at least was competitive.
The problem for Illinois is the defense. It allowed 34 points against Southern Illinois, although 14 came at garbage time. The Bearcats scored only 17 points, before Washington put up 34. I don't think the Fighting Illini have enough on defense to stay with the top teams in the division, but they've shown they can play with quality teams this season.
Purdue (1-2)
Despite some dark sorcery that allows Purdue to hang with Ohio State, the Boilermakers are a mess.  They opened the season with a 42-7 loss to the same Cincinnati Bearcats that Illinois clobbered a week later.  Then they just barely slipped by the same Indiana State team (20-14) that the Hoosiers carpet bombed in Week 1. Finally, they played their usual aberrant game against "rival" Notre Dame, falling 31-24.
It appears Darrell Hazell's offense is finding its legs as the season progresses, but at this point Purdue is not a good football team. I'm very interested in seeing how they look against Wisconsin (and vice versa) this Saturday. Purdue hosts Ohio State on Nov. 2.
Legends Division
Should the Buckeyes pull off the expected and win their division, they'll be off to Indianapolis for their first ever appearance in the Big Ten Championship. So far, these teams appear to be the front runners to get to Lucas Oil Stadium from the Legends Division:
Michigan (3-0)
The Wolverines showed they are a deeply flawed team in their near miss against Akron last weekend. A couple of officiating decisions and a missed field goal by the Zips helped Michigan eke out a 28-24 win to stay unbeaten. A 59-9 win over Central Michigan was expected and the 41-30 win over Notre Dame seems less impressive after Purdue hung with the Irish. Still, the Legends Division is kind of open this season and it certainly could lead to two consecutive iterations of The Game.
Northwestern (3-0)
The Wildcats certainly look the part this season. Winning its first three contests against Cal (like Ohio State, on the road), Syracuse and Western Michigan already puts Northwestern halfway to bowl eligibility, with the Maine Black Bears coming up Saturday. There are other contenders, but I think the Legends comes down to Michigan's visit to Evanston on Nov. 16.
Nebraska (2-1)
The Huskers haven't fixed the defense yet and it cost them big time against UCLA on Saturday, in a 41-21 loss. Nebraska was also unimpressive in an opening 37-34 home win over Wyoming in which the Cowboys had the ball late with a chance to tie or win. Those two games sandwich a blasting of Southern Mississippi. Like Indiana, the Huskers can hang around with their offensive weapons but the if the defense doesn't improve, Nebraska won't be in Indianapolis this season.
Michigan State (3-0)
Sparty may be undefeated entering the Notre Dame game, but Mark Dantonio's bunch looks more vulnerable than it has in years. Michigan State struggled offensively against Western Michigan and South Florida before beating FCS Youngstown State 55-17 last weekend. The defense looks good, but the offense is going to wear out that D in league play if things don't change. So they're the anti-Indiana / anti-Nebraska.
The Others
Minnesota (3-0) is getting better, but they're not ready to mix it up with the top teams in the division just yet.  Iowa (2-1) lost to Northern Illinois at home, then struggled to beat Missouri State and Iowa State. Even Kirk Ferentz's diamond-crusted buyout might not save him if Iowa continues to play like it has so far this season.
---
There's your first quarter rundown. We'll take another peek around the halfway mark of the season to see how things evolve. Who do you see as the biggest challengers?