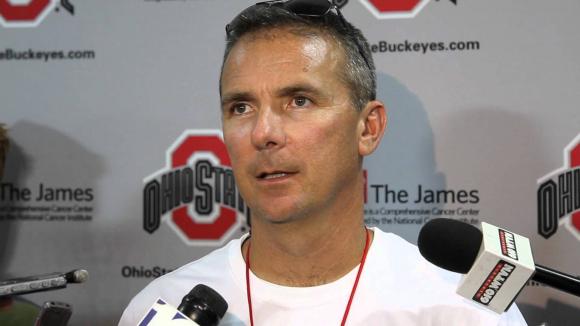 Columbus has been on Braxton Watch for more than a week now. It appears all the mystery and intrigue is coming to an end. Head coach Urban Meyer said on Wednesday that Miller should play in a limited role against Florida A&M, even though he's still not operating at full speed.
The quarterback practiced Wednesday, and according to offensive lineman Jack Mewhort, Miller took more mental reps than physical reps. That's in line with last week, when Kenny Guiton practiced with the first-string offense for nearly the entire week.
Regardless, Mewhort believes there is little reason to worry.
"We have two good quarterbacks," he said.
Notes:
What Meyer is worried about is next week and beyond – the Big Ten schedule. Ohio State is undefeated and ranked in the top 5, but the Buckeyes haven't been as dominant on either side of the ball as some expected, coaches included.
Adolphus Washington will not play Saturday and is probable for Wisconsin, Meyer said.
Meyer said the linebacker position remains the most concerning part of the team. He said there were misses in recruiting in recent years and said it's caused a lack of depth at a key position.
In front of the linebackers, though, Meyer remains impressed in the defensive line. He lauded the coaching of Mike Vrabel and said the injuries to Washington and Tommy Schutt could have been devastating. Instead, the next guy up performed well and the unit hasn't missed a beat.
Meyer said Schutt may not have been listed as a starter, but he was going to play half the snaps on defense. Schutt broke his foot the first week of the season and is due back in October.
Running back Carlos Hyde, who served a three-game suspension and had to earn his way back on the team, has done more than the coaches have asked of him, Meyer said.
Though Hyde remains low on the depth chart, he will play Saturday. Meyer raved about Jordan Hall's production. Hard to take carries away from him.
Hall said you have to be unselfish if you want to win. That's why he's welcoming Hyde back with open arms. He knows he can improve the Buckeyes' offense.
This week presents an opportunity for Ohio State to work on some of its weaknesses, Hall said. Fundamentals are the main thing he'll try to improve.
The opponent hasn't brought the team down. Hall said the Buckeyes have had two good days of practice. No sign of complacency.
Hall said Meyer is very eager and anxious in practice. Wants to get back on the playing field.
Pittsburgh Brown said Vonn Bell, Eli Apple and Cam Burrows continue to do well in practice. Thinks all three have a bright future.
C.J. Barnett said the defense has only been OK through three games. He thinks they've had too many missed tackles and lapses in coverage.
Instead of thinking of particular games as possibilities to make a statement, Barnett said it's about the entire season and the whole body of work.
On the dime and penny (seven defensive backs) defenses, Barnett said he's in favor. He's all for having as many DBs on the field as possible. The depth they've shaped in the secondary allows them to get creative in coverages, Barnett said.
"Oh, man. Seems like they're always doing something." –Clevelander and Browns fan Marcus Hall, on the team trading Trent Richardson.