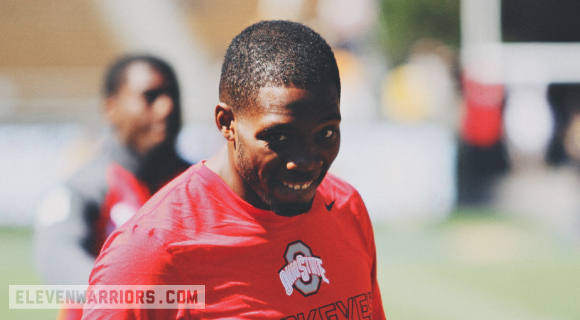 Kenny Guiton said he understands Braxton Miller is Ohio State's starting quarterback. Guiton sees no issue. In his eyes, the job has always belonged to Miller. The past year for Guiton has always been about keeping Miller's seat warm, awaiting his inevitable return.
Head coach Urban Meyer has a different school of thought. There's no quarterback controversy; Miller is the Buckeyes' starter. But that doesn't mean Guiton's responsibilities have ended.
It's hard to sit a guy who's completed 40-of-60 passes for 428 yards, six touchdowns and one interception the past two weeks. And don't forget about the 175 rushing yards on 23 carries, an average of 7.6 yards per touch. Adrian Peterson is envious of those rushing totals. In his first career start, Guiton had the poise and moxie of a three-year starter.
The conundrum Meyer is facing becomes evident very quickly, which is why he's admitted Guiton has earned playing time and will continue to be involved in the game plan.
"Man, that's it right there," Guiton said. "Coach Meyer saying that, it keeps me going. It keeps me going and I'll keep preparing."
The next chapter in Guiton's bestseller will be written Saturday against Florida A&M. Braxton Miller is probable, according to Meyer. He admitted he'd be surprised if Miller didn't play. But Guiton, the Walter Camp national offensive player of the week, is due to receive first-team reps in practice, just like last week.
"We didn't have that dilemma a year ago – not dilemma, but luxury," Meyer said. "If he's one of the best 11, you have an obligation to get him on the field a little bit. I haven't said he's one of the best 11 yet, but that's something we are in the process of as coaches to ID that. The good thing is, there are some choices now."
One possibility is to put both quarterbacks on the field together, Guiton behind center and Miller in the backfield. Guiton's passing has been superb and he's displayed an ability to run the option to near perfection. A backfield with Miller and Jordan Hall with Guiton running the option could present great problems for defenses.
However, the more likely scenario is for Guiton to spell Miller for a few series each game.
"We know when the lights shine bright and we need to step up, we do," Guiton said. "We're ready."
Hyde and Seek
There are 124 teams in the Football Bowl Subdivision, and 123 of them would be just fine if they had the perceived problems the Ohio State offense has been saddled with. Too many quarterbacks. Too many running backs. A full arsenal of wide receivers.
When there aren't enough footballs to go around, it's the sign of an efficient offense, and that's exactly how the Buckeyes have made it look so far. This week, against lowly Florida A&M, they welcome back a full stable in the backfield.
Carlos Hyde rushed for 970 yards and 16 touchdowns during Ohio State's perfect 2012 season. But some off-the-field troubles over the summer led to a three-game suspension. He'll make his debut Saturday, adding another playmaker to an already over populated list.
"It's a good issue to have because Carlos did a lot for us a year ago – a lot," Meyer said. "He's a very talented running."
Hyde joins Hall, Dontre Wilson, Devin Smith, Philly Brown and a host of others who have boosted an offense that was at best consistent while rattling off 12 wins last season. Through three games this season, the Buckeyes are averaging 44.7 points per game and 504 yards.
Hall has taken the reins at running back with Hyde sidelined. He's already amassed more than 400 yards rushing and a Big Ten-leading six touchdowns. Thirty carries at Cal signaled Hall won't be losing his starting spot any time soon. Many had questions about Hall's size and durability when it came to being an every-down back. Those inquiries have been put to rest.
Hall touched the ball on 35 of Ohio State's 87 offensive plays Saturday. Meyer has never been shy about complimenting the running back, and that trend has continued even with Hyde's imminent return.
"Jordan Hall has certainly earned the right to touch the ball in a big way," Meyer said.
Suddenly, a lack of depth is nonexistent. Instead, it's one of the biggest strengths on the team.
"We're anxious," Meyer said.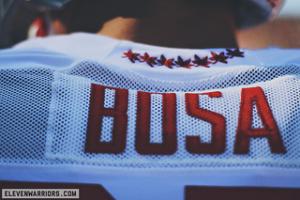 The Bos(s)a Man
Ohio State's 2013 recruiting class was filled with top-tier talent, as evidenced by the No. 1 ranking. Wilson has flashed his much talked about talents already. Less flashy are defensive linemen. But don't let that sway you. True freshman Joey Bosa has quickly made a statement about his game.  
"His development was much faster than I think a lot of people thought it would be," defensive line coach Mike Vrabel said. "Certainly he's a much smarter football player as a freshman than I had ever envisioned."
Bosa completed the best game of his young career at Cal, finishing with seven tackles, including two behind the line of scrimmage. He had 10 tackles and two tackles for loss on the season.
Bosa is firmly in the defensive line rotation for his production. But an increased role came about when Tommy Schutt suffered a foot injury the first week of the season. The coaches were concerned with how a young player might react with being thrust into the limelight, but Bosa has eased any and all apprehension.
No Movement
The Ohio State depth chart remains the same. Miller and Washington (groin) are listed as starters. Neither played last week due to injuries. Washington didn't even travel to California.
Four running backs are mentioned – Hall, Rod Smith, Warren Ball and Bri'onte Dunn – Hyde is not one of them.
On the Big Ten Football Coaches Teleconference, Meyer said the running back depth chart would be set after a week of practice. Hyde will play. The amount remains in question.