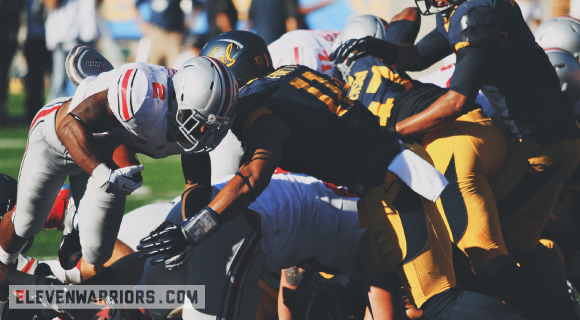 It's hard for coaches to stay satisfied. Urban Meyer is no different. Even after his team's best offensive showing since he became Ohio State's head coach, Meyer found an area to improve upon: consistency and balance.
"We were very one-dimensional last year, and we're still not quite where we want to be," Meyer said Tuesday on the Big Ten Football Coaches Teleconference. "We want to be 50/50 run-pass. The best offenses in America have balance."
Part of a greater balance could be the return of quarterback Braxton Miller and running back Carlos Hyde. Meyer said Miller has continued receiving treatment for his sprained MCL and will try and practice Tuesday afternoon. There is no mystery surrounding Hyde. He will play Saturday against Florida A&M.
"He's been very unselfish," Meyer said. "He's handled his business. If he didn't handle it the right way, he wouldn't be here."
Hyde's three-game suspension came with him being the starting running back, a position he's possibly lost hold on. Jordan Hall is the Big Ten's leading scorer – six touchdowns – and one of the top rushers in the country with more than 400 yards. Meyer said the running back depth chart will be set after a week of practice.
While the Ohio State offense torments defensive lines, the Buckeyes' unit has left Meyer thrilled. With Adolphus Washington and Tommy Schutt both injured, the line play could have suffered. Instead, it has thrived.
"It's heading in the right direction," he said.
Brady Hoke:
The week of practice leading up to the Akron game was normal. Hoke didn't sense that the team might have a letdown or play poorly.
"I thought we learned a lot from how we played a week ago."
Quarterback Devin Gardner was particularly bad last week, throwing three interceptions, including one that went for a touchdown. Hoke said Gardner has a lot of pride. "He's one of those guys who will bounce back."
Gardner's confidence remains intact, Hoke said. He'll enter Saturday's game at Connecticut with optimism after a typical week of hard work in practice.
Hoke lamented pass rushing issues. It's been a problem the entire season for Michigan. Hoke said the defensive linemen haven't been able to shed O-linemen as effectively as in the past.
Gary Andersen:
Wisconsin and Purdue open the Big Ten season this weekend.
"The outcome is the outcome at this point. We'll move forward. … At the end of the day, the kids didn't quite decide the game. But it is what it is."
Andersen said he never fathomed Wisconsin wouldn't get off another play. Even when the clock hit 0:00, he felt the officials would correct the problem. But once they jogged off the field, Andersen said he realized the game was over.
There will be no hangover this weekend, Andersen said. It's tough on the players since they didn't get to decide the game, but he said they're young and get over things quickly.
"I can deal with bad calls, poor decisions by officials, but this is different."
Andersen laid no blame on quarterback Joel Stave. The QB did exactly as he was told.
Bo Pelini:
Pelini said he heard in past there was audio out there. He didn't know specifics, though. Said it was a private convo at emotional time.
"We have great fans. I respect them for who they are. But I'm human like anyone else. You make mistakes and you apologize."
Pelini said he didn't know who leaked the audio and said it's clear an agenda was involved.
Pelini said he's had opportunities to leave Nebraska and has stayed. Said he and his family enjoy it there, have great support and great friends. If he didn't like it there, he would leave.
"I think we've all said things behind closed doors that were not for public consumption."
"Our players are resilient. Trust me, they'll be ready to go. It's a strong group of kids."
Pelini said Nebraska's defense has let one play allow things to snowball the past couple years. It's led to some blowouts and bad defensive performances.
The Cornhuskers had guys trying to do other people's jobs on D Saturday against UCLA, Pelini said. It led to breakdowns and holes in the defense.
Mark Dantonio:
Connor Cook needs to continue to lead and develop cohesion with the wide receivers in the week leading up to his first road start at Notre Dame.
Dantonio believes Cook has that spark that great quarterbacks have. Now it's just whether he makes it into a full flame.
Michigan State is deep at running back. Dantonio said his philosophy will be going with the hot hand.
Kirk Ferentz:
Iowa is 2-1, but Ferentz said there's a lot the Hawkeyes need to clean up. If not, the Big Ten season could be a problem.
Iowa running back Mark Weisman leads the nation with 85 carries. Ferentz said he's in incredible shape. Part of that is due to Iowa's pass offense being inconsistent.
Teams have been putting up points at a record pace this season. The most surprising output so far was Texas A&M's 42 points and 600-plus yards against Alabama. It was the Crimson Tide's worst defensive outing in school history. Ferentz said there is still a place in college football for good defenses.
"It makes you wonder if anybody is still playing defense anymore."
Ferentz said he assumes there's always a recorder or video camera rolling when he's in public. He said the only time you're safe is when you're at home with your wife. "That's probably a 50/50 shot on a good day," he added.
Jerry Kill:
Kill thanked those who wished good health after his seizure. He said he's fine and doesn't want to talk about health issues.
On support from athletic director Norwood Teague: "I haven't heard a lot of things. I've been kind of in my own world. Norwood, I certainly appreciate that."
Kill was proud of how his assistant coaches and players handled the second half of the win over Western Illinois. "It shows you this game is a heck of a lot more important than one person."
Minnesota plays San Jose State on Saturday. The Spartans were an 11-win team last year, but they lost head coach Mike MacIntyre to Colorado. Still, Kill said it will be a good test with the Big Ten schedule looming.
The Gophers have a chance to be 4-0 entering the Big Ten schedule. Kill said there are still plenty of areas to improve on. Saturday will help find more holes.
Kill said quarterback Philip Nelson (hamstring) is 65 percent healthy right now. Mitch Leidner and Chris Streveler will get reps in practice.
Tim Beckman:
The Washington game at Solider Field was a huge success, aside from losing the game. Great experience for players, good for recruiting. Beckman said another game in Chicago is already in the works.
Beckman said the defense needs some improving. The pass rush hasn't been adequate and the tackling was poor in the loss to Washington.
Illinois' seniors are committed to leaving a lasting legacy in Champaign and moving the program forward. Beckman said he's happy with the area the program is moving. After disastrous first year, the Illini are 2-1 and look like a bowl team.
Beckman is welcoming a bye week. Illinois is a young team, and while they've been playing well, rest – both mentally and physically – is not a bad thing.
Darrell Hazell:
Purdue has made strides, but Hazell said winning is the goal. On Saturday against Notre Dame, the Boilermakers played well, but it didn't get the job done, Hazell said.
Hazell said he and Andersen had never met until this year, but the two first-year Big Ten head coaches immediately became friends and struck a bond. Hazell said it was like they'd known each other for years.
The biggest positive has been a shift in attitude. Hazell said there was no heads hanging on Saturday. He said they stayed confident when adversity struck. This week at Wisconsin will be another challenge and growing experience.
Hazell on Chris Borland: "I'm not sure we're going to find a better linebacker than 44. He's outstanding. He's got great balance, he's got great power. He's never on the ground."
Hazell was very happy with the atmosphere in Ross-Ade Stadium Saturday night. "Our fans were the best on Saturday night, and we can't thank them enough. That's the way college football is supposed to be."
Pat Fitzgerald:
Fitzgerald said coaches and other public figures always have to be wary of what they're saying and who's around. Comments can be taken out of context and used against you.
Wide receiver Christian Jones has been added to the Biletnikoff Award watch list. Fitzgerald called him a playmaker with a bright future.
The two units that are playing better are the offensive line and secondary. Fitzgerald said they have to play at a high level if Northwestern wins a Big Ten title. The secondary is young, so Fitzgerald is especially happy with the pass defense.
The downside on defense was the explosion plays they allowed against Western Michigan last week.
Fitzgerald said the Wildcats' practice on Tuesday morning was the most energetic of the season. Northwestern hosts Maine this Saturday and has a bye next week, so they'll likely be undefeated when they host Ohio State the first week of October.
Venric Mark should return soon, Fitzgerald said. It will be a big boost for the offense. Even in his absence, the backfield looked impressive. Fitzgerald commented on the RB depth.
Kevin Wilson:
Nate Sudfeld led a high-scoring win over a quality opponent – Bowling Green – in his first career start. Wilson said his quarterback was "pretty solid."
The Hoosiers up-tempo offense and creative uniforms puts them in a positive light with recruits, Wilson said.
Indiana has Missouri in Bloomington this weekend. Wilson and Gary Pinkel have a history of facing each other from their days in the Big 12. Wilson said Mizzou always has a dynamic offense.
Wilson said Pinkel built Missouri from low points to being a top program that's now in the SEC. It's the same model he hopes to use at Indiana.