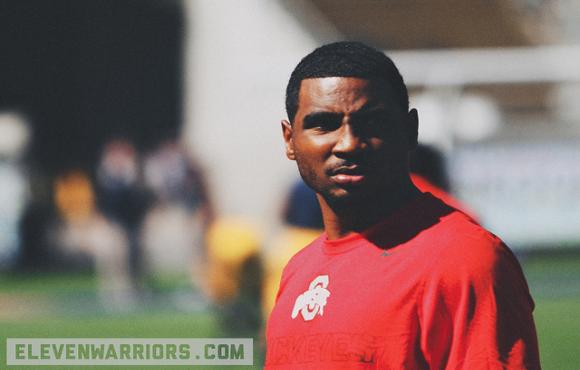 When 10 offensive players are named champions, chances are it was a good performance. That scenario played out Saturday in Ohio State's 52-34 win at Cal that included 608 yards of offense.
And to no one's surprise, Kenny Guiton, the national offensive player of the week, was named the Buckeyes' offensive player of the game. One week after Guiton played exceptionally well against San Diego State, he one-upped himself in his first career start.
"If you knew where he was January, a year and a half ago, [you wouldn't believe it]," head coach Urban Meyer said. "I'm a parent, so you go right to thinking, can you imagine being his parent right now, how cool that would be. If you buy stock, buy stock in Kenny Guiton, because what's he going to do after football some day, it's going to be really neat."
There are still several chapters left in Guiton's legend at Ohio State. Even though Meyer said Braxton Miller is probable for Saturday's game versus Florida A&M and said the starting quarterback will play if he's cleared, Meyer admitted it will be difficult to take Guiton off the field. So difficult, in fact, that Meyer said Guiton's playing time won't come to and end.
"Kenny Guiton has earned some time," he said.
Add running back Carlos Hyde to that list. After serving a three-game suspension, Meyer said Hyde will return this week. It presents another question of who will start at a high-profile position.
In Hyde's absence, Jordan Hall has turned into one of the top rushers in the nation. He's tallied more than 400 yards through three games and scored a Big Ten-best six touchdowns.
One year after an undefeated season, Ohio State's top-two offensive players have played a combined one game and, incredibly, the unit has looked more impressive.
"I think Tom Herman feels better now," Meyer said. "Last year we didn't feel that way."
In 2011, Hyde took command of the running back spot when Dan Herron was suspended. Hyde rushed for 104 yards and two touchdowns on 13 carries. Herron returned to the starting lineup the next week and Hyde didn't receive a single carry. Disgruntled, Hyde went to Twitter to air his grievances.
When he was suspended in July, Hyde took a different approach. Maturity drove him to being a team player, helping out underclassmen and running hard on the scout team. A week ago, he mimicked Cal running back Brendan Bigelow, who gashed the Buckeyes for 160 yards and two touchdowns last year. On Saturday, Ohio State limited Bigelow to 39 yards on 11 carries. His longest rush went for nine yards.
"We're anxious, [Carlos] has done a really good job," Meyer said. "He's had a very good attitude, taken care of his business in the classroom. We're ready to have him back."
The biggest issue for Miller is moving laterally, a similar situation Washington is currently undergoing with Robert Griffin III. Miller can move forward and backwards, but when he tries to cut to either side, his movement is limited.
That might work for an offensive linemen or a traditional pocket passer. However, Miller is anything but someone who stands like a statue behind the offensive line. He's a fleet-footed athlete who's eager to make a play.
"It can linger and that's something that we have to be smart about," said Meyer, about Miller's sprained MCL. "I'll have to evaluate that as we go."
Still, Meyer said he doesn't expect Miller to sit again this week. Adolphus Washington's prospects also sound promising after missing the trip to California with a groin injury. Meyer said he's probable to return.
Any time a defense allows over 500 yards, the first thought is, "What happened?" But Cal ran 90 plays, which lessens the blow for the Buckeyes. Christian Bryant said missed tackles and big plays are inevitable when a team has a high number of offensive snaps.
It didn't sit well with Meyer, though, who pointed out Ohio State had 16 missed tackles, including a handful by linebacker Ryan Shazier on top of a personal foul penalty.
"We want single digit missed tackles, and Shazier was a culprit," Meyer said.
Said defensive assistant Mike Vrabel: "Our job is to go out and play 60 minutes of tough, Ohio State football. Every week is a new opponent and new challenge. There's a lot to fix. There's a lot to work on, and that's going to continue on Saturday."