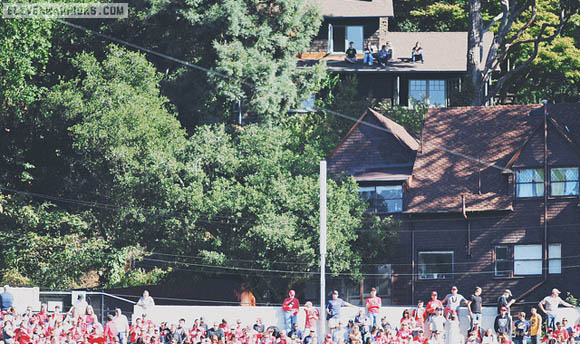 Al Saracevic, an Ohio Native and of SFGate.com, has undoubtedly typed the worst article you will read in the aftermath of Ohio State's 52-34 win over California. Here's just a snippet:
It's a long way from Columbus, Ohio, to Berkeley. And we speak in terms of geography and philosophy.

Columbus is home to a famous football team that happens to be affiliated with a university. Berkeley is home to a famous university that also fields a football team.

In a lot of ways, it's that simple. Priorities are everything. And those priorities were on full display in Strawberry Canyon on Saturday.
He then goes on to call for California to spend more money on a defensive coordinator: 
About the only thing one can say on the football front would be this: Coach Dykes needs to stop drawing up fancy new plays on his cocktail napkins and spend a little time on defense. His Louisiana Tech team fielded the worst defense in the nation last year. His first Cal team isn't much better. We know the defense has sustained great injury this season, but spend the money on a top-shelf defensive coordinator, Sonny. Put the "D" back in Dykes.
Yes, that's it. Sonny Dykes isn't an offensive genius; he's just some drunk guy at a bar scribbling plays on cocktail napkins. (Do you want to know somebody is insufferable? They use the word "cocktail.") CALIFORNIA CARES ABOUT MORE THAN FOOTBALL! BUT THEY NEED TO SPEND MORE MONEY ON A DEFENSIVE COORDINATOR TO PUT THE D BACK INTO DYKES! 
This article is so dumb (Ohio State is a world renowned university with a world-caliber football program — they're not mutually exclusive), I'm in need of a "cocktail." Congratulations on the mouse-clicks, Al.