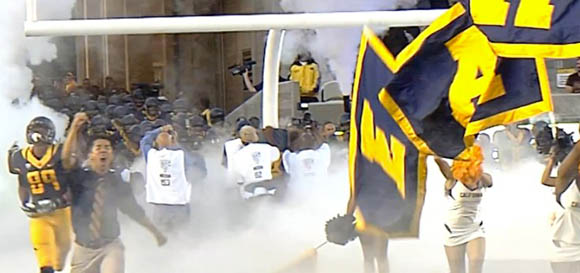 Schedules have become an annual argument in college football. Schools get criticized roundly for weak schedules, especially relating to non-conference games. Ohio State and Louisville have taken the brunt of the scorn this year.
The two national title contenders appear at first glance to have the easiest schedules in the top 10. The Buckeyes were supposed to play Vanderbilt in the opener, but the Commodores backed out. San Diego State was added and became a surprising dud. Buffalo and Florida A&M were traditional money games with Cal being the lone attractive matchup.
Future schedules are agreed upon far in advance, sometimes more than a decade. When Ohio State and the Bears agreed to a home-and-home series, Cal was flying high under Jeff Tedford. When he was hired in 2002, the program was languishing but considered a sleeping giant with a proud history and ideal location in fertile recruiting grounds.
During Tedford's 11-year career in Berkeley, he won more games than any previous Cal coach – 82 – engineered nine winning seasons, eight bowl trips, including five victories, and posted seven wins over archrival Stanford. For a brief period on a Saturday night in 2007, the Bears were due to take over the No. 1 ranking. But it all came crashing down in a loss to Oregon State, as did Tedford's career and the Cal program.
He was fired after the Bears bottomed out last year with a 3-9 record. Sonny Dykes was hired, and in came another fast-paced, pass-first offense. Louisiana Tech had the highest scoring offense last year with Dykes at the helm, and Cal hasn't dropped off much from that pace. Quarterback Jared Goff leads the nation in passing yards and the Bears are scoring points in bunches.
Ohio State may not be facing a ranked opponent, but its trip to California could yield fool's gold.
Opponent Breakdown
Cal lost its quarterback and one of the best wide receivers in the country after last season. Many thought it would be a rebuilding year for Dykes in Year 1. When a true freshman was named the starting quarterback, that idea was reinforced.
But Goff has come out hot, eclipsing the second-most total yardage getter by nearly 150 yards. Portland State, and even Northwestern, are not Ohio State, though. The Buckeyes field a fearsome defense with a veteran secondary and athletic defensive line.
Still, you won't see the 6-foot-4, 205-pound Goff back down anytime soon. He's infused with a youthfulness that makes him fearless.
"Honestly, I think our offense can match up with any defense in the country," Goff said.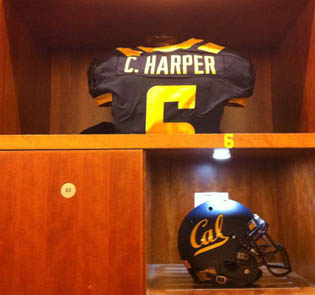 He's totaled 930 yards, four touchdowns and three interceptions while completing 62 percent of his passes. His favorite target – Bryce Treggs – is catching more than 10 passes per game. Racking up passing yards isn't the goal, though, which Goff admitted. It's cool, he said, just not better than wins.
Cal is averaging in the neighborhood of 100 plays per game, a majority of which are pass plays. Dykes' "Bear Raid" offense is second in the country in pass attempts. However, to beat Ohio State, the Bears will need a more balanced attack.
In a near upset in Ohio Stadium last year, Brendan Bigelow rushed for 160 yards and two touchdowns on just four carries. Neither he nor any other Cal running back has had tremendous success running the football this season. The team is averaging 110 yards rushing per game.
"We have to be able to run the ball, this is not a team to drop back and throw 70 times against," Dykes said.
Part of the issue has been underwhelming play from a young offensive line. The unit allowed 41 sacks a year ago and appears improved on that front, but the holes for running backs aren't opening.
Bigelow's style of getting in space and taking the edge posed major problems for the Silver Bullets. Urban Meyer was not pleased with the tackling performance and said the Buckeyes have practiced it daily ever since. The final damage that day added up to 512 total yards.
Bigelow's effort prompted an Ohio State fan to mail him a letter, congratulating him on his career day. It now hangs on Bigelow's wall.
"I'm pretty sure they know who I am now," he said of the Buckeyes. "I like the challenge. It's definitely going to be a lot more difficult."
Coming off a torn meniscus during the spring, Bigelow is still getting up to speed. He doesn't have a touchdown yet this season. A 4.1-yard average is nothing to scoff at, though. But don't say that to Bigelow.
"I expect more of myself," he said.
The Bears are expecting more out of the defense, too. Dykes hired Andy Buh, a former defensive assistant at Wisconsin, but the results have been subpar the first two weeks. Northwestern scored 44 points and FCS member Portland State put up 30.
Poor tackling has plagued Cal, while the defensive line hasn't been able to put pressure on opposing quarterbacks. The team has recorded just one sack. Missed tackles are a fundamental issue that can be corrected, as evidenced by the Bears' opponent this coming Saturday. But the lack of pressure can be glaring. It's technique oriented and could dog Cal all season.
"We just have to do a better job," Dykes said. "It is up to me to get our guys ready to play. We just haven't been able to get the push up front that we need to get."
Portland State racked up 320 yards in one quarter. With Dykes, you get a great offense, but it's coupled with bad defensive play. Louisiana Tech's defense was rated last in the country in 2012. The Bears have switched from a 3-4 to a 4-3, and it has not gone well.
The defense isn't void of talent, but elite difference makers are few and far between. Cal finished in the bottom fourth of the Pac-12 in every major defensive category last season. And that was before it had to replace three of its four top tacklers this year.
Linebackers Nick Forbes and Khairi Fortt, a Penn State transfer, anchor the second-level of the field, with cornerback Kameron Jackson and safety Michael Lowe patrolling the secondary. You may have noticed the lack of a defensive lineman's name.
Therein lies the problem.
Buckeye Breakdown
Ohio State's biggest concern heading into Saturday's contest is health. It still isn't known whether quarterback Braxton Miller or defensive end Adolphus Washington will play. Meyer has deemed Miller a game-time decision, while Washington is yet to practice. Both would have key roles in the game's outcome if they play – and also (possibly) if they're sidelined.
Kenny Guiton has shown he can lead the Buckeyes to victory, but he's not a Heisman Trophy contender. Miller is a difference maker that gives Ohio State that extra oomph in its national championship aspirations. Without him, the Buckeyes could struggle against a Pac-12 program, albeit one in the rebuilding phase.
Meyer has said he's "fairly optimistic" about Miller playing and that the quarterback is healing at a rapid pace. Still, there has been no definitive word on if and when he'll be available. Meyer indicated Guiton could start with Miller spelling him when the situation is ripe for it.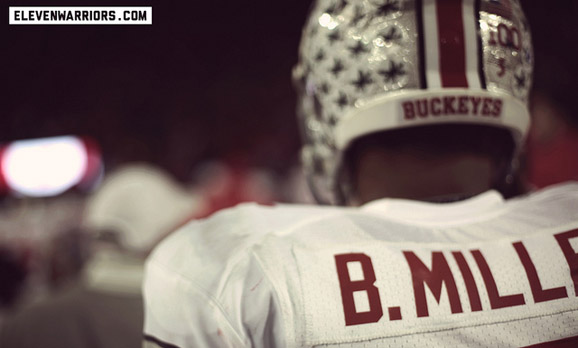 "Braxton looks good," safety Christian Bryant said Wednesday. "I saw him throw the ball a few times. But I think he's just focusing on getting back so he can be ready."
The MCL is unstable, so Miller is wearing a brace. Meyer said one of the biggest issues is Miller getting used to wearing the bulky prop. He has a history of injuries, but this is the longest the Buckeyes have gone into a gameweek without knowing Miller's status.
Tight end Jeff Heuerman hasn't questioned Miller's toughness, though, and he remains confident in his on-field capabilities.
"You're going to get bumps and bruises," Heuerman said. "You're going to have things not always go your way. There's no reason to be concerned. "Braxton plays a huge role in this offense, especially with his legs. So he's moving around a lot, he's throwing the ball, he's got a bunch of reads.
"Sometimes things don't go as planned. He took a shot and his knee twisted up a little bit. But he'll be fine. I don't think there's any major concern about the way he plays. He's a dynamic, incredible athlete."
Protecting Miller and/or Guiton will be a fully functional offensive line. Center Corey Linsley, who underwent offseason foot surgery, played only 17 snaps against Buffalo and didn't appear after halftime last week. Meyer said he's now 100 percent and should be available all four quarters on Saturday.
Ohio State's defense wants to apply pressure on Goff and force him to throw into a secondary that will field five and sometimes six defensive backs.
"A true freshman can be really athletic, but it's easier to get flustered and to get a little nervous, especially when you see a defensive line closing in," defensive lineman Michael Bennett said.
How it Plays Out
Bucknotes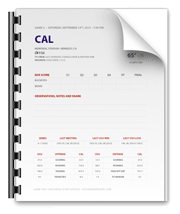 Bucknotes are your guide to Saturday's action. Download, print and become the smartest Ohio State fan in the room.
Ohio State will have the upper hand regardless of who takes the snaps at quarterback. Guiton has not only proven he can orchestrate wins, he's flashed an ability to do so with efficiency. That's the top priority in any quarterback, whether they're a pocket-passer or of the dual-threat variety.
Cal's offense has garnered much of the attention this week. But the Ohio State offense versus the Cal defense is the more important of the matchups. Unless Cal slows the Buckeye offense, there isn't much realistic hope for the Bears. Ohio State hasn't cracked the 50-point mark this season, but it's shown it has a quick-strike offense. So far, the Buckeyes have scored 44 first-quarter points – three touchdowns each game.
Bigelow's goal is to get the ball in space and get to the outside. That formula nearly resulted in a Cal victory last season. This year, it'll be Dontre Wilson, Jordan Hall, Philly Brown and Co. that attempt to weave in and out of the defense. The Bears have been shredded in consecutive weeks by up-tempo offenses.
When you throw as many times as Goff and run such a high number of plays, you're bound to accumulate impressive stats, and he may do so Saturday. However, when he is on the sideline, an offense that's headed by Meyer and Tom Herman will be staring across at one of the worst defenses statistically in major college football. 
---
ELEVEN WARRIORS STAFF PREDICTION: Ohio State 42, California 21