Part one of our look at Big Ten recruiting in 2014 featured a number of schools that haven't secured a commitment.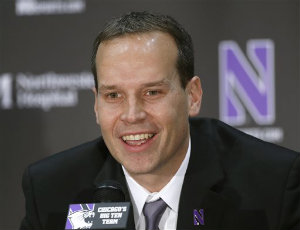 The second half of the conference has teams with at least one commit and a solid foundation for next year's class. 
Northwestern football is a threat this year on the gridiron and on the basketball recruiting trail, believe it or not. 
A couple of other basketball programs lacking historical success are actually doing pretty well, in their own right.
Meanwhile, Rutgers is starting to stabilize under a new head coach. 
Ohio State is still still searching for any big man to fill out their 2014 class, and got some good news in that regard.
Here's a look at the rest of the Big Ten and how it's faring in recruiting:
Nebraska
2014 commitments: Jacob Hammond (Oklahoma City)
The Huskers have such a trendy basketball program that it's now referred to as #Nebrasketball. Stunningly, there's a lot of hype around a team that hasn't made the tournament since 1998.
The school is pouring in money to help improve their chances of making the big dance again. With the Big Ten's cash infusion, Nebraska opened a new basketball practice facility and will play host to sold out crowds (no joke) at their new arena.
No offense to Jacob Hammond – a strong inside presence – but head coach Tim Miles is aiming a bit higher. He helped lure five-star center and Buckeye target Elbert Robinson to Lincoln, Saturday. Robinson attended a Huskers football game, another example of a school using a more popular program to showcase itself.
For Robinson's services, Nebraska is competing against Ohio State, Georgetown, Kansas and Louisville, among others. It says a lot about the direction of the Huskers program, though, that they were able to secure a visit with a five-star talent.
Northwestern
2014 commitments: Victor Law (Chicago), Bryant McIntosh (Greensburg, Ind.), Gavin Skelly (Westlake, Ohio)
New head coach Chris Collins didn't take long to improve the perception of Northwestern basketball. Within his first three months on the job, he received a verbal pledge from four-star wing Victor Law.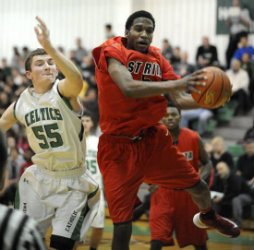 His commitment immediately signaled a major change in culture for the Wildcats program. The 6-foot-7-inch Law is a high-level athlete and skilled in the open court. He is their highest ranked recruit, possibly ever, and he's from Chicago, so he's kind of a big deal for Northwestern (their highest rated recruit before Law was probably Evan Eschmeyer, in 1993. Not much recruiting data available from the early '90s, though).
Collins and his staff followed that up by bringing in Cleveland-area native Gavin Skelly – a solid low post scorer – and recent commit Bryant McIntosh.
With this foundation, Northwestern stands a chance at making an NCAA Tournament – which would be the program's first, if you need that reminder.
Penn state
2014 Commitments: Shep Garner (Philadelphia), Isaiah Washington (Williamsport, Pa.)
The program took a significant step back last season, finishing last in the conference and compiling 10 wins total. With the return of stud point guard Tim Frazier, they will improve – not that there's any room to get worse.
It's tough to recruit with what coach Pat Chambers has to work with. Still, for whatever reason, the Nittany Lions seem to find underrated point guard prospects.
First it was Trey Burke – of course, he flipped to Michigan – then it was Frazier, now Shep Garner is in the same mold: underrated and has a score first mentality. He has shown the ability to hit buckets from all over the floor.
Garner may be considered underrated by recruiting web site standards, but high-major programs offered him. Florida and Memphis were among the other schools to offer the Philadelphia native.
Overall, the Penn State staff has recruited the "City of Brotherly Love" hard over the last couple years. That makes sense, considering Chambers is from the area, spent five seasons on Jay Wright's Villanova staff and Philadelphia produces some of the best talent in the country (because of their loose spaghetti policies?).
Isaiah Washington is from Williamsport – about four hours northwest – and is a versatile guard. 
Purdue
2014 Commitments: Dakota Mathias (Elida, Ohio)
Matt Painter has a young squad, but – at least – three open scholarships for his 2014 class. There's an impressive group of incoming freshmen, while he's still building a 2014 class.
Interestingly, Painter's been focusing on Ohio. Dakota Mathias – a 6-foot-5-inch wing from Elida High School – is a sharpshooter, who committed in May.
Mathias never received an Ohio State offer, and neither has Vincent Edwards, a Middletown product. The 6-foot-7-inch forward has offers from Michigan and Miami, among others. Edwards will visit West Lafayette this weekend, along with several thousand Notre Dame fans.
Rutgers
2014 commitments: D.J. Foreman (Woodstock, Va.), Mike Williams (Brooklyn, N.Y.)
It's been a rough year for Rutgers basketball, just before they transition to the Big Ten. Their former head coach thought it was OK to verbally assault and launch basketballs at his players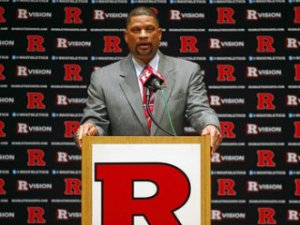 That was followed up by Athletic Director Tim Pernetti's resignation and a stand-up comedy routine by president Robert Barchi during a press conference
In the wake of that, Rutgers brought in former Sacramento Kings, Washington Wizards and Philadelphia 76ers coach Eddie Jordan. He was a Rutgers graduate – until the school realized he didn't actually graduate.
Jordan is actually doing a great job on the recruiting trail, despite all of the controversy surrounding the basketball program.
He landed a commitment from four-star forward D.J. Foreman, who is an elite athlete and a major mismatch on the offensive end. He'll be visiting Rutgers this weekend, along with fellow commit Mike Williams and transfer Bishop Daniels.
Williams is a three-star combo guard from Brooklyn, an area where Rutgers would love to beef up their recruiting. Having a former NBA player and coach will help.
Wisconsin
2014 Commitments: Ethan Happ (Taylor Ridge, Ill.)
Bo Ryan has achieved a lot as Badgers head coach (pretty much everything short of a Final Four), but has never really brought in highly touted players.
Maybe these athletically gifted recruits don't want to play in an offense designed for the pre-shot clock era. Regardless, Ryan recruits guys that fit well in his system.
In 2014, Ethan Happ will be a Wisconsin freshman. The three-star forward is similar to a lot of Badger forwards than predate him, with his soft touch and passing abilities.
Ryan is going after a top-level talent in Milwaukee native Kevon Looney – who took an unofficial visit to Madison a month ago – but Wisconsin isn't considered the favorite to land him.