Around the Oval is Eleven Warriors' weekly love letter to Ohio State sports that don't get the coverage they should.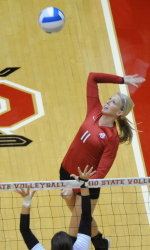 With football season fully underway and basketball season just around the corner, Buckeye fans have a lot to be excited about this time of year.  But while Kenny G and the football Buckeyes were orchestrating a 42-7 victory against Brady Hoke's old team, several other Ohio State teams were making waves of their own.
Perhaps most notably, the women's volleyball team had another phenomenal week.  Led by head coach Geoff Carlston and National player of the week Kaitlyn Leary, the Lady Bucks went 4-0 with victories over Dabrowa Górnicza (a Polish professional team), 16th-ranked Western Kentucky, 15th-ranked Florida State (which ended a 24-game home winning streak for the 'Noles), and Florida Gulf Coast. 
The latter three victories resulted in the Buckeyes winning the Four Points by Sheraton Seminole Invitational title, and in the latest poll, they rose from 23rd to 13th. 
The Bucks host IUPUI, Southeast Missouri, and Xavier this weekend in the Sports Imports DC Koehl Classic.
Join us after the jump to see what other Buckeye teams are getting into the swing of things.
Golf
The men's golf team finished seventh out of 15 teams in their first tournament of the year, the Northern Intercollegiate.  The Buckeyes started off a little slow, shooting 23 over par as a team on the opening day, good for 12th place, but finished strong by shooting even-par on the third and final day of competition. 
The Bucks were led by freshman Frederik Hammer (20th place, 5 over par) and sophomore Michael Bernard (24th place, 7 over par).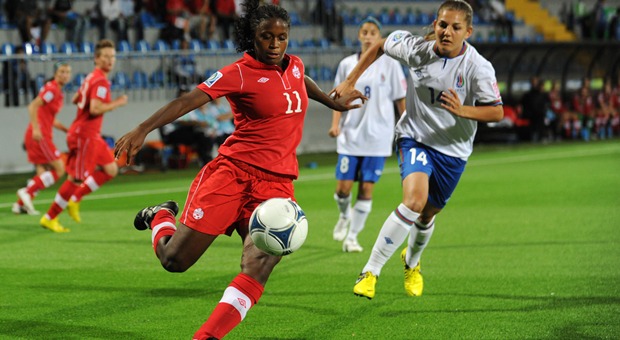 The seventh place finish was good enough for Ohio State to beat 25th ranked St. Mary's (California) by 14 strokes, which, along with strong performances by underclassmen, gives the Buckeyes plenty to build on early in the season. 
The men's golf team is off this weekend, and returns to action next weekend when they head to Lake Forest, Illinois for the Windon Memorial.
The women's golf team, led by coach Therese Hession and senior Allison Harper, tees off for the first time this weekend in East Lansing for the Mary Fossum Invitational.
Men's Soccer
The men's soccer team went 1-1 on the weekend to even up their record at 2-2 on the season, with key performances from new players a common theme. 
The Buckeyes lost their first game of the weekend to the 22nd-ranked Tulsa Hurricane, a game which saw freshman Christian Soldat score his first career goal as a Buckeye.  This Ohio State team is quite inexperienced, returning only four seniors out of a 31-man roster (with one of those seniors playing on the team for the first time), and Tulsa was able to capitalize on the young Bucks' mistakes.  "Their first two goals were direct results of things we did wrong and from there, it was a hole we couldn't dig out of," Ohio State head coach John Bluem said.
The Buckeyes bounced back on Sunday afternoon though, defeating SMU 1-0 behind stellar goal keeping by Alex Ivanov and Senior Denio Leone's first career goal.  This time last year, Leone was actually on the Ohio State club soccer team, but is already making a big impact a few games into his first year on the big stage.  Ohio State won despite managing only two shots on goal, compared to SMU's 10, a true testament to Ivanov's goaltending.
The Bucks are really young but talented, as first-year players have accounted for 11 of their 15 goals.  This Buckeye team is only going to get better and could certainly be a force to be reckoned with once they learn to limit mistakes.  Ohio State travels to Bowling Green on Friday, before coming back to Columbus for a date with Wright State on Tuesday night.
Women's Soccer
The Ohio State women's soccer team also went 1-1 this week, losing at Boston College before knocking off Northeastern.  The 1-0 loss to Boston College came on an 80th minute goal, and snapped a 15-match unbeaten streak.  The Lady Bucks came close to scoring once, with a shot by sophomore Marisa Wolf in the 22nd minute that just missed, but for the most part the game was a complete defensive stalemate.
On Sunday Ohio State rebounded with a 4-1 victory over Northeastern, behind a hat-trick by freshman Nichelle Prince.  Prince, a Canadian native and member of the Canadian U-20 national team, already has 4 goals and 4 assists through 6 games, leading the team in both categories.
Similar to their male counterparts, the women's soccer team is dominated by youth, with 13 of their 27 players being freshman, and only 5 returning seniors.  In fact, the two leading goal-scorers for the Lady Buckeyes are freshman (Prince and Lindsay Agnew), with freshman scoring 8 of their 11 goals.  
Already off to a great start, the sky is the limit for this team.  They head to Bloomington, Indiana this weekend to face Central Michigan on Friday, before taking on undefeated St. John's on Sunday.  This weekend will conclude the non-conference schedule, as the Buckeyes begin Big 10 play next Friday when they host Illinois.
Field Hockey
With two top-10 matchups next week looming, the Ohio State field hockey team defeated Missouri State 5-1 before falling to Bucknell 3-2 in overtime.  With the split, the Buckeyes move to 2-2 on the season.
In the first game of the week, sophomore Peanut Johnson (not to be confused with the former female negro league pitcher) led the way with a hat trick and the Bucks handled Missouri State.  Ohio State also got goals from senior co-captains Nora Murer and Arielle Cowie, while junior Sarah Lemieux and senior Emma Voelker split time in goal.
On Sunday, the Bucks lost a heartbreaker in overtime to Bucknell.  After taking an early 2-0 lead roughly 10 minutes into the game on goals from seniors Nora Murer and Mona Frommhold, Bucknell tied the game with 2 quick goals of their own on only 3 shots near the end of the 1st half.  After a scoreless 2nd half the teams went to sudden death overtime, which saw the Lady Bucks attempt two shots on goal before Bucknell scored the winning goal 8 minutes into the overtime period.
Ohio State heads to Syracuse next, where they will face-off against 7th-ranked Massachusetts (Saturday) and 6th-ranked Syracuse (Sunday).
Upcoming events
The men's soccer team and women's volleyball team both have home games this coming week.  This is just a reminder that students can attend all of these events for free, and everyone else can attend for typically $5 or less.  So if you're in town, stop by and support your Buckeyes and enjoy a great experience.