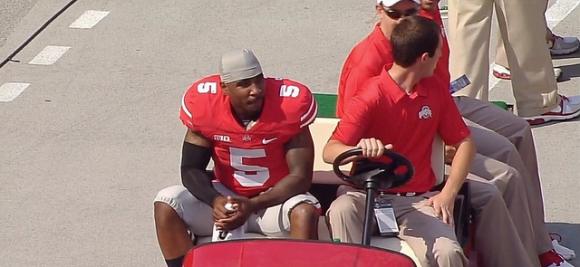 Braxton Miller is yet to play a complete game in 2013. The injury-prone quarterback's problems date to high school. He hasn't played a full season since his freshman year at Huber Heights Wayne. Whether he gets the start Saturday at Cal remains up in the air.
A sprained MCL Miller suffered against San Diego State sidelined him for almost the entirety of the game. Miller went down on Ohio State's seventh offensive play.
"Braxton Miller will be a day to day decision," head coach Urban Meyer said Monday. "I just met with him today. He's feeling much better.  He was a little stiff. The first 48 hours after that injury is very tough."
Meyer said the training staff should have a better idea of the severity of Miller's injury on Tuesday, which should shed more light on his availability for Saturday. He was fitted for a brace after he was carted to the locker room. Miller jogged back on the field and appeared willing and able to go back in the game. With a big lead, though, Meyer nixed that.
"Oh, God, he wanted back in the game. He feels strongly about playing," Meyer said. "He wants to play this weekend."
If Miller can't go, the Buckeyes will field a backup that's led them to two victories the past two seasons in Kenny Guiton. He's become a folk hero in Columbus, and another win would only bolster his already burgeoning legend.
Guiton, Ohio State's offensive player of the game against San Diego State, finished with 152 passing yards and two passing touchdowns. He was also the leading rusher with 83 yards, including a 44-yard run for a score. The play Guiton found paydirt was drawn up for Miller, providing more evidence that the offense operates efficiently even with a Heisman contender on the sideline.
"The way he handles his business and where he's come from," Meyer said, "he'd be an incredible case study for what he's done for this program."
Still, there is no quarterback controversy at Ohio State.
"If [Braxton] is healthy enough to play, and to play like Braxton Miller, he'll play," Meyer said. "He'll certainly go. We're not saving anything."
Behind Guiton are two quarterbacks of the future. But Meyer would like to avoid playing them, especially true freshman J.T. Barrett. Cardale Jones and Barrett are scheduled to travel to Cal, though.
"Plan C and Plan D are real close to each other right now," Meyer said. "We practiced them both yesterday. As of right now, Cardale is the first one in."
The Buckeyes dealt with another first-quarter injury on Saturday that went under the radar due to Miller's ailment. Defensive end Adolphus Washington left the game and did not return because of a groin injury.
Following the game, Meyer deemed Washington day-to-day, and that status did not change Monday. Washington's presence on the field is important with Cal running 100 plays. Ohio State will need to rotate linemen throughout the game and apply pressure to true freshman quarterback Jared Goff, who leads the nation in passing yards.
"I think he has a good grasp of the offense," co-defensive coordinator Everett Withers said. "Obviously, this is one of those offenses you just call plays and you go, so he's getting it in and calling it. It's not a whole lot that's on his plate right now, but he seems to have managed it. He doesn't seem overwhelmed at all with running what they do."
Dontre Wilson did his best to introduce himself to fans on Saturday. So, too, did Philly Brown. He's a known commodity but got off to a slow start against Buffalo. Meyer wanted to get him more involved. It resulted in a  six-catch, 73-yard, two-touchdown performance.
"I've been very critical of the wide receivers, but he's a wide receiver now," Meyer said. "He's starting to box out defenders and he's starting to do things you ask wide receivers to do, not just go out there and run fast once in a while. He's getting better and better.
"I'm a big Philly Brown guy right now, and I was not at all [last season]."
Meyer's also a fan of a healthy football team.
"We need all able bodies to be ready to go," he said.