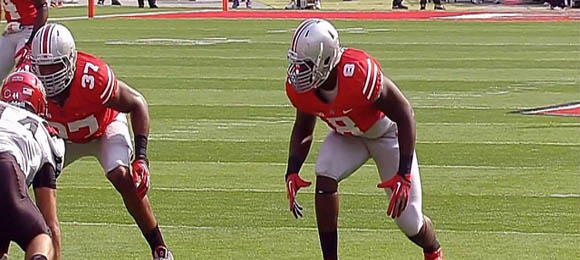 Everyone has a comfort zone. For some, it's home, maybe even the golf course. Others grow relaxed with the company surrounding them. The same can be said for the Ohio State defense.
In the season opener against Buffalo, Bradley Roby and C.J. Barnett, two veteran starters in the secondary, did not play. Linebacker tour de force Ryan Shazier missed large portions with cramps, which meant safety Christian Bryant was the long returning starter on the field most of the afternoon.
The Silver Bullets still only yielded 13 points and barely more than 250 yards. Being outscored 20-17 the final three quarters didn't paint a pretty picture, though. The unit bent often, it just didn't break.
On Saturday, they welcomed back Roby and Barnett, and the results were inevitable.
Insert an All-American and a three-year starter who doubles as a captain into the lineup and the opposing offense will have problems. The Buckeyes made life a pain for San Diego State quarterback Adam Dingwell, who was bench after three series. Dingwell was 0-of-5 passing with an interception.
The numbers didn't get much better for Quinn Kaehler. The Aztecs mustered -6 yards on their first five possessions, en route to a 42-7 defeat. Ohio State finished with five tackles for loss, including three sacks, two forced fumbles and two interceptions. That's four takeaways for those scoring at home.
"Our defense played outstanding," head coach Urban Meyer said.
Roby, who missed the opener while serving a one-game suspension, had four tackles and a pass breakup. Armani Reeves started for the second straight game – and intercepted a pass – but Roby replaced him on the third defensive play.
The usually brash and high volume Roby was decidedly subdued and humbled when he spoke with the media after Saturday's game. He took responsibility for his actions and agreed with Meyer's punishment.
"It was a long time coming," Roby said about getting back on the field. "I felt kind of weird playing at first, just getting used to it because we didn't play in a bowl game, so I haven't played in so long. Just getting back out there and playing with my friends, it was good. I am glad that I am back out there."
All Barnett did was collect a team-high seven tackles.
"Having [Roby] and C.J. back, it's just a good feeling," cornerback Doran Grant said. "You can feel the electricity throughout the defense and the team. It's like having your brothers back."
With a dependable secondary in place, the front seven was able to play with more confidence and apply pressure on the Aztecs from all directions with their much-hyped speed. The aggressive nature was noticeable with the naked eye and by glancing at the final box score. San Diego State never established any semblance of a run game, tallying 64 yards on 27 carries. It lost nearly half that much on sacks alone – 27 yards.
"I give credit to the kids, who are really buying in to what we're trying to do defensively," co-defensive coordinator Everett Withers said. "It's been fun to watch those guys grow and mature as a unit."
Pressure applied from linebacker Curtis Grant led to an errant throw that Doran Grant picked off, while defensive tackle Michael Bennett spent more time in the Aztec backfield than running back Adam Muema. Bennett's stat line read: three tackles, 1.5 tackles for loss, 0.5 sack, forced fumble, fumble recovery.
"He's a difference maker right now," Meyer said. "I can't think of a guy playing better and leading better. He's a perfect example of hard work because this time last year he was nonexistent. When he went in he was a liability. Now he goes in and he's one of the leaders on our defense."
The added intensity was a request from the offensive-minded head coach. A big reason the Buckeyes were able to dominate in the trenches was their depth. The first- and second-team defensive line put on a production clinic.
It wasn't without negatives, though, as defensive end Adolphus Washington left during the first quarter with a groin injury. After the game, Meyer indicated he's day-to-day. With pass-happy Cal looming, Washington's availability will be crucial for this coming Saturday night.
Steve Miller filled in for Washington and like Kenny Guiton stepping in for Braxton Miller, Washington's absence wasn't entirely noticeable. Miller had a first-quarter sack and stymied a potential first-down gaining pass play.
"I got my chance," he said. "I went in there to do whatever it took to help the team out."
Miller was almost like a forgotten man during fall camp. Nary a word was spoken about him. But in the spirit of Ohio State's "next man up" motto, Miller orchestrated drive-altering plays when called upon.
"We let loose this week," he said.
Another little heard from contributor was Chris Carter, the mammoth defensive tackle who once weighed more than 400 pounds. He's down to 340 now, and on Saturday, he attracted double teams and finished with two tackles and a fumble recovery.
"We had a little package today that had him in it because of their run game," Withers said.
Coaches and players lamented the fact that Ohio State played uninspired against Buffalo after posting an early lead. They managed to dwell on San Diego State's late touchdown Saturday. In the days before the game, they guaranteed complacency wouldn't strike the Buckeye locker room.
On Saturday, there was no sign of letting up.
"This whole week we've just been working on eliminating the little mistakes which turn into big mistakes," Curtis Grant said.
Said Shazier: "We just played like we've been playing all camp. [Against Buffalo] we did start off pretty slow, and having a few guys back was a big thing for us."