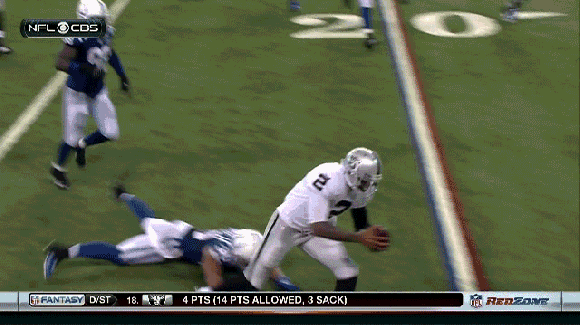 That GIF of Terrelle Pryor (via Deadspin) is a little misleading. His first start of the season wasn't entirely comical.
In fact, Pryor nearly led the Raiders to an upset over the Indianapolis Colts on the way to breaking the Oakland team record for quarterback rushing.
One of his former receivers also had a strong day, although his performance actually contributed to a victory. An ex-Buckeye made a key play on one of the top highlights from Sunday. Plus, stats from all former Buckeyes in the NFL.
Pryor puts numbers on the scoreboard, but not a win
The Raiders aren't expected to do much this season. Oakland is usually the laughingstock of the league, and their 2013 squad isn't atypical. 
If Pryor can repeat his performance from Sunday, however, Raiders fans might hold out hope that he can be their first halfway decent quarterback since Rich Gannon.
That's not saying much, but Pryor put up 329 yards of total offense. Considering his "weapons" are Darren McFadden, Rod Streater and Denarius Moore, it's amazing he was able to accumulate 217 passing yards while throwing a touchdown pass.
He was also active in the run game, accumulating 112 yards  – the highest rushing total in the NFL. Offensive coordinator Greg Olson called some read-option plays and Pryor scrambled for a few large gains.
His second career start wasn't perfect – two interceptions and a debilitating sack in the final minutes of the fourth quarter hurt his cause – but Pryor put them in a position to win the game. Plus, it was on the road against a playoff team. Not that Pryor considers it a moral victory:
Terrelle Pryor, crying as he visited a teammate's locker, was congratulated on his play in loss at Indy. Said, "That don't even matter."

— Robert Klemko (@RobertKlemko) September 8, 2013
Hartline Returns to Ohio, Dominates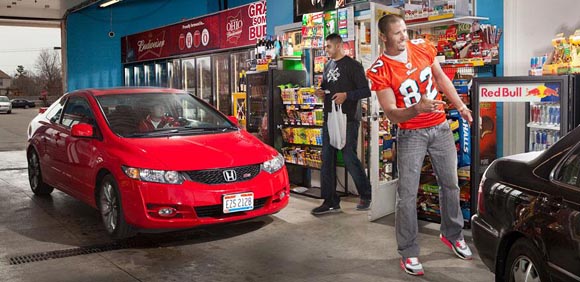 Although he matched up with the undisputed, three-time "Worst Defensive Back in the NFL" and a team composed of similar (lack of) talent, Brian Hartline put on a show in a return to Northeast Ohio.
The Canton native hauled in nine passes for 114 yards. One grab was a 34-yard touchdown, torching the aforementioned Buster Skrine (for more Skrine discussion, refer to this text message exchange with my father).
Hartline has been a sure-handed receiver since the Dolphins drafted him in 2009. He's had to deal with Chad Henne, Chad Pennington's dead arm, Tyler Thigpen, Matt Moore and an inconsistent, rookie quarterback in Ryan Tannehill. Despite the evolving situation behind center, he's put up solid numbers.
The Miami front office realized this, and rewarded him with a five-year, $31 million contract. Although they weren't very economical with their offseason spending, Hartline appears to be a reliable investment.
Last season was his best, statistically, which included a 12-catch, 253-yard game against Arizona.
Highlight of the Week
A bit non-traditional here, but check out how former Buckeye lineman Rob Sims – left guard, no. 67 – ignites a long Reggie Bush touchdown catch and run.
How ex-Buckeyes Fared During Week One
| Player | team | position | stats/Notes |
| --- | --- | --- | --- |
| Mike Adams | Pittsburgh Steelers | OT | Steelers offensive line allowed 5 sacks |
| Will Allen | Dallas Cowboys | S | 1 INT, 3 tackles, 2 passes defended  |
| Alex Boone | San Francisco 49ers | OG | Helped Kaepernick throw for 412 yards & 3 TDs |
| Michael Brewster | Jacksonville Jaguars | C | Backup to Brad Meester, who did this |
| Chimdi Chekwa | Oakland Raiders | CB | Raiders held Andrew Luck to 178 yards passing |
| Kurt Coleman | Philadelphia Eagles | DB | Plays tonight vs. Washington Redskins  |
| Jim Cordle | New York Giants | C | Backup to Kevin Boothe |
| Ted Ginn Jr. | Carolina Panthers | WR | 1 reception, 10 Yards |
| Brian Hartline | Miami Dolphins | WR | 9 receptions, 114 yards, 1 TD |
| Ben Hartsock | Carolina Panthers | TE | Backup to Greg Olsen |
| A.J. Hawk | Green Bay Packers | LB | 9 total tackles, 1 tackle for loss |
| Cameron Heyward | Pittsburgh Steelers | DE | 1 tackle |
| Santonio Holmes | New York Jets | WR | 1 reception, 13 yards |
| Malcolm Jenkins | New Orleans Saints | S | Led Saints with 6 tackles |
| James Laurinaitis | St. Louis Rams | LB | 6 tackles, 1 pass deflection |
| Nick Mangold | New York Jets | C | Injured right arm, but returned |
| Jake McQuaide | St. Louis Rams | LS | Couldn't have won the game without him |
| Mike Nugent | Cincinnati Bengals | K | 3 extra point kicks |
| Ryan Pickett | Green Bay Packers | DT | 3 tackles, 1 tackle for loss |
| DeVier Posey | Houston Texans | WR | Plays tonight vs San Diego Chargers |
| Terrelle Pryor | Oakland Raiders | QB | 19-29 for 217 yds, 1 TD & 2 INTs, 13 rushes for 112 yds |
| Rob Sims | Detroit Lions | OG | Helped Lions run for 117 yards & 2 TDs |
| Donte Whitner | San Francisco 49ers | S | 7 tackles, 1 pass defended |
| Doug Worthington | Washington Redskins | DT | Plays tonight vs Philadelphia Eagles |
Inactive: Nate Ebner (NE), Jonathan Hankins (NYG), Dane Sanzenbacher (CIN), John Simon (BAL)