Another very busy weekend of Buckeye football and football in general, and another weekend that saw a number of Ohio State commitments and targets making a splash around the country, and not all of it was necessarily good. It's never easy to be a teenager, but to be a teenager with the national spotlight on nearly every move you make can lead to some teachable moments, and one Buckeye commit had a big one this weekend.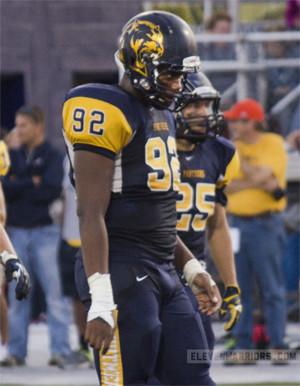 We'll get our weekend whiparound started in the state up north where Buckeye commitment and lockdown cornerback Damon Webb was once again in a starring role for his two-time defending state champs Cass Tech Technicians.
what a tangled webb he weaves
A week after knocking off rival Southfield, Damon Webb and his Cass Tech teammates were back to the grind and ground out Detroit Northwestern 60-0. Webb was his usual shutdown self, establishing a resolute "no passing zone" as Northwestern didn't even attempt to throw to his side of the field. 
Webb finished with four tackles on defense despite no attempts in his direction, but he once again made more of an impact on the offensive side of the ball for the Technicians. Webb had two long touchdown receptions, one for 40 yards and another for 60, giving him three offensive scores in his team's first two games. He's not allowed a reception against him on defense. 
HOLMES EXCELS, THEN EXPELLED
Friday night's game against Oscar Smith (Chesapeake, Va.) was an opportunity for Lake Taylor (Richmond, Va.) and Buckeye commit Jalyn Holmes to see how his football team stacked up against one of the nation's elite. Starring for Oscar Smith is defensive tackle Andrew Brown, a consensus top ten player nationally, who's committed to the University of Virginia. Lake Taylor, coming off the first state title in school history would line up against Brown and his teammates live on national television.
For Holmes, the game provided some excellent insight into his talent but his talent and playmaking ability on the field was overshadowed by a poor decision midway through the third quarter that saw him ejected from the contest. 
Oscar Smith, running away with the game, had shut down much of what Lake Taylor tried to do, despite a valiant effort by Holmes — who had two sacks during a third quarter stretch — but frustration took over and Holmes was kicked out for kicking an opponent after he was on the ground. The action is unbecoming and unacceptable, and clearly speaks to some immaturity on the part of the nation's fourth-ranked defensive end. With talent and opportunity comes responsibility and here's hoping that Holmes finds a way to control himself in the future.
COLLIER STARS AGAIN FOR LEE COUNTY
For the second straight week, Buckeye commitment Stephen Collier and his Lee County football team put on an offensive exhibition en route to a big win. Collier finished 18 of 26  for 361 yards and two touchdowns passing while collecting 60 yards and three more touchdowns on the ground. Collier threw one interception, as he did a week ago, and once more despite his team's 42-12 win, it's the blemishes that he is spending more time thinking about.
"I'm always upset when I throw an interception," Collier told Eleven Warriors. "This week it was the first pass of the game and it was just a bad ball. It didn't come off my hand right, but after that though we just kind of took off. Last week the interception was a miscommunication that we ultimately got fixed. I just want to keep growing though, game to game. Last year at this time I was just focusing on the next game and just going through the motions at practice. This year it's always about improving and making sure that the things that went wrong last game don't occur again."
Collier was pitted againt Miami (Fla.) commitment Juwan Young and his Albany teammates, highly-ranked in Georgia, but the Buckeye commitment got the best of his opposition Friday night — Lee County's fourth-straight win against the rival — and earned the respect of Felton Williams, Albany's head coach.
"He's a great player, and it was a great game between those two guys. A battle -- just like I expected it to be," AHS coach Felton Williams said to the Albany Herald. "You'll see both of them playing on Sundays one day, you can bet on that. But (Friday night) Stephen got the better of us again.
FROM PARRIS, WITH LOVE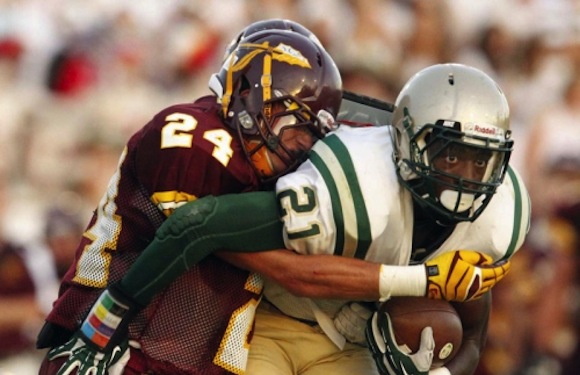 It's becoming obvious that each week Parris Campbell, Akron St. Vincent-St. Mary's star tailback and Buckeye commit, is going to do something special. After scoring two 50-plus yards touchdowns in very limited playing time a week ago, Campbell went right back to work this past Friday against Walsh Jesuit, scoring three more touchdowns including a key 99-yard kick return to hold off a comeback attempt from Walsh.
"I am trying to score at all times," Campbell told the Akron Beacon Journal following the win. "I looked up at the scoreboard, [then] saw a couple of blocks, hit the hole and just got to the seam. I put that on my team. That is all my blockers. I got behind them and got to the end zone."
Campbell also scored on runs of 16 and 1 yards, giving him five scores through the seasons first two games.
High School Football review
| Position | player | school | opponent | comment |
| --- | --- | --- | --- | --- |
| QB | Stephen Collier | Lee County (Ga.) | Albany (Ga.) | Won 42-12, see above. |
| WR | Parris Campbell | St. Vincent-St Mary (Ohio) | Walsh Jesuit (Ohio) | Won 35-20 |
| WR | Terry McLaurin | Cathedral (Ind.) | St. Joseph's (Ind.)  | Won 50-40, McLaurin had 107 total yards. |
| OT | Jamarco Jones | De La Salle (Ill.) | Hale's Franciscan (Ill.) | Won, but an injury is currently preventing Jones' from putting on the pads. It didn't stop him from trying on his UA All-American jersey.  |
| OT | Kyle Trout | Lancaster (Ohio) | Lakota East (Ohio) | Lost 41-0 |
| OG | Marcelys Jones | Glenville (Ohio) | Solon (Ohio) | Won 15-14 |
| OG | Demetrius Knox | All Saints Episcopal (Texas) | Carter-Riverside (Texas) | Won 67-7 |
| DE | Jalyn Holmes | Lake Taylor (Va.) | Oscar Smith (Va.) | Lost 42-2, story above. |
| DE | Dylan Thompson | Montini Catholic (Ill.) | East St. Louis (Ill.) | Won 34-6, Thompson recorded three sacks. |
| OLB | Kyle Berger | Ignatius (Ohio) | Mentor (Ohio) | Won 26-6, DNP (Knee) out for year. |
| OLB | Dante Booker | St. Vincent-St Mary (Ohio) | Walsh Jesuit (Ohio) | Won 35-20, blurbed here.  |
| CB | Damon Webb | Cass Tech (Mich.) | Northwestern (Mich.) | Won 60-0, story above. |
| S | Malik Hooker | New Castle (Pa.) | Riverside (Pa.) | Won 47-12, Hooker scored four total touchdowns including a punt return for a score. |
| ATH | Sam Hubbard | Moeller (Ohio) | Covington Catholic (Ky.) | Won 45-7. 11 tackles. 3 for a loss and a forced fumble. |
| ATH | Lonnie Johnson | West Side (Ind.) | Andrean (Ind.) | Lost 65-28. TD catch and an interception. |
| ATH | Curtis Samuel | Erasmus Hall (N.Y.) | Tottenville (N.Y.) | Won 21-7, injured QB limited his touches in state-title game rematch. |
| K | Sean Nuernberger | Oldham County (Ky.) | Franklin County (Ky.) | Lost 56-17. Had 42 yard FG and 35-yard FG blocked. 4-4 on touchbacks.  |
| WR | Johnnie Dixon | Dwyer (Fla.) | Jupiter (Fla.) | Won 51-7, had a 53-yard TD reception. |
| TE | Mike Gesicki | Southern Reg (N.J.) | Long Branch (N.J.) | OFF |
| OT | Chad Mavety | Nassau C.C. (N.Y.) | Navy Prep (R.I.) | Won 48-7. |
| OT | Damian Prince | Bishop McNamara (Md.) | Georgetown Prep (Md.) | Won 34-9. |
| DT | Thomas Holley | Abraham Lincoln (N.Y.) | Curtis (N.Y.) | Won 42-6. |
| ILB | Raekwon McMillan | Liberty County (Ga.) | Appling County (Ga.) | Won 19-13 and led Hinesville on offense and defense. |
| S | Erick Smith | Glenville (Ohio) | Solon (Ohio) | Won 15-14 |
| ATH | Noah Brown | Pope John XXIII (N.J.) | OFF | Brown is making an official visit to Ohio State this weekend. Will open season on 9/12.  |
| ATH | Marshon Lattimore | Glenville (Ohio) | Solon (Ohio) | Lattimore is hoping for a break out game after being held in check by the St. Edwards' defense.  |
BROWN OFFICIAL VISIT UPDATE
The official visit for Buckeye target Noah Brown has officially ended as he prepares to board his flight back from Columbus to New Jersey. While details are still scarce because his visit literally just ended, by all accounts Brown had a great time on his trip to Ohio State. While there's no decision coming tonight, there was some speculation that Brown perhaps had committed to the Buckeyes and head coach Urban Meyer during dinner Saturday night but those reports — according to multiple sources close to Brown and Ohio State — were premature. 
Brown's incredibly close with his mother and would not be making a decision without first confirming the decision with her. Brown is a cerebral kid and he does not act rashly, which is why he didn't commit to Ohio State two months ago when all signs pointed to that happening. As he gets home tonight, the plan is still for a decision to be made by September 12th, and at that time he'll decide between Ohio State and Rutgers. 
There's a slight chance that Brown could delay his decision a bit further and take an official visit to Rutgers in two weeks, but his familiarity with the Scarlet Knights and the proximity to home means that he's been to their campus a number of times and an official is not likely necessary. Stay tuned to Eleven Warriors this week as the "commitment watch" is definitely on.
FOLLOWING THE WEEKEND'S VISITORS
In case you missed it Jordan had an excellent update on Saturday's visitors, including Toledo Whitmer defensive tackle Phil Hoskins/