We've got actual football games to talk about on the Dubcast this week, with Ohio State coming off a 40-20 victory over the Buffalo Bulls.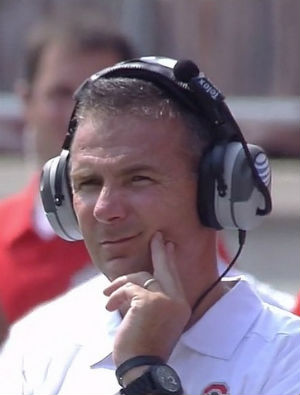 Football is back on our television sets and in our stadiums and we couldn't be any more amped. It really is the greatest season of the year, and Johnny and I are ready to pull the game breakdown over you like a warm blanket, so you can snuggle against all that cozy Ohio State gridiron goodness. That may have sounded weird, but you know what we mean. Right? Please say yes.
This week's Eleven Dubcast breaks down the important happenings from Saturday's game against Buffalo and we look ahead to the San Diego State Aztecs, who got waxed by FCS school Eastern Illinois over the weekend. They'll be angry and hungry when they enter the Horseshoe this week. Will it matter? Johnny and I discuss it and then San Diego State football writer Stefanie Loh from the Union-Tribune joins the discussion.
Johnny and I answer your email, which we didn't get to last week, but hopefully we made amends with responses that will dazzle and amaze. You can ask us literally anything by writing us at elevendubcast@gmail.com.
Football is back, so step inside this week's Dubcast and enrich your life.
0:25- Johnny and I talk about the good, bad and ugly of the season opener against Buffalo and what we thought of going for two, plus a look ahead at this Saturday's opponent, San Diego State.
26:27- Stefanie Loh joins in to discuss what went wrong for the Aztecs against Eastern Illinois, which San Diego State players you should know on both sides of the ball, an update on running back Adam Muema, and a prediction for this week's game.
41:25- We finally open the mail. It's just been sitting out there in the box, but Johnny finally found the key and we got those cards and letters right out of there.
56:55- What kind of fish are Ryan Shazier and Braxton Miller?
Music this week was Wedding Nails by Porcupine Tree, Crack the Big Sky by Spock's Beard, and Yasgur's Farm by Moon Safari. That's it for another Eleven Dubcast. See you next week!