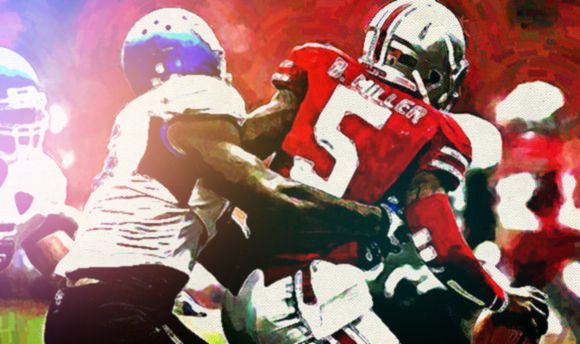 Ohio State somehow failed to eclipse the 60-point threshold on Saturday. It was coitus interruptus for a significant number of scoring binge fantasies that had been pulsating ever since spring practices concluded.
Making matters even more humiliating, the Buckeyes sputtered merely hours after Indiana (!) piled up 73 against Larry Bird's hot dog water-scented alma mater and shortly before Oregon scored 66 against the afternoon shift from an arts and crafts store based in Salem. Both conquests were paid generously for their services.
The Buckeyes' tryst partner Buffalo was well-compensated but not nearly as cooperative, souring Ohio State's 13th consecutive victory and disappointing Urban Meyer, who still has yet to meet or exceed what his exact same roster is capable of doing on gaming consoles in basements across his home state.
That first game of the season is always heavily scrutinized, and for good reason: It follows 38 weeks of excruciating foreplay. The last time Ohio State played a football game, Gangnam Style was still in heavy rotation. Only the Michigan finale is salivated over longer.
The key difference is that those Michigan games are remembered forever while the season openers are barely remembered in October.
To wit, two years ago the Buckeyes opened against Akron under Luke Fickell and pitched a very impressive 42-0 shutout to bring a satisfying conclusion to the miserable offseason that refused to end. Ohio State rolled up 517 yards of offense and held the Zips to 90 yards and zip points. 
It was set to be a brave new era featuring Tressel talent but without the burden of a Tressel offense. Some bold and daring scribes even made abstract comparisons between the Joes Bauserman and Germaine.
One Saturday later, the Buckeyes were outgained by Toledo. The week after that they flew to Miami and scored two field goals on 209 pitiful yards of offense. Ohio State gained fewer yards in its second and third games combined than it did in its debut, which was already long forgotten.
We really shouldn't have to compare this season's premier to the historical shit show of 2011 for context. However, in light of the angst over a 40-point 460-yard afternoon where the roster operated minus-15 scholarship players and deliberately Tresselballed the final three quarters it seems like an elegant alternative to saying calm your panicky ass down.
Here's Paul Myerberg of USAToday and 11W Roundtable fame: Save us with something truthful and poignant:
Remember: No team is as good or as bad as they look on the first weekend. Real team doesn't show up until October.

— Paul Myerberg (@PaulMyerberg) September 1, 2013
Hmm, last October the real Buckeyes almost lost to Purdue. Thanks for nothing, Paul.
Forget about real teams arriving fashionably late: This angst is about Ohio State accumulating points at a pace and quantity that matches your expectations. It's about your scoring binge fantasy that only grew more erotic following spring practices.
We got to taste that rainbow for 15 sexy minutes: Braxton Miller went deep. Jordan Hall galloped through space. The Buckeye offense sliced through the Bulls with boring precision and when the first quarter ended it was already 23-0.
You took off your pants. We all did. Fifty by halftime seemed realistic. Fifty is nifty.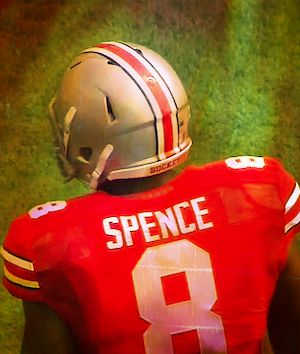 Then the second quarter happened and you got one miserable touchdown. You didn't get your 50 by halftime. You only got 30. Only 30 points.
The Buckeyes eventually sleepwalked their way to 10 more and landed on 40 to open the season with a 20-point victory that was never in doubt for a second. And you felt cheated. We all did.
Maybe it was that scoring binge fantasy, or perhaps it was that fleeting moment when we all believed the Buckeyes would be going for two following every touchdown this season. 
Perhaps it was Dontre Wilson failing to score on each of his first three touches as freshman Michael Wiley had done in 1996. Wilson failed to score even once. Is it too late for a redshirt?
Wiley's 1996 team scored 142 points in its first two games, meaning the Buckeyes would need 102 against San Diego State to keep up that pace. It was the most exciting September in 50 years. They eventually settled down and averaged a respectable 31 per Saturday the rest of the season, finishing in Pasadena.
But the real excitement that sprung the '96 team as well as the 2002 BCS title team (five more points in its opener than the Buckeyes had on Saturday) was not as much about their scoring binges as it was about who was scoring. New guys in unfamiliar jerseys were crossing the goal line: Wiley, Germaine, David Boston, and then Maurice Clarett and even Craig Krenzel, who brought a conspicuous end to the Steve Bellisari era.
Conversely, on Saturday Ohio State's touchdowns were scored by two players (Jordan Hall and Chris Fields) who committed to Ohio State when Todd Boeckman was still the starting quarterback, and Devin Smith who we saw plenty of last season. Those scores were served up by the two grizzled veterans under center.
Those guys are all Tressel recruits. You've already seen them score plenty of times. Where were the new guys? Where are our new, faster touchdown scorers? 
Somehow college football isn't linear or as predictable during the season as it is in May or in magazines, but if there is a positive indicator to Ohio State's season 60 minutes into it, it's what we saw Saturday: Veterans were doing the scoring. Veterans were making the plays.
Dontre Wilson failed to score even once. Is it too late for a redshirt?
On the other side of the ball, Buffalo was literally handed seven points and held to two yards of rushing per attempt. For all of the angst over Armani Reeves filling in for Bradley Roby, the Bulls only had 185 yards passing.
The Buckeyes significantly outgained them both on the ground and in the air with fewer plays and understandable - yet unacceptable - complacency. You wanted fireworks, gaudy point totals and new faces in the end zone. Instead you got leg cramps, scrupulous scoring and weathered upperclassmen handing the ball to the officials.
This wasn't coitus interruptus after all. This wasn't even foreplay. It was appetizers. Cool your jets, Senator. It will all happen in due time.