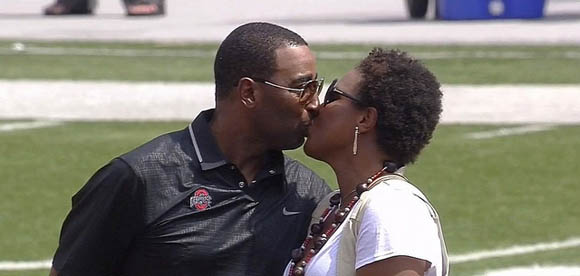 Hello, my fellow Buckeyes, and welcome to your first game debrief of 2013. It's everything you'll need to know in order to sound like a boss when you discuss the game with your colleagues this week. And you will discuss it. It's the season opener in what could be a very special year. If you arm yourself with the right information, people will just assume you're knowledgeable and admire you for it. And who doesn't like to be admired?
First up, we've got the Buffalo Bulls from the Mid-American Conference. It's your first look at Year 2 of Urban Meyer in Columbus. Here we go.
Water Cooler prep (Everything you need to know…in one paragraph)
The slow starts of last season weren't a problem, as Ohio State raced out to a 23-0 lead in the first quarter, looking good in all facets of the game. After a couple of turnovers, Buffalo got a toehold in the game and the Buckeyes perhaps got complacent — and had a few guys go down with injury. Gamely, the Bulls hung around and made enough plays to keep Ohio State's starters on the field until late in the game. Buffalo actually outscored Ohio State after the opening quarter, 20-17. Ryan Shazier scared everyone in Scarlet & Gray by riding a cart to the locker room before the half, but it was just a cramping issue and he eventually returned. Devin Smith opened the scoring on a 47-yard bomb from Braxton Miller. Jordan Hall ran for two scores and Chris Fields caught two touchdown passes — one from Kenny Guiton. Oh, and the Buckeyes went for (and converted) two-point conversions after their first two touchdowns.
Talk before the game  
Interesting match-up in the Buffalo-Ohio St game:Buff RB Bo Oliver (career 2500 yds-18 tds)vs an OSU front 7 that returns only 1 starter

— joey galloway (@Joey_Galloway) August 31, 2013
Also this:
#TheChase starts now

— Frank Epitropoulos (@F_Epitropoulos) August 31, 2013
VIPs in Attendance
Urban Meyer saw a familiar face while walking into the stadium — former OSU fullback-turned-linebacker Zach Boren. Meyer pulled Boren in with the team as they walked into the Horseshoe.
In addition to Boren there were recruits on hand:
Top '15 prospect Justin Hilliard will be in attendance today. Commitments Sam Hubbard and Sean Nuernberger too.

— Jordan Wagner (@JWagner11W) August 31, 2013
Talk in the aftermath
"The only stat that matters is the W!"
Give that man a buckeye leaf (Player of the game)
Jordan Hall set a career high for rushing yards midway through the second quarter. He finished with 159 yards on 21 carries and the aforementioned two touchdowns. That's an average of 7.6 yards per tote. Hall showed he could run between the tackles, especially when the hogs up front opened up a gaping maw that led to a 49-yard touchdown romp. Hall consistently found positive yardage throughout the game, making third downs manageable (Ohio State was 7/12 on third). The fifth-year senior also caught three passes for 14 yards and added another reception for a two-point conversion. He served as the offense's security blanket all game long. After his injury problems of 2012, it was great to see Hall find some success.
Snot Knocker of the Game
One big hit stood out above all the others. Ohio State led 16-0 and was thirsty for more. With Miller scrambling left for a first down, Philly Brown came back to help. Brown's blindside block on safety Jake Stockman was a classic de-cleater. Stockman was shaken up on the play and was down for a few minutes, but he later returned to the game.
Did you see that?! (Play of the game)
Up 37-20 and backed up against their own goal line, the Buckeyes faced 3rd-and-eight. Miller dropped back into his own end zone, paused a moment, then broke left toward the first-down marker. He picked up a couple of blocks, cut back to his right, and rumbled 41 yards on crampy legs to flip the field. It was a glimpse of vintage Braxton, who had not run much to that point in the game. Ohio State eventually kicked a field goal when the drive stalled, going up by 20 and putting the game out of reach.
When you sank into your chair (The moment Buckeye football disgraced your family)
Buffalo's Khalil Mack is a future NFL player and perhaps a first-round pick. Shortly after the Bulls scored their first touchdown, taking advantage of a Dontre Wilson fumble and a 15-yard penalty on Armani Reeves, Mack came up big. Buffalo's star defender fought off a cut block by Jack Mewhort, popped up and snared a pass intended for Wilson. With forward momentum and a head start, Mack just barely outran both Wilson and Miller to the goal line for a defensive touchdown. The Bulls failed on a two-point try while you were still shouting uncharitable things and possibly hurling objects with great velocity.
Jim Tressel's Least Favorite Moment of the game
Tressel works at Akron now, and might become the next president of that university, but he tweeted an "O-H" before the game, so you know he's tuned in to Buckeye football on Saturdays. He looked up from his Sudoku puzzle when Jordan Hall was stuffed on fourth down in the second quarter, with the Buckeyes up 23-0, and muttered, "You have an excellent punter who came all the way from Australia to play football in the great state of Ohio. Use him…and those kinds of things!" Then he went back to filling in the number "3" in every single box on the Sudoku, because The Vest loves field goals.
What you texted your friend at the end of each quarter
Ohio State 40, Buffalo 20
First: 23-0! This offense is sick. Braxton is a boss.
Second: Wait, what happened to the offense?
Third: This helmet rule is terrible. How come our guys are the only ones cramping?
Fourth: Meh. It's a win, but I have some concerns.
It was over when
Buffalo failed to score on fourth down when Joe Licata fumbled the snap near Ohio State's goal line. The Buckeyes drove from their own two-yard line on the strength of two long third-down runs by Miller — including the Play of the Game referenced above. Drew Basil capped the drive with a 39-yard field goal with just 7:05 to play. The three points put Ohio State ahead, 40-20, and sealed Buffalo's fate.
---
That's it for the opener. You're ready to take on all comers at the office water cooler. On to San Diego State in Week 2.