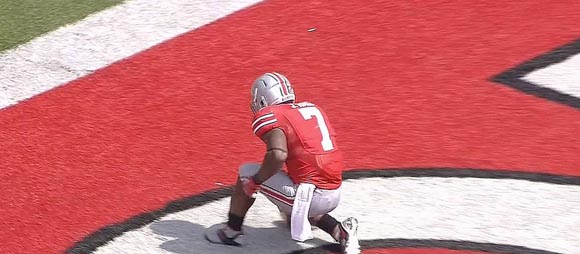 It wasn't always pretty, but Ohio State did score some style points in their 40-20 win over Buffalo to open the 2013 season.
Braxton Miller and Devin Smith got the party started early, hooking up for a 47-yard touchdown 4:20 into the game. Smith now has 11 career touchdowns, averaging 40 yards per score.
Here's another look. Expect to see these two hook up often this year.
Ohio State converted a two-point conversion to take a quick 8-0 lead, with Kenny Guiton taking it in.
Poor Drew Basil.
Dontre Wilson's first touch as a Buckeye. So close to taking it to the house.
Miller found Chris Fields at 7:05 of the first quarter to put Ohio State up 15-0. The Buckeyes were good on another two-point conversion to take a quick 16-0 lead.
Jordan Hall goes 49 yards untouched to give the Buckeyes a 23-0 first quarter lead.
Ron Tanner with his first career interception early in the second quarter.
Dontre Wilson in a quintessential freshman moment, coughing the ball up. To Urban Meyer's credit, he put Wilson right back into the game.
Khalil Mack is a beast. Here he is stepping into a screen for Wilson and then outrunning Wilson and Miller – both burners – 45 yards for a pick-six. Mack finished the day with 9 tackles, 2.5 sacks, 2.5 TFLs, 1 INT and 1 TD. Good luck with him, MAC.
Wilson's first kick return as a Buckeye – good for 52 yards.
Jordan Hall's second touchdown of the afternoon, good for 37 yards. Hall finished with a career-high 159 yards and two scores on 21 carries.
And finally, smooth jazz as Kenny Guiton comes on to relieve Braxton Miller and finds Chris Fields for a 21-yard touchdown.