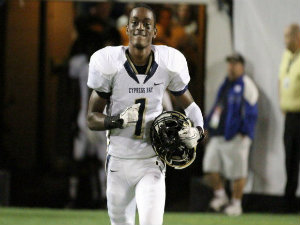 As a whole, the Big Ten continues to struggle in August – a slow month for everyone but Rutgers. Now, Maryland catching up.
Iowa, Maryland and Rutgers were the only three schools to land a 2014 commitment in the past seven days. The Terrapins account for two of the Big Ten's four new commitments. 
Despite a slow week, we saw some movement in our B1G football recruiting rankings. The Terrapins' newest commitments bump them up to tenth, which causes Illinois, Purdue, Minnesota and Indiana to each fall one spot each. 
Ohio State did not pick up a commitment in the 2014 class, but Eric Glover-Williams started the Buckeyes' 2015 class off strong by committing on Sunday night. 
College football season is just a few days away, which also means key recruits will start to officially visit their top colleges. Each week we will discuss which prospects are visiting each school. 
Now, on to the rankings:
14. Indiana
Indiana falls to the bottom of our rankings with Maryland's jump to tenth. The Hoosiers have struggled on the recruiting trail with this class. With only ten commitments, official visit season will be important for Kevin Wilson. Their on-field performance can only help Indiana's cause to finish out this class strong. 
Commitments: No new commitments this week. 
Visitor news: Indiana takes on Indiana State in a Thursday night game, this week. It's unlikely the Hoosiers will host any official visitors for a Thursday night game against a poor opponent. A night game versus Missouri would be a better game, and it appears they are scheduling visits for some of their top targets to attend. 
13. Minnesota
Minnesota falls a spot in the rankings and continues to have the fewest commitments in the conference with six. The Gophers could reportedly take as few as 12 recruits in this class. Jerry Kill will look to close out their small class strong. 
Commitments: No new commitments this week. 
Visitor news: Minnesota plays a Thursday night game against UNLV. They won't likely expect any official visitors or big-names this week for the Gophers. Minnesota already has visits scheduled in September for a few of their top targets.
12. Purdue
Purdue also fell a spot in the rankings this week. Darrell Hazell has surprisingly struggled on the recruiting trail, so far. Things could get worse with Notre Dame hard after Drue Tranquill, one of Purdue's top commitments. I didn't expect for him to turn things around instantly, but I felt he would be able to recruit Ohio. At this point, the Boilermakers have no commitments from Ohio.
Commitments: No new commitments this week. 
Visitor news: The Boilermakers will travel to Cincinnati, this weekend, to play the Bearcats at Nippert Stadium. While Purdue won't be hosting any visitors this weekend, their home games versus Notre Dame, Northern Illinois, Nebraska, Ohio State and Iowa will be good options for official visits. 
11. Illinois
The Fighting Illini were the last team to fall a spot in the rankings with Maryland jumping four spots. Illinois has 12 commitments, but Tim Beckman has struggled to recruit head-to-head against BCS schools. He could find himself on the hot seat if the Illini struggle this season, coming off a terrible year. 
Commitments: No new commitments this week. 
Visitor news: The Illini take on Southern Illinois, this weekend, in Champaign. While I'm sure there will be some prospects in attendance, expect the bigger home games such as Cincinnati, Wisconsin, Michigan State, Ohio State and Northwestern to attract more prospects. Recruits love an opportunity to watch some of the top teams for free.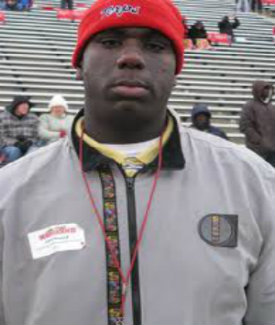 10. Maryland
Maryland jumps four spots after landing two commitments. The Terrapins started this recruiting class slow, but had a strong week. Look for Maryland to finish in the top half of the B1G in recruiting rankings. 
Commitments: Maryland landed two commitments – Jesse Aniebonam and Larry Mazyck – this past week. Aniebonam, a four-star defensive end, according to 247Sports, committed to the Terrapins over Alabama, Auburn, Boston College, Clemson, Florida, Florida State, North Carolina, Ohio State, South Carolina, Virginia Tech and many others. The four-star is Maryland's highest ranked commitment. 
The Terps kept the momentum going with unrated offensive tackle Larry Mazyck (6-7/340) committing the next day. The giant lineman previously had offers from Cincinnati and Vanderbilt, but had to go to prep school after high school. 
Visitor news: Florida International will travel to College Park to open the Terps season on Saturday. No prospects are expected to be on an official visit for this underwhelming game. The top targets would probably rather wait until Clemson comes to town, in October. Five-stars Jalen Tabor and Damian Prince are expected to take official visits to College Park, but neither have set a firm date. 
9. Iowa
Iowa narrowly held off Maryland for the ninth spot in our B1G football recruiting rankings. Kirk Ferentz has been heavily scrutinized for his lack of recruiting success for his large price tag. Critics only got louder when Iowa's top commitment, OT Ross Pierschbacher, decided to decommit and head to Alabama.
The Hawkeyes do have the opportunity to make up for losing Pierschbacher. Four-star offensive tackle Brian Wallace named Iowa in his top five, along with Alabama, Arkansas, Nebraska and Ohio State. 
Commitments: Iowa landed a commitment from two-star cornerback Josh Jackson (6-0/170) of Lake Dallas, Texas. The lowly rated recruit had offers from Central Oklahoma, Colorado State, Nevada and New Mexico State. Jackson is Iowa's third commitment from Texas. 
Visitor news: Northern Illinois will be rolling into town to battle the Hawkeyes. Iowa's media is apparently not the best at tracking down which prospects might visit. NIU vs. Iowa should be a good game for prospects to attend. Official visits usually do not typically take place until at least a few weeks into the season, although they are allowed. 
8. Nebraska
It has been a little while since Nebraska last picked up a commitment. That should change this week as four-star defensive tackle Peyton Newell is expected to commit to the Cornhuskers over Kansas, Kansas State, South Carolina and others. Newell would become Nebraska's highest rated commitment. 
Commitments: No new commitments this week.
Visitor news: Nebraska will play Wyoming, Saturday, which should be a blowout win for the Huskers. It's not exactly a game recruits are dying to see, but I'm sure some prospects will be in attendance including three-star defensive end Rohan Blackwood of Florida. Blackwood has quite a few offers, but his top schools are Wisconsin, South Florida, Nebraska, Minnesota and West Virginia. Nebraska will look to make up ground for his services.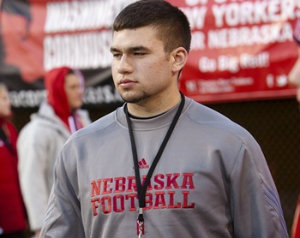 7. Wisconsin
Gary Andersen has put together a solid recruiting class in year one. With official visits coming up, he will look to build on the Big Ten's seventh ranked class. The atmosphere at a Wisconsin night game is a major selling point for the Badgers, but, as of today, Wisconsin does not have a home night game scheduled. 
Commitments: No new commitments this week.
Visitor news: The Badgers open their season in Madison, against UMass. It doesn't appear many of the Badgers' targets will be in town for this game. However, it looks like Wisconsin is setting up for a pretty solid recruiting week, Sept. 7, when the Badgers take on Tennessee Tech. 
Five of the Badgers' top targets will in attendance for that game, including Rohan Blackwood and four-star tight end Ryan Izzo, of New Jersey. 
6. Northwestern
Northwestern continues to be quiet on the recruiting trail. I am confident Pat Fitzgerald will find a way to get it done. The Wildcats aren't a school that attracts the top recruits, but they do a great job of scouting and developing their talent. A decision from four-star corner Parrker Westphal is expected in the next few weeks, and it appears Northwestern could be the favorite. 
Commitments: No new commitments this week.
Visitor news: Northwestern will travel to Cal, Saturday, which prevents them for hosting any visitors this weekend. Northwestern vs. Ohio State at night, in Evanston, will be a major attraction for the Wildcats' top targets. They also take on Michigan at home, giving Northwestern two great games for recruiting purposes. 
5. Michigan State
Once again, the Spartans sit at fifth in our B1G football recruiting rankings. Mark Dantonio continues to do well at Michigan State, despite hiring the legendary Jim Bollman. I expect the Spartans to finish off the '14 class strong, while they have already made progress with their '15 class. The challenge for Sparty is to finally land a top flight prospect after missing out on Lawrence Marshall, Drake Harris and Jamarco Jones. 
Commitments: No new commitments this week.
Visitor news: A Friday night game vs. Western Michigan isn't exactly the most attractive game for recruits. I haven't been able to track down a list of visitors, but I'm sure Curtis Blackwell will manage to bring in some of the Spartans' targets. A lot of prospects have not yet nailed down a firm date for their officials visits. 
4. Penn State
The Nittany Lions are holding steady at fourth in our rankings, with 12 commitments. Penn State is limited to using 15 scholarships in this recruiting class. Bill O'Brien has done a great job under the circumstances. He continues the search for three more prospects to round out this small class, including head-to-head battles with Ohio State for Mike Gesicki and Thomas Holley. 
Commitments: No new commitments this week.
Visitor news: Since Penn State will not be hosting a home game, they will not be hosting any visitors this weekend. The Nittany Lions have such few targets remaining in the '14 class, so Bill O'Brien will be able to spend a lot of time on the '15 class.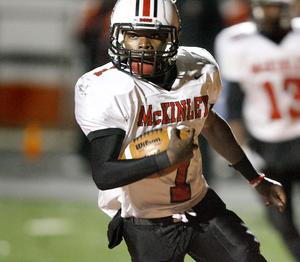 3. Rutgers
Rutgers continues their hot streak with a commitment from Florida three-star defensive back Deion Hallmon. It's nice to see Rutgers recruiting at a very high level during the past month. The Scarlet Knights aren't done yet. They could land four-star athlete Noah Brown at any moment, although you shouldn't rule the Buckeyes out. 
Commitments: Rutgers picked up a commitment from three-star cornerback Deion Hallmon. Hallmon had over 30 offers including Florida State, Syracuse, Notre Dame, Wisconsin and West Virginia. The Scarlet Knights now have 23 commitments, with five from Florida. 
Visitor news: The Scarlet Knights open up their season, Thursday, by traveling to Fresno State. Therefore, no recruits will be visiting this weekend. With only a few spots remaining, Rutgers has fewer targets remaining than other schools. 
2. Michigan
Michigan is on pace to win the 2015 recruiting championship in May of next year, with their six commitments in the '15 class. Brady Hoke and the Wolverines started the '14 class quickly, but the pace has slowed down, as of late. A few weeks back, Ohio State was able to pass Michigan for first in our rankings. It's not looking like the Buckeyes will be passed anytime soon. 
Commitments: No new 2014 commitments this week. Michigan did manage to land two '15 Ohio prospects. Defensive backs Shaun Crawford and Tyree Kinnel both committed to the Wolverines. Neither held offers from Ohio State.
Visitor news: The Wolverines play host to Central Michigan, this weekend. Don't expect too many of Michigan's top targets to be in attendance. Many of them, including five-stars Malik McDowell and Da'Shawn Hand, will be at the Michigan/Notre Dame game the following weekend. 
1. Ohio State
It has been ten days since Ohio State landed Curtis Samuel for the '14 class. Last night, Urban Meyer started off the '15 class with a commitment from Eric Glover-Williams.
It's looking like the Buckeyes will take at least 23 prospects in this class, and that number could grow with more early departures. It's not entirely clear who the next Ohio State commitment will be, but Noah Brown will be announcing in the next two weeks between Rutgers and Ohio State. Urban Meyer wants Brown, but could Kyle Flood beat Meyer head-to-head?
Commitments: No new 2014 commitments this week. The Buckeyes did land a commitment from '15 ATH Eric Glover-Williams last night. 
Visitor news: The Buckeyes will take on the Buffalo Bulls this weekend. None of Ohio State's top '14 prospects are scheduled to attend. We currently don't have any prospects on our list as visiting for the Buffalo game, but expect some Ohio prospects to make the trip for the opener. The Wisconsin and Penn State games are setting up to be huge recruiting weekends for the Buckeyes. 
---
Rankings Overview
| No. | School | Commits | Scout ★ AVG | Rivals ★ AVG | 247 ★ AVG | ESPN ★ AVG | Overall ★ Avg |
| --- | --- | --- | --- | --- | --- | --- | --- |
| 1 | Ohio State | 17 | 3.71 | 3.59 | 3.88 | 3.71 | 3.72 |
| 2 | Michigan | 16 | 3.56 | 3.47 | 3.44 | 3.86 | 3.58 |
| 3 | Rutgers | 23 | 3.00 | 2.91 | 2.96 | 3.17 | 3.01 |
| 4 | Penn State | 12 | 3.33 | 3.25 | 3.33 | 3.42 | 3.33 |
| 5 | Michigan State | 14 | 3.21 | 3.14 | 3.43 | 3.31 | 3.27 |
| 6 | Northwestern | 13 | 3.08 | 3.08 | 3.31 | 3.31 | 3.20 |
| 7 | Wisconsin | 11 | 3.27 | 3.09 | 3.09 | 3.27 | 3.18 |
| 8 | Nebraska  | 11 | 3.00 | 3.00 | 3.00 | 3.30 | 3.08 |
| 9 | Iowa | 13 | 2.69 | 2.69 | 2.77 | 3.09 | 2.81 |
| 10 | Maryland | 10 | 2.89 | 2.89 | 2.89 | 3.38 | 3.01 |
| 11 | Illinois | 12 | 2.53 | 2.75 | 2.67 | 3.00 | 2.74 |
| 12 | Purdue | 8 | 3.00 | 2.63 | 2.88 | 3.00 | 2.88 |
| 13 | Minnesota | 6 | 3.33 | 3.00 | 3.17 | 2.80 | 3.08 |
| 14 | Indiana | 10 | 2.90 | 2.60 | 2.60 | 3.00 | 2.78 |