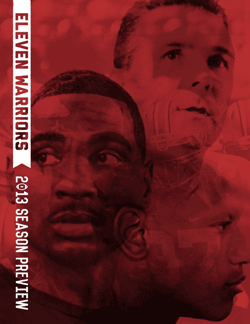 Our 2013 Ohio State Football Preview series is in the books, but that doesn't mean you have to stop loving it. Resident maker-of-things-that-are-incredible, Walt Keys, worked his magic and created the perfect digital companion for the discerning Ohio State football fan.
This 71-page eBook comes packed with everything you need to know for Year 2 of the Urban Meyer era in Columbus. From depth charts, advanced stats, a deep-dive into the schedule, and new coaches in the league, to technical breakdowns of offensive and defensive philosophy and a guide to being a better Buckeye fan, it's all here.
Lovingly crafted by your friends at Eleven Warriors, this eBook not only makes a perfect gift, but it's also a wonderful answer to a question we receive all of the time:
I can't believe this is a free site. How can I repay you for bringing so much Buckeye into my life?
The Eleven Warriors 2013 Ohio State Football Preview, only $5.99 at Eleven Warriors Dry Goods.
---
World's Shortest FAQ: You will receive this eBook as a full-color, 71-page PDF, ensuring compatibility across all mobile devices and tablets.