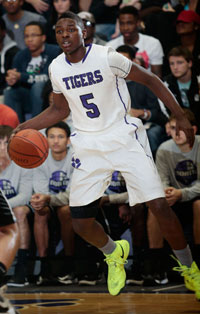 The school year is just beginning and most basketball activity has temporarily halted, but that isn't keeping recruits off the road.
Two highly-ranked prospects in the next two classes reportedly visited Ohio State over the weekend, one of which is related to a current Buckeye football player.
Several other OSU targets are in the process of visiting and setting up visits at other schools.
Meanwhile not all action on the court has stopped.  Three Ohio State commits traveled to Columbus and competed in open gym scrimmages – the Eleven Warriors recruiting team was there to witness the action.
Bell, Harris and Tate In Action
After a solid summer of continuous basketball action, maybe some of these guys would take a weekend off, before the school year starts. Not Dave Bell, A.J. Harris and Jae'Sean Tate.
The three Buckeye commits were among the top tier Ohio prospects at Victor Dandridge's open gym, Saturday. Considering Bell's presence and the talent on his squad, I spent a majority of my time watching the Cleveland-area team (no hometown bias, I swear).
Their frontline consisted of Garfield Heights' Bell and Shaker Heights 2015 forward Esa Ahmad – no other squad could compete with that size. Bell brought the pure height, at 6 feet 11 inches, while Ahmad's physicality and perimeter skills wore down opponents.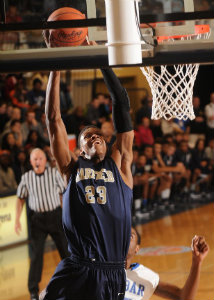 I didn't see a wide range of offensive moves from Bell – he had major difficulties finishing in traffic and around the rim. The open gym setting isn't necessarily conducive to getting a post player involved.  Still, I wonder if he's still adjusting to his newfound height. Maybe he just had an off night on that end. I hope he adds a few pounds of muscle and a midrange game to compliment his athleticism.
To his credit, he runs the floor well for his size and was a major factor on the defensive side. He did a solid job of jumping out on the perimeter to contest jump shots and using his long arms to keep rebounds alive.
Meanwhile, Tate was probably the most impressive player I saw.  Even though he ran with Pickerington Central teammate and 2016 point guard D.J. Tyree, Tate took on a majority of the ball handling duties.
This allowed the defense to load up and attempt to stop him by completely mauling him. He saw triple teams on a couple of possessions.
Tate also wasn't afraid to take a jump shot, although he was even less afraid to take contact. Seemingly every trip down the floor, he got shoved – or, more aptly, shrugged it off and bowled into his defender. Off the ball, I saw him set a number of vicious screens.
The 2014 commit extended his physical play to the defensive end, as well. Tate went one-on-one with Bell a few times. Despite the obvious height difference, the 6-foot-4-inch Tate held his ground on the block. His ability to box out for rebounds didn't go unnoticed, either.
Lastly, I caught 2015 commit A.J. Harris at the tail end of the session. A high-energy point guard, Harris looked exhausted after two straight hours of play. That didn't stop him from making a few ridiculous plays.
On one possession, Harris picked up his man at half court, stripped him of the ball, drove down the floor, faked a behind the back pass with his left hand and then went in for a lay-up.
The Dayton Dunbar guard is gifted with the ball and pulled off a number of nifty passes. Seemed like he was toying with his defenders, at times.
Russell and Mitchell Reportedly Visit Columbus
Another Buckeye commit reportedly travelled to Ohio's capital city over the weekend.
Louisville native D'Angelo Russell tweeted, Aug. 12, "Taking another Trip to Ohio State Sunday. Show me love." That Sunday, he followed up by tweeting, "I love Ostate. Great Coaching staff, great place all around."
Using detective instincts and Twitter stalking skills, we can glean a few things from Mickey Mitchell's tweet:
Good seeing @D_Russ3 today

— Mickey Mitchell (@MickeyMitchell0) August 19, 2013
The 2015 forward is Ohio State linebacker Mike Mitchell's brother. Under Thad Matta, the Buckeyes have not landed a recruit from Texas, but the familial connection will certainly help.
Mitchell was also a talented quarterback, but will reportedly focus on basketball after suffering a major knee injury on the gridiron. Before last year's basketball season even began, Mitchell tore an ACL. It prevented him from playing football, basketball and all the AAU basketball summer activities.
Hopefully, he returns to form because he has some of the best mixtape material around:
Notes On Other Buckeye Prospects
Matta is still searching for someone to fill out OSU's 2014 class, preferably with an elite center. Good news is, Ohio State one of the final five schools for – possibly – the nation's best shot-blocker:
I Have Officially Cut My College List. Florida, Duke, Indiana, Ohio St, & UNLV !(in no particular order) #IFeelGood&Blessed

— Goodluck Okonoboh (@Goodlucko_12) August 20, 2013
The 6-foot-9-inch big man is still raw offensively, but scouts rave about his defensive instincts. Those are why he draws comparisons to Nerlens Noel – other reasons: they played together in high school and AAU. Plus, both Noel and Okonoboh are fond of high-top fades.
Currently, Okonoboh has no future visits planned.
The Buckeyes are also in the hunt for 2015 wing Malachi Richardson:
No order ; cuse , Uconn,Indiana,north Carolina , Rutgers, Ohio st,gtown,Florida, Miami, nova , Kansas and Arizona ...

— Malachi Richardson (@TheLifeOfMali23) August 15, 2013
Richardson spoke to Tar Heel Illustrated about making cuts.
"I think I had a pretty good base on who I wanted to really recruit me," he said. "So, I trimmed the list."
He will be in Bloomington, Ind., this weekend and plans on visiting Columbus next month.
---
[Tate image courtesy of Slam Online]
[Bell image courtesy of Dayton Daily News]