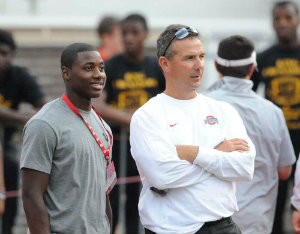 The Big Ten is having a slow month of August on the recruiting trail, but Ohio State and Rutgers are the exceptions.
Iowa, Rutgers and Ohio State were the only three schools to land a commitment in the past seven days, with each landing one new prospect.
Despite a slow week, we saw movement in our Big Ten football recruiting rankings. The Hawkeyes' newest commitment bumps them up to ninth, which causes Illinois to fall a spot.
Curtis Samuel's commitment to Ohio State further distances the Buckeyes from the rest of the pack. The five-star athlete's commitment moves them up to second in 247Sports' composite rankings, with plenty of time to catch Alabama for the top class.
College football season is less than two weeks away, which also means key recruits will start to officially visit their top colleges soon. 
Now, on to the rankings:
14. Maryland
Maryland currently sits in last place, but that might change next week. Four-star defensive end Jesse Aniebonam is expected to commit to Maryland over Alabama, Clemson, Michigan, Ohio State, Notre Dame, Virginia Tech and others. The Terps are considered the clear favorite for 247Sports' 102nd overall player in the nation. 
Five-star corner Jalen Tabor continues to trend towards Maryland. The Terrapins have quickly turned from dark horse to front-runner for Tabor. Mike Locksley – their ace recruiter – is handing the recruitment of Aniebonam, Tabor, Damian Prince, Brock Ruble and Chris Jones. 
13. Indiana
Indiana could find themselves back in last place next week, a spot they have held the majority of the time in our Big Ten football recruiting rankings. 
A name for Hoosier fans to keep an eye on is three-star running back Devine Redding. He recently transferred to Glenville and will likely be featured at running back in coach Ted Ginn's offense. Indiana is currently his favorite, but he could see his recruitment take off with a solid senior season. 
12. Minnesota
The Gophers sit with only six commitments and are only expecting to take 15 to 17 prospects in this class. Minnesota has been quite selective with the small amount of scholarships available. 
Three-star offensive tackle Frank Ragnow is the their top remaining target on the board. The offensive lineman appears to be down to Arkansas, Florida State and Minnesota. The Gophers have the edge on the crystal ball, but the last three picks all went to Arkansas. Jerry Kill must manage to land their home state's top talent. 
11. Purdue
Purdue continues to sit outside the top ten for another week. The Boilermakers could lose Drue Tranquill – one of their top commitments – after he received a Notre Dame offer a few weeks ago.
Four-star quarterback commitment David Blough could be a candidate to start under center as a freshman. Purdue recently named senior Rob Henry as starter for this season, leaving the position wide open for next season.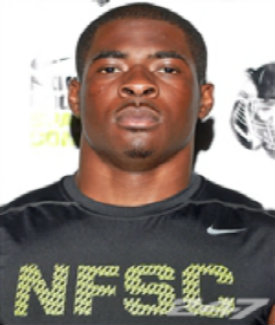 10. Illinois
Illinois is now tenth after being passed by Iowa this week. The Illini have struggled on the recruiting trail under Tim Beckman. It seems they are battling MAC schools for recruits, while the rest of the conference is competing against other BCS schools. 
The Big Ten desperately needs the bottom tier to step up their recruiting game. 
9. Iowa
Iowa moves up a spot in our rankings after landing a commitment from linebacker Aaron Mends. He choose the Hawkeyes over an offer from Iowa State. Kirk Ferentz now has twelve commitments in this class. 
His commitment comes one week after losing their top verbal to Alabama. It's clear Iowa can out-recruit Iowa State, but can they out-recruit the big boys? I'd say no after losing a long-time, in-state offensive lineman commitment to the Crimson Tide. Offensive lineman are what the Hawkeyes are known for producing and he didn't think twice about de-committing. 
8. Nebraska
All has been quiet in Lincoln as college football season approaches. We are still 11 days until four-star defensive tackle Peyton Newell is expected to commit to the Cornhuskers over Kansas, Kansas State and South Carolina. 
Nebraska has surprisingly struggled on the recruiting trail after a 10-win season.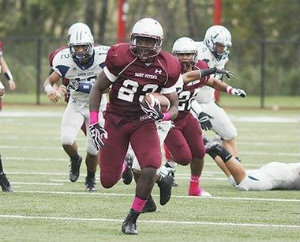 7. Wisconsin
Gary Andersen has put together a solid recruiting class in his first year in Madison. Dual-threat quarterback D.J. Gillins headlines the Badgers class. Landing a highly rated quarterback is something Bret Bielema was never able to do. 
6. Northwestern
Four-star cornerback Parrker Westphal continues to trend towards Northwestern on the crystal ball. Westphal was once considered a Michigan lock, but the Wolverines are running tight on scholarships. 
Landing Westphal would be a major addition to an already solid class. The Wildcats started off strong, but have faded slightly in the rankings since June. Pat Fitzgerald continues to do a great job in Evanston. 
5. Michigan State
Michigan State's hiring of Curtis Blackwell has yet to pay off for the class of 2014. The Spartans are expecting to have a strong finish and are a good bet to finish in the top five of our Big Ten rankings. 
The problem with the Spartans has been their inability to land a top prospect. This year Michigan State has missed out on Jamarco Jones, Drake Harris and Lawrence Marshall. We'll see if Blackwell can help solve this problem in East Lansing. 
4. Penn State
Penn State's class is almost finished, with 12 commitments. Due to the sanctions, the Nittany Lions are only allowed to hand out 15 scholarships. 
Tight end Mike Gesicki, defensive tackle Thomas Holley and athlete Dravon Henry are three of Penn State's top remaining targets. Wisconsin is a team to watch for Gesicki, while Holley seems to be slightly favoring the Buckeyes. Henry's crystal ball shows no clear leader.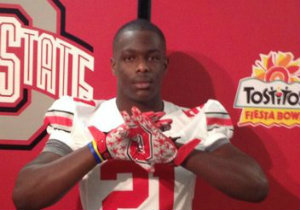 3. Rutgers
Rutgers continued their hot recruiting month with a commitment from three-star running back Jonathan Hilliman. He commits to the Scarlet Knights over Ohio State, although many believe the Buckeyes' offer was not committable. Ohio State offer or not, this is still a huge pick-up for Rutgers. 
The Scarlet Knights remains in the mix for four-star WR Noah Brown. Rutgers has done well keeping the areas top talent in-state in recent weeks and will look to continue the trend with Brown.  
2. Michigan
Michigan's recruiting has slowed down with only a few scholarships left. The Wolverines top remaining targets include five-stars defensive linemen Da'Shawn Hand and Malik McDowell. 
Hand is scheduled to announce, Nov. 14, between Michigan, Florida and Alabama. The Wolverines are the favorites to land Hand, one of the nation's top prospects. McDowell does not yet have a decision date, but the Wolverines are the clear favorite for the in-state defensive end. 
1. Ohio State
The Buckeyes distanced themselves from the rest of the pack this week with the commitment of five-star athlete Curtis Samuel. He committed to Ohio State over Rutgers, Friday, and is expected to be a wide receiver/hybrid in Urban Meyer's offense. With the additions of Parris Campbell Jr., Terry McLaurin, Curtis Samuel and Lonnie Johnson, that offense will have plenty of speed.
What is next for the Buckeyes? Four-star wide receiver Noah Brown could decide at any moment between Ohio State, Rutgers, Vanderbilt and Virginia Tech. Brown has said a decision will be made by Sept. 12. Five-star defensive tackle Thomas Holley could also potentially decide before football season. Ohio State, Notre Dame and Penn State are the main schools fighting for his commitment. 
---
Rankings Overview
| No. | School | Commits | Scout ★ AVG | Rivals ★ AVG | 247 ★ AVG | ESPN ★ AVG | Overall ★ Avg |
| --- | --- | --- | --- | --- | --- | --- | --- |
| 1 | Ohio State | 17 | 3.71 | 3.41 | 3.88 | 3.71 | 3.68 |
| 2 | Michigan | 16 | 3.50 | 3.40 | 3.44 | 3.86 | 3.55 |
| 3 | Rutgers | 22 | 2.95 | 2.86 | 2.95 | 3.18 | 2.98 |
| 4 | Penn State | 12 | 3.33 | 3.33 | 3.33 | 3.42 | 3.35 |
| 5 | Michigan State | 14 | 3.14 | 3.07 | 3.43 | 3.31 | 3.24 |
| 6 | Northwestern | 13 | 3.00 | 3.08 | 3.31 | 3.31 | 3.18 |
| 7 | Wisconsin | 11 | 3.27 | 3.09 | 3.09 | 3.27 | 3.18 |
| 8 | Nebraska  | 11 | 2.64 | 2.82 | 3.00 | 3.30 | 2.94 |
| 9 | Iowa | 12 | 2.58 | 2.75 | 2.81 | 3.10 | 2.81 |
| 10 | Illinois | 12 | 2.54 | 2.75 | 2.67 | 3.00 | 2.74 |
| 11 | Purdue | 8 | 3.00 | 2.63 | 2.88 | 3.00 | 2.88 |
| 12 | Minnesota | 6 | 3.33 | 3.00 | 3.17 | 2.80 | 3.08 |
| 13 | Indiana | 10 | 2.80 | 2.60 | 2.60 | 3.00 | 2.75 |
| 14 | Maryland | 8 | 2.50 | 2.63 | 2.75 | 3.33 | 2.80 |