Welcome to another edition of the Ohio State Football Recruiting Notebook. It has been another busy week in the world of recruiting and we're here to catch you up on the latest.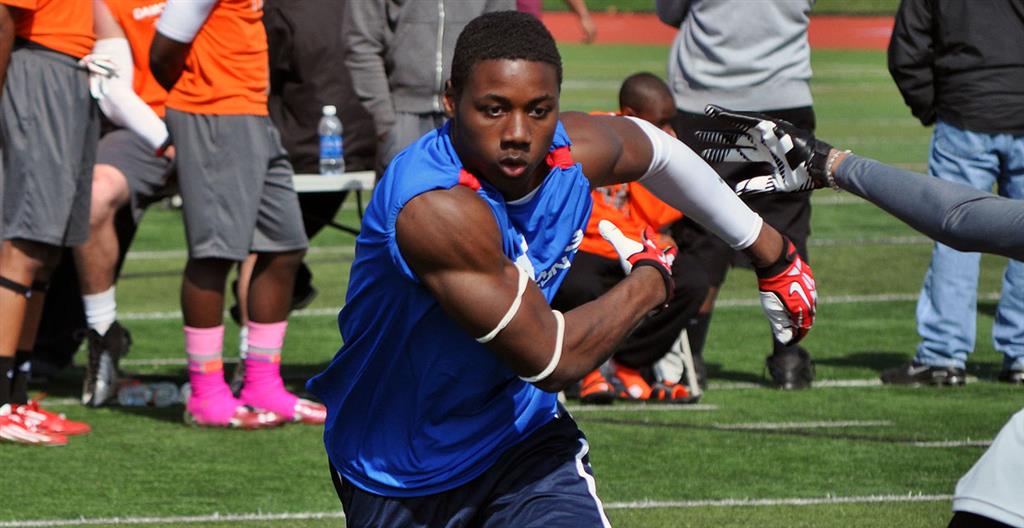 The biggest news of the week came just hours ago when Brooklyn (NY) Erasmus Hall athlete Curtis Samuel committed to Ohio State, becoming the 17th member of Urban Meyer's 2014 class.
There is another top prospect in the '14 class who is high on the Bucks and is looking to set his official visits. 
We also have a few Buckeye related notes on top prospects in the 2015 class. 
Also, a bevy of players with Buckeye offers committed to other schools. We'll tell you who and where they decided to commit.
Finally, we'll take a look into the future of Buckeye recruiting.
Join us after the jump to look into the past, present and future of Ohio State football recruiting.
THE BUZZ
Brooklyn (NY) Erasmus Hall athlete Curtuis Samuel had the Buckeye as his leader for most of his recruitment. He made things official today as he called Urban Meyer and told him he wanted to be a Buckeye.
"Curt is very quiet, the decision to go to Ohio State, to leave the New York City area is huge," Lizzi continued. "The trip to Oregon for The Opening was the first time he'd ever left his family for any extended period of time. His decision it what's best for him and that's all we on our coaching staff want, but it's huge. We're very close with (Rutgers head football coach) Kyle Flood, I've exchanged baby pictures with him, but this was about Curt."

Ray Lizzi, Erasmus assistant coach via Eleven Warriors
Samuel could play either wide receiver or corner when he arrives in Columbus. He is one of the fastest player in the 2014 class as a whole, clocking a 4.36 40-yard dash at Nike's The Opening lasrt month.
This is a huge addition to Ohio State's recruiting class, it's rare you see the Bucks pull an elite player from the state of New York, could Samuel start a trend? Ohio State assistant coach Ed Warinner has been very active in New York and New Jersey and it's starting to pay off.
The Buckeyes are in good position for the Empire State's other elite prospect, Brooklyn (N.Y.) Abraham Lincoln defensive tackle Thomas Holley. At 6-feet-4 and 285 pounds, Holley called Ohio State an "amazing" football program and is going to take an official visit to Columbus. Warinner is getting a lot of help from Mike Vrabel in the hopes of securing Holley.
Right Now the 24/7 Sports Crystal Ball shows an even 50/50 split between OSU and Notre Dame for Holley's commitment. I have him pegged to the Buckeyes, as things currently stand.
Unlike Samuel, I think Holley will let things play out through the fall and into the winter. This will be a battle to watch as the year progresses.
2015 Saint Paul (Minn.) Cretin Derham Hall defensive end Jashon Cornell is already regarded as one of the top 20 players in his class. He talks to Buckeye defensive line coach Mike Vrabel at least once a week and plans to visit Ohio State for a game later this fall. I think Notre Dame leads right now, but Florida, Michigan, and OSU will challenge the Fighting Irish for Cornell's commitment. Watch Michigan closely as Cornell has developed relationships with George Campbell and Damien Harris, Michigan's pair of highly-touted 2015 commitments.
2015 Lakewood (OH) St. Edward athletes Andrew and David Dowell will be coming down to Columbus to watch the Bucks practice next Saturday. They are two of Ohio's best juniors and both stand a solid chance of eventually receiving the coveted offer from Ohio State.
HAPPY TRAILS
A bevy of players the Buckeyes were after committed to other schools in the last week.
The biggest new came when a trio of prospects with Buckeye offers committed to the Florida Gators, as part of a package deal. Plantation (Fla.) athlete Chris Lammons, Homestead (Fla.) Senior wide receiver Ermon Lane, and Fort Lauderdale (Fla.) University School corner Quincy Wilson are the newest members of Will Muschamp's strong recruiting class.
The Buckeyes were once in the lead for Wilson, but it didn't last. He decided he wanted to go to college with his friends, and the commitment of Malik Hooker to Ohio State a few weeks back solidified that Wilson was not going to end up in Columbus. Florida is definitely the best destination for the trio in a package deal scenario.
Ohio State also lost a pair of player to future B1G member, Rutgers. First, Englishtown (N.J.) Manalapan wide receiver Saeed Blacknail committed to Rutgers last Saturday over Ohio State, LSU, and a couple of other schools. The Bucks led for him very early in the process, but faded away as his recruitment progressed.
Jersey City (N.J.) St. Peters Prep running back Jonathan Hilliman was the other recruit to choose to the Scarlet Knights over the Buckeyes. I think Hilliman would've been a Buckeye if he had a committable offer.
Finally Tucker (Ga.) safety Kirk Tucker committed to Stanford. He camped at Ohio State in June, but the Buckeyes were not a serious player to land the standout safety.
LOOKING AHEAD
In the coming weeks we'll see some key visitor dates roll in. We already know the Buckeyes will be getting an official visit from Raekwon McMillan for the Penn State game in October. Many other elite '14 recruits will start setting their officials in the very near future.
Other than that, Aug. 31 can't get here fast enough.