"We have met the enemy and they are ours." — Oliver Hazard Perry, commander of the American fleet, after defeating the British fleet in the Battle of Lake Erie
Ohio State has already met the enemies they'll face over the final four weeks of the 2013 football season. The Buckeyes faced Purdue, Illinois, Indiana and Michigan just last season. Of those final four foes in 2013, only Purdue has changed coaches, so Ohio State will know pretty much what to expect from each of those teams this season.
Purdue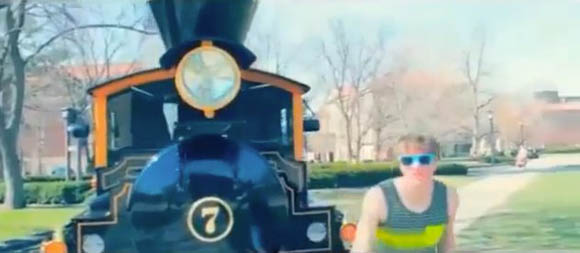 The Boilermakers went 6-7 overall (3-5 in Big Ten play) in Danny Hope's final season in West Lafayette. Along the way, they scared the bejeezus out of the Buckeyes in Columbus, leading much of the game until Kenny G's sweet, sweet jazz played out the final minute of regulation and overtime. It was a payback for the Buckeyes, who lost in OT the year before at Purdue, following a blocked Drew Basil extra point. Officially, Ohio State is 39-13-2 in the all-time series.
Purdue was 3-6 before winning three straight against the I teams — Iowa, Illinois and Indiana — to become bowl eligible. The Boilers' reward was a 58-14 shellacking at the hands of the Oklahoma State Cowboys in something called the Heart of Dallas Bowl.
Former OSU assistant Darrell Hazell replaces Hope at the Purdue helm. Hazell was 16-10 in two seasons at Kent State, but really turned the Golden Flashes around last season, going 11-3 and earning the school's first bowl berth since 1972.
OFFENSE: Senior quarterback Rob Henry appeared in 11 games last year as a backup to Caleb TerBush and Robert Marve, completing 21/38 passes (55.3%) for 216 yards and three touchdowns with one interception. Although not called upon to run much last year, Henry is mobile. However, he's got a fight on his hands for the No. 1 spot with freshman Danny Etling. Whoever wins the battle will be protected by a veteran line. The Boilers return three starters on the offensive line, including both tackles.
Junior running back Akeem Hunt out of Georgia takes over for departing starter Akeem Shavers. Hunt rushed 42 times in 2012 for 335 yards (8 YPC) and two touchdowns, and he did this last year. Hunt is versatile and averaged more than 15 yards per reception in 2012, with two receiving touchdowns. Senior Gary Bush is the team's leading returning receiver. He caught 41 passes for 360 yards and seven touchdowns in 2012.
DEFENSE: Purdue returns nine starters on defense, but Kawann Short is not one of them. Senior D-lineman Bruce Gaston returns to lead the villainous Purdue defense. Gaston produced only 28 tackles last year, but made key plays with 5.5 TFLs, two forced fumbles and two fumble recoveries. He'll anchor the Boilermaker front.
Senior Ricardo Allen is an experienced cornerback who made 45 tackles in 2012, with four TFLs, a sack, an interception and four pass breakups. Junior linebacker Joe Gilliam finished fourth among Boilermaker tacklers a year ago, with 57 takedowns. He made 41 solo stops, with 2.5 TFLs, a sack and a forced fumble.
PLAYER to WATCH: Keep an eye on Allen. No. 21 for Purdue is a talented open-field tackler and a good cover corner. He could make life difficult on Braxton Miller.
Illinois
The Fighting Illini were terrible in Tim Beckman's first season as head coach in 2012. Illinois went 2-10 (0-8) and the next conference win will be Beckman's first. Looking at the Illini schedule, it's hard to see where one of those Ws might come from. The Buckeyes hold a 64-30-4 advantage in the series, including a 52-22 home victory last year. Ohio State has had some close calls but hasn't lost in Champaign since the early 90s.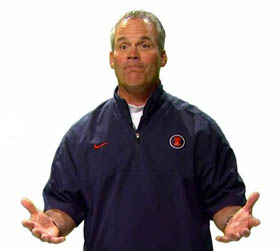 OFFENSE: Senior quarterback Nathan Scheelhaase is coming off an injury-plagued 2012 season, but even when healthy he wasn't all that effective. In 10 games, Scheelhaase completed 149/246 (60.6%) for 1,361 yards and four touchdowns, with eight interceptions. He was also the team's third-leading rusher, with 303 yards on 125 attempts (2.4 YPC), scoring four touchdowns. Junior Reilly O'Toole spelled Scheelhaase often last year, playing in seven games and completing 65/87 (74.7%) for 564 yards and six scores, against four picks. O'Toole isn't the running threat Scheelhaase is, but he's been the more precise passer.
Junior running back Donovonn Young is the leading returning rusher. Young gained a team high 598 yards in 2012 on 131 carries (4.4 YPC), with three touchdowns. He'll probably get more than 10 carries per game this season under new offensive coordinator Bill Cubit (formerly of Western Michigan).
The leading returning wide receiver for Illinois is senior Ryan Lankford. He caught 37 passes for 469 yards and five touchdowns a year ago, but only made five receptions over the final eight games. Look for junior college transfers Geronimo Allison and Martize Barr to potentially make an impact in the Illini passing game. The caveat is that Illinois allowed a B1G-worst 39 sacks last year and lost their two best offensive linemen to graduation.
DEFENSE: The Illinois defense only returns four starters, but it was also one of the worst units in the league a year ago. Sophomore linebacker Mason Monheim was a two-time B1G Freshman of the Week and a second-team freshman All-American in 2012. Monheim led the Illini with 86 tackles, with six TFLs, 1.5 sacks, an interception, two forced fumbles and a fumble recovery. Senior linebacker Jonathan Brown is pretty good when healthy. He missed three games last year, recording 59 tackles, a team-high 9.5 TFLs, 2.5 sacks, a forced fumble and a fumble recovery.
Junior safety Earnest Thomas is the lone returning starter in the secondary. Like Brown, Thomas has shown he's capable of making big plays. Thomas was fourth on the Illini with 69 tackles in 2012, with two TFLs, a sack, an interception and three forced fumbles.
PLAYER to WATCH: Monheim looks like a star in the making on the Illini defense. The Buckeyes will need to locate him on every play because he's a difference maker.
Indiana
The Indiana Hoosiers were only 4-8 (2-6) a season ago, but they sure seemed like a better team than that when the Buckeyes visited Bloomington. Kevin Wilson has Indiana's offense playing very well and if the defense ever catches up, the Hoosiers could become a problem. As it is, Indiana is a sexy preseason pick to make a bowl game in 2013. Ohio State is 68-12-5 in the all-time series. Wilson's offense gets the ball out quickly. Indiana allowed only 17 sacks last season.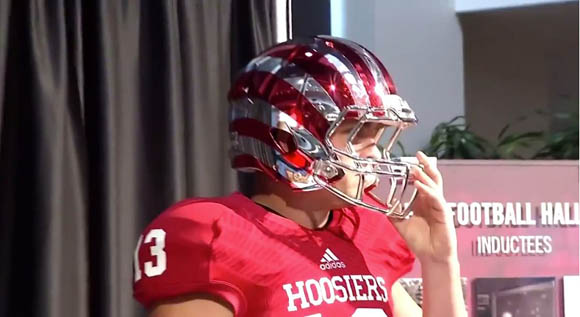 OFFENSE: The Hoosiers return 10 offensive starters, but have to settle on a quarterback. They have three good ones — junior Cameron Coffman and sophomores Tre Roberson and Nate Sudfield have all been efficient in Wilson's offense. Roberson completed 33/50 (66%) for 368 yards with two touchdowns and a pick last year, before breaking a leg in the second game. Coffman took over as starter, completing 247/407 (60.7%) for 2,734 yards, with 15 touchdowns and 11 interceptions. Sudfield played in seven games, going 51/82 (62.2%) for 632 yards and seven touchdowns, with one.
Redshirt senior running back Stephen Houston returns. He carried 161 times in 2012 for 749 yards (4.7 YPC) and 12 touchdowns. He also caught 37 passes for 381 yards and four more scores. Indiana returns almost everyone at a deep wide receiver position, including its three top guys — juniors Shane Wynn and Cody Latimer and senior Kofi Hughes.
DEFENSE: Indiana returns nine defensive starters, but lost tackles Adam Replogle and Larry Black to graduation. Senior safety Greg Heban returns after leading the Hoosiers in tackles (91), solo stops (68), and interceptions (3) last year. He picked off Braxton Miller in the end zone to thwart an Ohio State drive last season. Heban posted seven TFLs, eight pass breakups, a sack and a fumble recovery. He can make plays.
Redshirt junior linebacker David Cooper returns to the middle, where he made 86 stops a year ago. Cooper finished with three sacks, nine TFLs, three pass breakups and a forced fumble last season. Fellow linebacker Griffen Dahlstrom was Indiana's "Will" linebacker in 2012, recording 48 tackles, seven TFLs, a sack and a forced fumble. Redshirt junior Ryan Phillis is the D-line's leading returner, with 34 tackles, 3.5 TFLs and three sacks.
PLAYER to WATCH: Latimer scored six touchdowns last year and led Indiana in receiving yards (805) and yards per catch (15.8). He can move and get open, and he knows what to do with the football after the catch. Houston and Heban are also playmakers to keep an eye on.
Michigan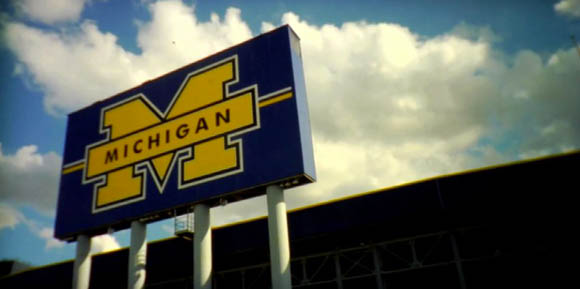 The enemy from the north is getting a lot of love from the national media. The Wolverines were 8-5 (6-2) last year and fell to South Carolina in the Outback Bowl. Although they're a media darling and have recruited well the last couple of seasons, Michigan has a 5-7 mark away from the Big House in Brady Hoke's first two seasons. The Buckeyes are 44-58-6 officially in the series, but have owned it since John Cooper was fired.
OFFENSE: Redshirt junior Devin Gardner will be the quarterback this year after the departure of Denard Robinson. Gardner completed 75/126 passes in 2012 for 1,219 yards and 11 touchdowns against five interceptions. He ran for 101 yards on 47 carries, but his 2.1 yards-per-attempt average is misleading due to sack yardage. Only two starting offensive linemen return, but one of them is All-American left tackle Taylor Lewan. Former Ohio State commit Kyle Kalis will likely be in the starting five.
Senior running back Fitzgerald Toussaint gained 514 yards on 130 attempts last year (4.0 YPC) and scored five touchdowns. He's a talented runner and the Wolverines missed his presence in their 26-21 loss in the Shoe last November. If not healthy, freshman Derrick Green or junior Thomas Rawls will get the call from offensive coordinator Al Borges.
Senior receiver Jeremy Gallon caught 49 balls a year ago for 829 yards and four touchdowns. He's small at 5-foot-8 but he's the class of Michigan's receiving corps. Senior Drew Dileo finished 2012 with 20 receptions for 331 yards and two touchdowns. Sophomore tight end Devin Funchess caught five of his 15 receptions last year for touchdowns.
DEFENSE: Redshirt junior linebacker Jake Ryan is coming off an ACL tear, but is expected back in October. He led Michigan in tackles (88), solos (56), TFLs (16) and sacks (4.5) last season. Junior linebacker Desmond Morgan (#48) was third among Michigan tacklers in 2012, with 81. Eleven of those, as well as half a sack of Braxton Miller, came in the Shoe. Junior defensive end Frank Clark can be a handful, as Ohio State found out last November.
Two regular starters return to the secondary, notably senior safety Thomas Gordon and junior cornerback Raymon Taylor. Gordon made 81 stops with four TFLs and a sack a year ago, picking off two passes. Taylor made 45 stops and also intercepted two passes. Junior Blake Countess will be back from a knee injury he sustained in the opener against Alabama last year.
PLAYER to WATCH: Gardner can run, throw and catch. He scored seven rushing touchdowns in 2012 and he caught 16 passes for 266 yards and four more TDs. He is elusive in the pocket, so Ohio State will have its hands full containing him.