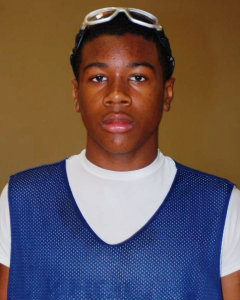 Boy, that escalated quickly.
Only hours after mentioning his plans to visit Columbus and his hopes of landing a scholarship offer during it, 2015 guard A.J. Harris committed to the Buckeyes. That wasn't the only bit of news to come down this week.
Thad Matta offered a scholarship to a different member of the class of 2015, although he'll take his time before committing.
Another 2015 guard visited the Ohio State campus, Saturday. Meanwhile, two elite prospects in the 2014 class spoke about their plans to make trips of their own.
Action on the court didn't cease, either. Several recruits with Buckeye offers competed in the Big Strick Classic in New York.
More on the Harris Commitment
In case you missed it, the main A.J. Harris commitment story is here. 
There are some more recent Harris highlights popping up on YouTube, such as this  video from the Chicago Summer Jam in July (courtesy PrepHoops TV):
As is the case in that highlight package, Harris plays for a talent-rich AAU squad, the King James Shooting Stars (apologies for offensive team sponsor). Two of his teammates – 2015's Luke Kennard and 2016's V.J. King – are Ohio State targets. 
How much Harris' commitment means in the recruitment of Kennard and King is up for debate. King has plenty of time before he ends his recruitment, while Kennard has a list of blue-blood programs after him.
Recently, Kennard visited Kentucky and told Cats Illustrated (subscription required), "[Coach John Calipari's] message to me was just that he wants me in a Kentucky uniform. He told me let's get it done."
Including this – his second Kentucky visit – Kennard has already been to Ohio State, Louisville, Indiana, Michigan Michigan State, Duke and North Carolina.
Buckeyes offer Dwayne bacon
Ohio State extended an offer to another 2015 wing, Lakeland (Fla.) McKeel Academy's Dwayne Bacon.
The long forward has the ability to play above the rim, but he doesn't just out-jump everybody. The reason why Matta is smart to jump in on his recruitment – featuring Louisville, Baylor, Miami and a bunch of mid to high-major programs – is because of Bacon's versatility.
At 6-feet 6-inches tall, he has tremendous handles, wisely uses his length to get into the paint and shows great body control around the rim.
Future150.com's scouting report questions his defensive effort at times. Considering Matta's habit of producing strong perimeter defenders, he probably wouldn't offer a prospect that is incapable of working through those issues.
Eric davis visits columbus
Saginaw (Mich.) Arthur Hill guard Eric Davis spent his Saturday touring the Ohio State campus and talking to Matta.
As Davis tells Hoops247, him and Matta discussed how he'd fit in the Buckeye offense.
"[We discussed if I] could I see myself playing for him, how he operates his team," Davis told the site.  "If I came, he thinks me and D'Angelo Russell could be the best backcourt in the country."
His visit was two days before Harris committed, but that doesn't mean the Buckeyes are done with Davis. Harris is more of a pure point, whereas Davis is a combo guard whose skills are more complimentary to that of Harris.'
Davis' top attributes are in his aggressive scoring nature, both a slasher and solid jump shooter.
The bigger question is not whether Davis and Harris can coexist, but rather will Davis fit on a team that will likely include Harris, Russell, Amadeo Della Valle, Kameron Williams and Jae'Sean Tate, among other perimeter-oriented players.
Okafor and Turner Want to Visit OSU
Two elite 2014 big men – both whom went toe-to-toe at the Adidas Nations tournament – are ready to take visits in the fall.
According to ESPN Chicago, Jahlil Okafor will take his five official visits at Baylor (Aug. 30), Kentucky (Sept. 9), Arizona (Oct. 11), Kansas (Oct. 18) and Duke (Oct. 25). Considering his proximity to Illinois, Michigan State and, yes, Ohio State, he will take unofficial visits to those schools.
Okafor's father spoke to ESPN, and is disappointed in the rumor that his  son is a Duke lock.
"It's taking the fun out of the process for the two boys. That's a shame," he said. "Let the kids go through the process. I just want them to enjoy it, not the media, not Twitter, not the coaches, not the AAU coaches. Those kids are highly intelligent. They know what to do. Let it play out, and I think the world is in for something special." 
The top recruit according to multiple scouting services, Okafor will reportedly decide in November.
Texas big man Myles Turner, possibly the summer's top rising prospect, spoke to Scarberry Media's Zach Fleer about Turner's desire to visit Columbus and D'Angelo Russell's persuasion:
As far as a timetable for a commitment, Turner told SNY.tv that he will let everyone know in the winter. Currently, his only scheduled visit is to Kansas, Oct. 4.
Bragg and Briscoe in the Bronx
Meanwhile, Fleer was also able to watch 2015 Ohio State prospects Carlton Bragg  (Cleveland) and Isaiah Briscoe, at the Big Strick Classic in New York.
Bragg impressed Fleer as the weekend went on.
"Carlton played 'team ball' in Friday's scrimmage and didn't get as many shots up as he could have," he told Eleven Warriors. "Saturday, he was a little more selfish and it paid off. Bragg shot the best from the top of the key and from the left wing. If he keeps improving his ball handling, he will be unstoppable."
On the other hand, Briscoe proved to be the flashiest player in the city.
"Briscoe got the crowd on their feet every time he touched the ball," Fleer said. "He kept the ball on a string and constantly broke down defenders for points and assists."