As the summer winds down and we approach the beginning of the school year, there are fewer showcase events featuring elite recruits.
At the Adidas Nations, one of the last high-profile tournaments, several Ohio State targets and one commit impressed those in attendance.
Before heading to Los Angeles to play in the Adidas tournament, a 2015 recruit received an offer from the Buckeyes. Meanwhile, another member of that class – who already has an offer – is planning on visiting Columbus.
Over the next few months, recruits will take visits and trim their lists in an effort to decide what college they'll attend.
With that in mind, those closest to 2014's most highly sought-after recruits are dropping hints about where they'll commit:
AAU Coach Reinforces Notion about Okafor, Jones
Even it was pure speculation, Duke has been the favorite to land Jahlil Okafor and Tyus Jones since they took their first visit to Durham, N.C. In the following months, the Blue Devils' chances have only strengthened.
Now, Okafor's AAU coach believes he'll likely play for Mike Krzyzewski. Mike Irvin, head coach of the Chicago-area Mac Irvin Fire, praised Coach K in the Chicago Sun Times.
"He was at every game, he was the only head coach that was really following Jahlil all over the place," Irvin said. "In my mind Duke has a really good chance to land [Okafor]. Coach K has done a good job of recruiting him."
Okafor and Jones both have scholarship offers from Ohio State, and listed the Buckeyes among their top remaining schools. The duo continues to insist they'll play together in college, and Irvin believes Jones would follow Okafor to Duke.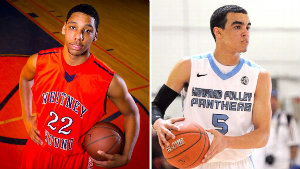 "I think there is a great chance Tyus is going to Duke," Irvin told the Sun Times. "So if [Okafor and Tyus] are going to school together..."
In a separate Sun Times article, Okafor's father denied the assertion that they've already made up their minds about Duke.
"They have no idea where they are going," Chuck Okafor said. "Duke has been doing a great job recruiting them, just like everyone else is. I don't know what Jahlil and Tyus are gonna do at this point, so for anyone else to say they do is far-fetched. They are still at a standstill."
At the end of August, Jones and Okafor are scheduled to visit Baylor, while Okafor tweeted his second official visit will be to Kentucky.
In his USA Today blog, Jones wrote, he set a November deadline for deciding on where to go to college. Theoretically, Okafor's decision will come around the same time.
Adidas Nations
The speculation surrounding Okafor followed him to Los Angeles, where he competed in the Adidas Nations Global 2013.
Spread across four days, the tournament featured nine teams with players from six different parts of the globe (Africa, Australia, Latin America, Philippines, Russia and the United States).  Also, numerous players with offers from Ohio State competed for one of the four U.S. squads.
VASJ (Cleveland) prospect Carlton Bragg played for the USA 2015/16 Blue team, with fellow Buckeye target Josh Jackson. Bragg averaged 11.3 points per game on 54.1 percent shooting. His efficiency and outside shooting impressed the media in attendance.
Meanwhile, the USA 2015/16 Red squad had three 2015 recruits who received OSU offers: Jaylen Brown – a recent offer, – Charles Matthews and Stephen Zimmerman. Once again, Zimmerman had to humiliate a kid:
Commit D'Angelo Russell and target Myles Turner played for the USA 2014 Blue squad, who went on to defeat Okafor's team in the Adidas Nations finals. It's another tournament championship for Russell, who also won the Nike Peach Jam with his AAU squad.
247Sports' Jerry Meyer wrote about Russell's contributions in the title game, as the 2014 combo guard dominated in all facets of the game. He impressed several media members, as well as former Buckeye Jared Sullinger.
Turner – Russell's teammate – has teased us for weeks about cutting his list from 26 (!) to eight after the Adidas competition. Ohio State made the 6-foot-10-inch center's original list.
His only scheduled visit is Kansas, in October, but the Texas big man said he'll wait until the spring to make a decision about attending a school on his upcoming list of eight. (Via Rivals.com)
Richardson Talks Ohio State, Indiana visits
Malachi Richardson was not at the Adidas Nations tournament, but the 2015 recruit made headlines this week.
The tough, yet smooth-shooting wing from New Jersey told SNY.tv he's planning on visiting Columbus in September. According to 247Sports' composite rankings, Richardson is a five-star recruit and ranked 18 overall, which would make him a tremendous addition to an already strong Buckeye backcourt.
He doesn't yet have a date for his visit to Ohio State, nor does he know exactly when he'll check out Florida, Georgetown, Miami, Syracuse or UConn. However, Richardson told SNY.tv, he will visit Indiana, Aug. 24.