Welcome to another edition of the Ohio State Football Recruiting Notebook. We have a lot to talk about after a busy week in the world of Buckeye recruiting.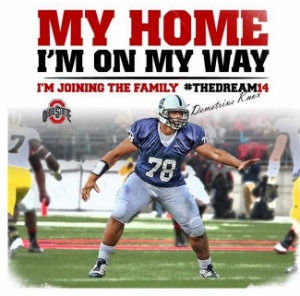 The biggest news came when Urban Meyer and his staff added two more commitments to a strong 2014 recruiting class. The first commitment came from Demetrius Knox Sunday night. Malik Hooker followed and committed to OSU on Monday night.
We'll also take the look at the remaining offensive line targets, following Knox's commitment. 
Ohio State also held their Friday Night Lights camp last week. There were a couple of top 2015 prospects who had stellar performances at the camp. Additionally, we'll tell you about a class of 2014 wide receiver who received an offer following a dominant performance.
A couple of top targets in the 2015 class committed to a rival school – we'll tell you why and where they're going later in the notebook.
Finally, we'll take a look into the future of Buckeye recruiting.
Join us after the jump to take a look into the past, present, and future of Ohio State football recruiting.
THE BUZZ
Forth Worth (TX) All Saints Episcopal School offensive guard Demetrius Knox made the biggest splash of the week. He committed to Urban Meyer and the Buckeyes Sunday night, becoming the 15th member of the 2014 recruiting class.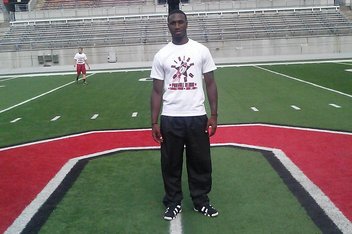 The timing of Knox's commitment came as a surprise, as all signs were pointing towards a close race between the Buckeyes, UCLA, Miami, and TCU. Many thought it would go late into the winter.
However, Knox felt Ohio State was the right school for him, so he decided to end the process and commit.
He will likely be a guard at the college level, a need and a huge pickup for Meyer.
The Knox commitment gives the Buckeyes four offensive linemen in this class, with the other three being Jamarco Jones, Marcelys Jones, and Kyle Trout. 
Demetrius Knox has committed to #OhioState. The #Buckeyes have their 15th commitment.

— Jeremy Birmingham (@Birm) July 28, 2013
The Bucks might want to add one more offensive linemen to this class. The top two targets are Nassau C.C. (N.Y.) offensive tackle Chad Mavety and Bishop McNamara (Md.) offensive tackle Damian Prince. Of these two elite prospects, I think OSU has a better chance at landing Mavety, 
Knox was not the only player to commit to Ohio State in the last week. New Castle (PA) athlete Malik Hooker became the 16th member of the 2014 class, when he committed to the Bucks on Monday – only a day following the commitment of Knox.
Like the Knox commitment, Hooker's came as a surprise. At 6-feet 2-inches tall and 185 pounds, Hooker will probably play safety when he arrives in Columbus. He could also play wide receiver, if needed.
Ohio State held their second annual Friday Night Lights Football camp last Friday Night. Jeremy, Jordan, and Mike provided excellent coverage of the event, so there isn't too much for us to touch on.
The biggest news came when Meyer and his staff extended an offer to Leesville Road (N.C.) wide receiver Braxton Berrios, following a dominant performance at FNL for the second consecutive year.
The 5-foot-8-inch, 180 pound receiver is a little undersized, but deserving of an offer. He impressed Urban Meyer and the Ohio State coaching staff on multiple occasions.
The Buckeyes have a very good chance at landing Berrios if they make a strong push for him to be in this class. Other teams firmly in the race for this standout wide receiver include Kentucky and Miami (Fla.). 
There were also a couple of top 2015 players who dominated at Friday Night Lights: Canton McKinley athlete Eric Glover-Williams and Benedictine (Cleveland) athlete Jerome Baker. Both prospects impressed almost everyone attending the camp.
The Buckeyes are in a very good position with both of them. In fact, it could only be weeks before Glover-Williams announces his commitment. When he does, I strongly expect the announcement to be for the Buckeyes.
HAPPY TRAILS
There were a couple Buckeye targets in the 2014 class who committed to to other schools in the last week. In addition, two of Ohio State's top 2015 targets committed to a rival school.
2014 Detroit Cass Tech running back/fullback Gary Hosey committed to Eastern Michigan. Hosey visited Columbus a couple of times and had a fair amount of contact with the coaching staff earlier in the process. He is a great pickup for EMU.
Meanwhile, Westerville Central (Ohio) offensive tackle Nick Richardson committed to the Kentucky Wildcats. They've done a great job recruiting the Buckeye state, and Richardson is another good pickup for Mark Stoops.
Two of the top players in the 2015 recruiting class committed to the Michigan Wolverines last week: East Lake (Fla.) athlete George Campbell and Berea (Ky.) Madison Southern running back Damien Harris.
Both of these prospects held offers from the Scarlet and Gray, and are ranked in the top 50 of the 24/7 Sports 2015 composite rankings.
The Bucks probably finished second for Harris, and were never firmly in the picture to land Campbell. Nevertheless, both of these recruits are great pickups for Brady Hoke and the Wolverines.
#Michigan 2015 double dip of George Campbell and Damien Harris is arguably best pair of early, early commits I can remember. Others?

— Mike Farrell (@rivalsmike) July 30, 2013
LOOKING AHEAD
With the conclusion of Friday Night Lights and the two commitments the Bucks picked up, we're about to enter a bit of a dead period in Buckeye football recruiting.
We won't see much action from now until the season opener, August 31 against Buffalo.
The two things I would keep an eye on are potential commitments from 2014 Erasmus Hall (N.Y.) athlete Curtis Samuel and Glover-Williams. 
The Buckeyes have a pretty sizable lead for both of these elite athletes, and they both indicated that they could be nearing a college decision.