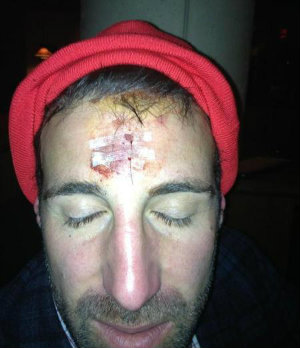 Super Bowl champion. Professional. Buckeye. Ohioian. Intense. Winner. Young. Ace recruiter? 
When Mike Vrabel was hired to coach linebackers by good friend Luke Fickell in 2011, many expected Vrabel to be able to adjust to college recruiting and no one doubted his knowledge of the game. Who wouldn't want to play for a former Super Bowl champion, someone who knows what it takes to make it to the National Football League? 
In an Eleven Warriors poll, 84 percent of voters loved the hire while the other 16 percent voted they hated it or "meh." While many expected Vrabel to be a good recruiter for the Buckeyes, most probably weren't expecting him to be amongst the nations elite recruiters. Fast forward to today and the Buckeyes assistant coach is currently ranked third in 247Sports' national recruiter rankings. 
Each day, Vrabel continues to prove his worth on this staff. He brings championship experience from his professional career and a tool he can use on the recruiting trail. Growing up in the Buckeye State and eventually becoming one of Ohio State's great players, Vrabel can sell his roots as a selling-point to the top in-state kids.
No one can sell The Ohio State University better than someone who played football here and eventually fulfilled a dream of being drafted into the NFL. Many recruits and their families grew up watching Vrabel while he was with the Patriots.
Recruits and players both speak highly of the intense coach. He works his players hard and demands the most out of them. They respect him because he has been in their position not to long ago. It's always good to learn from someone that has done what you want to do and has been where you want to go.
In a performance review last season, Urban Meyer challenged Vrabel to take a win-loss mentality to recruiting. It appears that he has taken that to heart and the results have shown. The young, intense recruiter has built relationships with many elite prospects from the Chicago area, Indiana, Ohio, North Carolina, Texas and even Virginia. Not only has he built relationships with the recruits, but he has connected well with their entire familiy.
"Coach Vrabel hit it off with my little brother," Ohio State commitment Kyle Berger told 11W. He was not the only recruit that specifically credited Vrabel. Four-star tackle Jamarco Jones credits Vrabel's relationship with his mother as a factor in his recruitment. Ohio State was able to hold off the Spartans, who has commitments from quite a few of Jamarco's Core 6 teammates. Ability to build relationships with mothers, brothers, the entire family and the recruits themselves is a huge reason behind Vrabel's recruiting success. 
After Friday Night Lights, 2015 five-star athlete Eric Glover-Williams told Eleven Warriors he is very comfortable with Vrabel. Buckeye fans can sleep easy knowing that the ace of our recruiting staff is all over Glover-Williams, talking to him every other week. Ohio State might not even need to call in the closer – Urban Meyer – for this one. 
Five-star defensive tackle Thomas Holley (New York) and four-star defensive end Solomon Thomas (Texas) are two 2014 recruits who Vrabel is pushing hard to land. It appears that some progress has been made, as Holley has been trending towards Ohio State on the crystal ball in the recent days. The scholarship numbers are getting tight, but it the staff might want to bring in one more defensive lineman in this class. Ohio State has made up a lot of ground on Holley and I would not count out Vrabel and the Buckeyes. Yesterday, Birm stated that his last guy in – if forced to pick – would be Holley.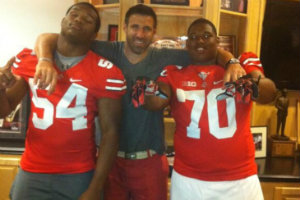 In 2013, Vrabel is credited for landing defensive tackle Billy Price, defensive end Joey Bosa, cornerback Gareon Conley, while assisting with defensive linemen Michael Hill, Donovan Munger, Tyquan Lewis and Tracy Sprinkle. That impressive haul earned him an A+ in my recruiting grade card in June.
Vrabel has played an important role in securing commitments from the 2014 class as well. He helped secure commitments from offensive tackle Jamarco Jones, linebacker Dante Booker Jr., receivers Parris Campbell and Lonnie Johnson, defensive lineman Jalyn Holmes and defensive tackle Dylan Thompson. 
The most impressive feat has been going outside of Ohio to land a few of his biggest targets. Many considered Jalyn Holmes to be a Florida State lean before surprisingly committing to Ohio State. Vrabel and Tim Hinton both should get a lot of credit for pulling Holmes out of Virginia.
Vrabel's relationship with Jamarco Jones' mother helped pull in the Chicago-area recruit. Many factors go into any prospects decision, but this undoubtedly played an important role in Jones' eventual commitment to the Buckeyes.
It started as a return to his alma Mater to join good friend's staff – it has turned into competing to win a national championship under one of the best head coaches in college football. Vrabel has undoubtedly rose to the challenge on the recruiting front. Now, it is time for him to develop the talent he has brought to Columbus.