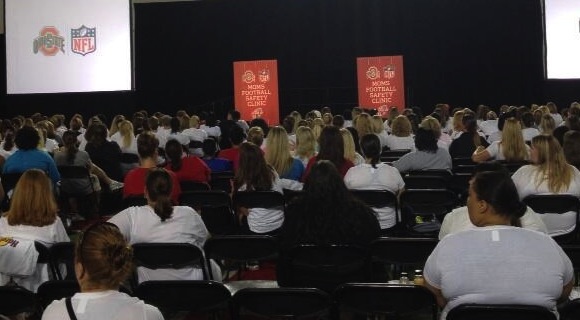 Urban Meyer stood on the sideline inside the Woody Hayes Athletic Center with intimidation written all over his face. No, the Ohio State Buckeyes were not trailing late in the fourth quarter. Instead, he was looking out at 350 Columbus-area moms.
They were at the football facility, along with NFL commissioner Roger Goodell, for a safety clinic. Meyer and Goodell worked in conjunction with USA Football's Heads Up program to educate moms on how to approach coaches and make them aware that youth football can be played in a fun, safe manner.
"Ohio State is proud to be part of the first (clinic)," Meyer said. "Think about that. Ohio State is the first school the commissioner reached out to to educate people about the great game of football. Last year we had a free clinic where all the youth coaches came in."
Heads Up is a program designed to make youth football safer and better. One of the programs key prongs is a tackling drill emphasizing proper technique.
"I have twin daughters who play soccer and lacrosse. I know that when a parent sends their child off to practice, that parent wants to know what is being done to keep their child safe," Goodell said.
Meyer recognizes that the sport has changed, mostly due to speed and size of current players, but admitted concussions and serious injuries can happen all across the sports landscape. A scary situation for he and his wife, Shelley, occurred during daughter Nicki's volleyball career when she and another player collided and suffered concussions.
"She was out for a second," Meyer said. "With sports come some inherent (risks)."
The three-hour program featured seminars on concussion awareness with world-renowned neurosurgeon Dr. Russell Lonser; engaging your kid's coaches; heat, hydration and nutrition; heads up tackling and proper equipment fitting.
Christine Golic, the wife of former NFL player Mike Golic and mother of a current NFL player, was part of the event, as were Ohio State assistants Mike Vrabel, Luke Fickell and Kerry Coombs, and former Buckeye Joey Galloway.
Lonser, chair of neurological surgery at Ohio State and member of the NFL's Head, Neck & Spine committee, studied Junior Seau's brain following the former All-Pro's suicide.
The event closed with a question-answer session, where Meyer and Goodell answered wide-ranging questions from the moms regarding their sons' playing careers.
"It's not about winning, it's about how you win," Goodell said. "If I had a son, I would want him to play for (Urban)."
Even with the game of football coming under fire in recent years for safety concerns, Meyer said his wife had no reservations with their son, Nate, playing. But that doesn't mean she isn't cringing when hard hits occur.
"After all," Goodell said, "there no better advocates for a child's health and well-being than his parents."