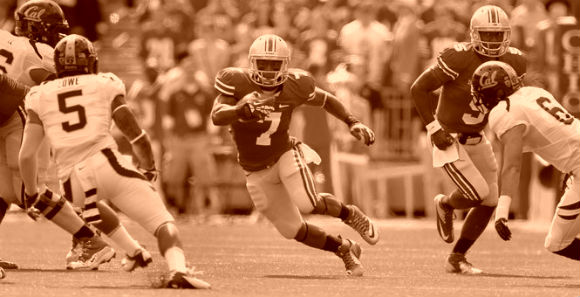 In the fallout of Carlos Hyde's suspension, much of the attention on Ohio State's offensive backfield has fallen on junior running back Rod Smith, sophomore Bri'onte Dunn and redshirt freshman Warren Ball. But let's not forget about senior Jordan Hall.
Although Hall has been penciled in at the hybrid position in Urban Meyer's spread attack, he's shown himself to be a capable between-the-tackles runner throughout his career.
With Hyde out, will Meyer line up Hall in the backfield more often than expected in early 2013?
Hall is not even supposed to be here today. He received a medical redshirt after missing five full games and large chunks of others due to a variety of injuries, starting with the foot he sliced open last summer. The foot injury did considerable damage to a tendon and took a long time to heal properly. He started just three games before partially tearing a PCL in his right knee against Michigan State.
Although he was very limited due to injuries last year he still finished third on the team in rushing yards (218), behind Braxton Miller and Carlos Hyde. Receiving his medical redshirt gave Hall a do-over of his senior season and allows him to add to his production in Ohio State's offense.
In his Ohio State career, the 5-foot-8, 197-pound senior from Jeannette, Pa., has racked up 1,032 yards on 225 carries, averaging 4.6 yards per attempt and reaching the end zone six times. He has also caught 24 passes for 233 yards (9.7 YPR) and four touchdowns. If you throw in kick and punt return yards, Hall has amassed 2,765 career all-purpose yards, placing him 20th in school history.
He's not big, but Hall always seems to find a way to fall forward after contact. He learned his trade as an understudy to Boom Herron from 2009-2011 and spent much of last season wearing street clothes and watching Hyde.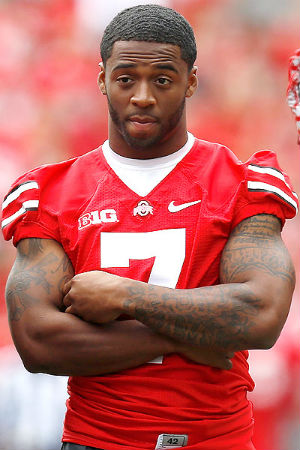 Hall doesn't provide the same physical blocking presence that Hyde can. However, though small in stature, Hall is a capable if not spectacular blocker. He can be overmatched at times, as in this play against Michigan State in 2011.
Whichever running back blocks the best will likely get the most snaps at tailback, because all of the Buckeye ball carriers can run. But Hyde's ability to provide devastating lead blocks on designed quarterback runs will be hard to replace.
Meyer would probably like Smith to grab Hyde's position in camp, but Hall could potentially be the stopgap measure needed and as a senior, he can provide more experience on the offensive side of the ball.
Hall at least provides some insurance for Meyer if Smith has ball security issues as he has sometimes shown in the past. Dunn and Ball may know the playbook, but the former looked lost at times on the field last season and the latter didn't see any game action due to injury and a medical redshirt of his own.
On a team looking for more leadership, Hall can provide some. He's already shown his teammates how hard he's willing to work in overcoming his injury problems. Accepting a different role than expected sets a good example for younger players. (See also: Zach Boren in 2012.)
While he may not pack the punch Hyde does, Hyde could provide some versatility for Meyer as he plans for life without El Guapo.