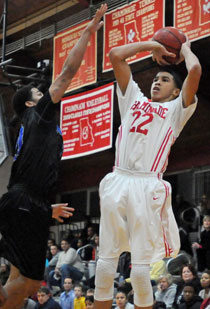 While the commitments keep rolling in on the football side, the Ohio State basketball staff had a busy week of their own.
It was the final full week of July, meaning that the grueling, three-week recruiting evaluation period is over. Kids, parents, coaches and media, alike can finally stop living out of a suitcase.
That doesn't mean the work is over. Once August begins, schools will arrange official visits for many of the recruits who have received offers over the past month and beyond.
One big man and a 2016 wing are among those who obtained a Buckeye scholarship offer at the end of July.
A 2014 Ohio State commit and his AAU team kept rolling through the competition, with Thad Matta in attendance. Matta and his staff, meanwhile, took in action on both coasts.
Buckeyes offer Tatum and Dastrup
As has been the case throughout each week of the July recruiting period, Ohio State extended a couple more scholarship offers. Both of them might affect the 2016 roster.
St. Louis native Jayson Tatum received an offer from the Buckeyes, first reported July 22.
247Sports.com lists the 2016 wing as the top 2-guard in his class. Furthermore, he's ranked as their third overall prospect.
The 6-foot-7-inch Tatum looks like a point-forward. Just check out some of these ridiculous passes and open court handles – completed with more ridiculous passes.
His father played for the University of St. Louis, but his basketball background doesn't end there. Tatum's godfather is former NBA guard – and Cleveland fan-favorite – Larry Hughes.
Later in the week, Ohio State offered four-star big man Payton Dastrup. The Mesa, Ariz. forward is listed as a member of the class of 2014. However, his father confirmed Payton still plans on serving a mission from 2014-16 and enrolling in school afterwards.
As it stands, he turns into another prospect for 2016, alongside Tatum, V.J. King and Josh Jackson. Dastrup has a solid mid-range game and earned praise for his passing and rebounding instincts.
Regardless of when he arrives on a college campus, he would provide necessary size and toughness for any squad.
Russell continues his hot july
We can let the video tell all here:
D'Angelo Russell and his E1T1 AAU squad went on a tear in July, and garnered national attention, with an appearance on ESPNU last week. In that game, the 2014 Buckeye commit displayed his smooth, left-handed jumper.
He's not just a spot-up shooter – he's a 6-foot-5-inch guard that can run the offense. Despite Russell's patience in pick and roll plays, Joel Berry – a five-star, North Carolina commit – was the main, lead guard for their team.
Other observations: when he played off the ball, he didn't show blistering speed to elude defenders and off screens. Rather, Russell outsmarted them. He's the same way with the ball in his hands; not a lot of devastating moves but the acute ability to pick his spots to attack.
With his versatility, Russell can play a role similar to that of Shannon Scott before potentially taking over point guard duties.
Ohio State Staff in Orlando and Vegas
Matta caught the tail end of Russell's week at the AAU Showcase in Orlando. Among the squads participating were the Ohio-based King James Shooting Stars and All-Ohio Red.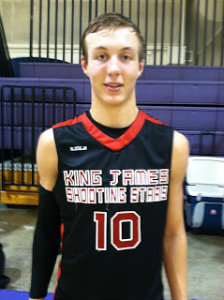 The Buckeye staff took in a number of King James 16U contests, focusing on targets V.J. King and Luke Kennard – the latter of which has been a top rising prep for much of July. Kennard – a 2015 wing out of Franklin – has caught the attention of high major college coaches because of his scoring versatility.
Over the past month, Kennard received offers from Duke, Kentucky, Louisville and Michigan State. InsideCarolina reported the Tar Heels just extended an offer of their own. They join a long list of suitors, which also includes Michigan and Ohio State.
The media is taking notice, as well. "I saw [Kennard] a summer ago, and his body and game have matured," ESPN's Jeff Goodman wrote (insider link). "The 6-5 wing can do it all. He can shoot it, pass it, he moves well without the ball, is tough (he's also a quarterback) and knows how to play."
Not to be lost in Kennard's aura, King reportedly picked up an offer from West Virginia and 2014 commit Jae'Sean Tate had a highlight reel dunk
Prior to heading to Orlando, Matta was in Vegas and saw Dastrup – eventually offering him a scholarship. Also, he checked in on 2014's top big Jahlil Okafor.
With regards to Okafor, Tyus Jones might have hinted about a timetable on when the much-hyped duo will decide on their college choice. Jones told Rivals.com he'll follow up on his plans to make visits in the fall – starting with Baylor – and will sign in the fall.