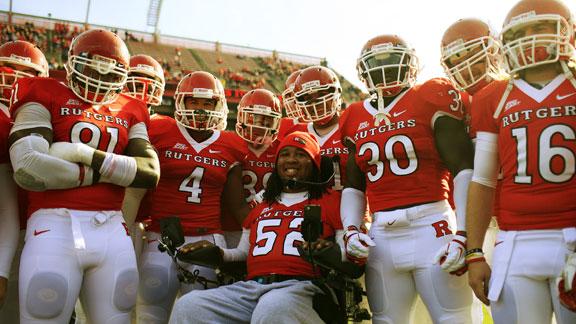 Eric LeGrand's journey from a paralyzing special teams hit suffered in a game against Army has made him a goodwill ambassador in an otherwise polarizing and contentious world of college football. While LeGrand has been confined to a wheelchair since that fateful hit, he believes he will walk again. His doctors have not necessarily shared that same optimism, but his doctors also did not anticipate the considerable progress he has made to this point.
As an inducement to LeGrand to continue his rehabilitation and journey toward walking on his own again, Rutgers has announced it is going to retire his jersey number on Sept. 14th at halftime of a game against Eastern Michigan. The oldest program in FBS, his number will be the first retired by the future Big Ten program.
Rutgers plans to un-retire his number when LeGrand is able to walk again.
"This is a dream come true," LeGrand said in a telephone interview Tuesday. "To be the first one to have his number retired is unreal."

LeGrand and his No. 52 will be honored in a ceremony Sept. 14 when Rutgers plays at home against Eastern Michigan.

"We're excited to be able to do that for him and his family," Scarlet Knight coach Kyle Flood said at American Athletic Conference media day. "It will be a great day, not just for Rutgers football, but for the LeGrand family and everybody that's associated with us."
We obviously hope to see the day when #52 is un-retired by Rutgers.