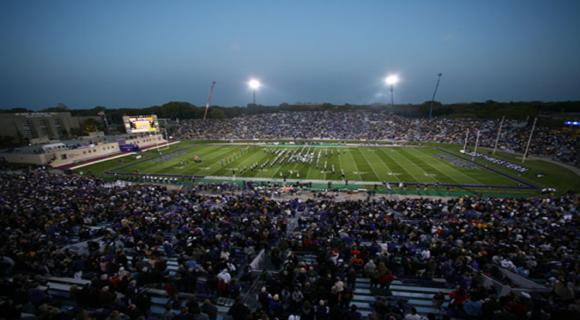 Northwestern is bringing back its unique "purple pricing" system for football season. The auction-like concept features buyers purchasing tickets at a price set by Northwestern. The catch is the price fluctuates based on demand, which could mean more money for the buyer.
So if you purchase your ticket for $150 and the lowest price a ticket is sold for is $100, you get a $50 rebate.
Northwestern will sell in the neighborhood of 5,000 tickets using purple pricing for the Ohio State and Michigan games.
The Wildcats enter the season with arguably the highest expectations in school history. They're coming off a 10-3 season that featured a bowl win, the program's first since 1949. A home schedule featuring Ohio State and Michigan only adds to the hoopla.
At Big Ten media days in Chicago, Northwestern head coach Pat Fitzgerald was asked to comment on the Wildcats' homecoming showdown with the Buckeyes under the lights at Ryan field:
The pageantry of Big Ten football is special.  We're a nationally based conference. Obviously the breadth of our conference is special and you take it down to individual games and just the opportunity to compete and play Big Ten football is amazing.

Obviously on paper as you sit here the end of July and you look at the conference slate, you get excited to play each and every one of your games, especially the ones that are primetime atmosphere.

But, frankly, I haven't put a lot of thought into it. My focus has been, number one, to make sure our guys are healthy and doing the right things academically here in summer school, and then our focus will shift once we get into camp about how our freshmen integrate and how we'll put those pieces of the puzzle together to get prepared for the opener against Cal.

But as you look forward, obviously you get excited for Big Ten play. I think the last time we played each other at night was a pretty unique environment at our place. Obviously we were successful, so that's a fond memory in my mind.  The first thing that jumps back to me is Coach Walker, and that experience was really special to be in the locker room with him, a native Ohioan, things of that nature.

But our focus right now is on ourselves and getting prepared for the opener. And I think as we get closer to that game, it will get more exciting. But obviously the undefeated team from last year, very special to have them come and be our Big Ten opener. That's going to be a great challenge.