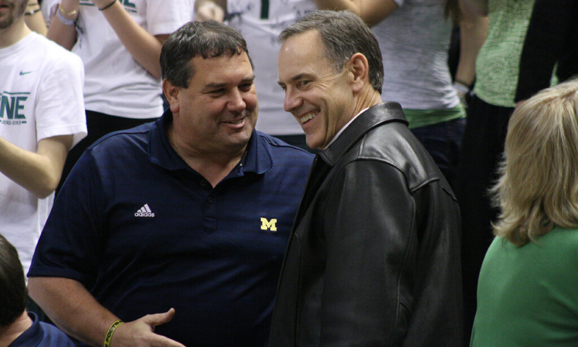 Hate is a terrible emotion that's to be shunned in roughly 98% of life. The shining exception to that rule, however, is sports. Sports are a dumping ground for primal emotions, chief among them being absolute visceral hate. It's not as if I'm wishing career-ending injuries on people I've never met, but I have no problem watching them hopelessly flail for two and a half hours against my favorite teams.
The schadenfreude felt by watching athletes/teams you loathe colossally fail is a high offered by sports second only to your team winning something big. And unless you're a front-running amoral bag of human excrement, you know how hard it is to win a championship of any sort. (Cleveland fans nod wistfully.) You get a higher rate of return on simply cheering for other people's failings.
So last week when I sat down to watch the Big Ten Media Days, I did so for two reasons: 1) To watch Urban Meyer talk to the media like he wasn't protecting Soviet secrets at the height of the Cold War and 2) to whip up a frothy batch of sports-hate due to the boorish idiots controlling other programs that are hell-bent on taking glory away from the state of Ohio.
Imagine the cognitive dissonance created over the next four hours when classy gentile after classy gentile took to the podium and handled the assembled B1G media with ease without providing a single slight to Ohio State, the reigning patriarch of the Midwest.
By the midway point, I almost blew my back out trying to grasp onto straws to prevent me from being sucked into the blackhole portal to some dystopian alternate timeline where I can't find a reason to loathe a single B1G football coach. Football season needs to get here tomorrow, because this simply isn't going to do.
Bert Beliema was the the cantankerous troll the Big Ten deserved. In what ended up being his Big Ten swan song, he gave us Berthoven's Fifth Symphony: he suffered an overtime loss in Madison to Ohio State and ultimately led the Badgers to an 8-6 record, good for third place in the Leaders division. Thankfully for him, Penn State and OSU were banned from the postseason, so his 6-loss team was able to backdoor their way into the B1G title game and thus earn a Rose Bowl berth. (A game Wisconsin lost, obviously.)
The world was robbed of seeing Bert lose his third Rose Bowl, because after telling his players not to worry about rumors around his impending departure, he proved his wants and needs couldn't even supplanted by the team of 18-22 year-olds he recruited and coached; he pulled the ripcord on his multi-million dollar escape parachute and went to coach and live amongst his fellow hill tribesmen in the Ozark mountains. He has since filled a role usually occupied by Tennessee fans: talking shit about SEC dominance while having contributed absolutely nothing.
He is also apparently still pretty salty about his 1-5 record against the Buckeyes:
It's a Sunday night and excited about the week ahead. Was good week of recruiting especially against "THE" University's of the world. #WPS

— Bret Bielema (@BretBielema) July 29, 2013
Prior to hiring Bert Beliema, I had no opinions on Arkansas. They were a middling SEC team that had a few solid years under Bobby Petrino until that quite literally crashed and burned in their face. They even suffered the indignity of being the first SEC team to lose to Ohio since the Civil War, even though they don't think it counts because of the obvious strategic advantage offered by free and discounted tattoos. 
This year, I hope Arkansas loses every game by 50. GIFs of Bert looking clueless on the sidelines while a SEC fourth-string running back bangs home a fourth quarter touchdown to put his team up 45 will be borderline pornographic for me. These are the eternal joys offered by sports-hate, and damnit, I for one can't wait until Bert is fired four years from now and ends up as the offensive line coach at a piddling MAC school. The road there is going to be absolutely glorious.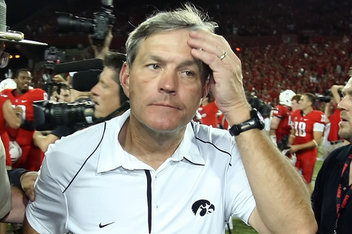 On the other hand, Bert's absence is a crying shame, because there isn't anyone currently coaching in the B1G to take up the reins of being a villain hated by everyone outside his own program (and even large portions of folks inside their program). 
Take Brady Hoke for example, who started off hot with his pop psychology ploy of attempting to insult Ohio State by referring to them as "Ohio." Two weeks ago, when a story broke about a cancer-stricken kid who had named his tumor "Michigan" for motivation in beating it, everyone cheered.
Even Brady Hoke, who at B1G Media Days said he was "glad" and "happy" to hear about a kid naming a cancerous tumor after his school. He even took it a step further and offered the kid and his family four tickets to this year's OSU-Michigan banger.
How do you hate on that? There's no other conclusion to draw other than "Wow, Brady Hoke is a pretty good human being." (Man, it hurts my soul to even type that.) Now his only crimes are coaching Michigan and being sinfully obese and jacking up everyone else's health insurance rates. To make matters even worse, Michigan went 8-6 last year and had a tough time crossing the 50-yard line against the least talented team he'll see under Urban Meyer. He's basically Rich Rodriguez without the conference titles, and boy, I'm sure I wasn't the only one in these parts who loved him some Rich Rodriguez. C'mere, Brady, you big ol' bear!
At Michigan State, Michigan's black sheep brother who was black-balled from the family due to his refusal to get clean from methamphetamine, Mark Dantonio is there. There's nothing detestable about Jim Tressel's former dark apprentice, other than he is completely devoid of human emotion and might be a robot. It's not if Michigan State has been cobbled into a world-beater. They're still loveable losers who have a flair for losing in sadomasochistic fashion for our enjoyment.
Even Ohio State's chronic tormenter, Purdue, is now being led by a former associate of the honorable Jim Tressel. Darrell Hazell called the punt "the most important play" at Media Day, and I'm pretty sure I heard Tressel sobbing with pride all the way in Akron. Hazell is another guy who just oozes good-will and class. THE MAN CHOSE TO TAKE HIS CAREER TO AND RESIDE IN THE DESOLATE HELLSCAPE OF WEST LAFAYETTE, INDIANA, after all. That's worth a tip of the cap in its own right, no matter how much he got paid to do so.
Did Barry Alvarez fill Bert's troll void with somebody equally contemptible? No. He hired Gary Andersen, a disciple of Urban Meyer who says nothing but good things about the type of guy Urban Meyer is. Damnit, Gary! You were supposed to offer insights into how Urban Meyer has got away with leading a band of bloodthirsty, criminal mercenaries around college football without drawing the ire of federal law enforcement agencies. Wisconsin having a classy coach almost broke my feeble mind in half.
Kevin Wilson? Pat Fitzgerald? Two highly intelligent guys trying to build clean, respectable programs at two schools pretty much barren of any football history. It would take living under an iron reign of Northwestern and Indiana for the better part of the next decade for me to truly hate either program. (Hate for Indiana would probably come easier because they give Tom Crean millions of dollars and always schedule Ohio State at night when their football stadium is illuminated by candles.)
Bill O'Brien took over the ashen heap of a program that Joe Paterno left him (before ol' JoePa himself was also turned into an ashen heap). What has that guy done besides take over a decimated program and defy all the odds? A good mass of Penn State fans are slovenly Busch Light-fueled rednecks looking to pick a fight, and I will always detest them, but Bill O'Brien? He doesn't do anything for me. He's just Good Guy Bill, calmly guiding Penn State through their most tumultuous time in program history. 
At Minnesota there's Jerry Kill, a highly competent football coach who battles through seizures during games and still uses the Maryland-I. He's generally regarded as one of the nicest guys in all of college football, and if you have a negative opinion on the guy you pretty much confirm your status as a Neanderthal. There is no hope of ever hating anything about Minnesota as long as Jerry Kill is calling the shots there.
Which brings me to Iowa's Kirk Ferentz, a guy who is one of the highest paid coaches in America and who produces mid-table B1G teams perennially. At Big Ten Media Days, I almost felt sorry for the guy because it was obvious nobody wanted to talk to him. He was like the socially awkward kid devoid of any athletic talent playing with bugs by himself on recess. Is it his fault Iowa gave him billions of dollars to stay in Iowa until the day he dies? As if anyone of us wouldn't sign a lucrative contract that only requires we be the middle-of-the-pack against our peers?
There is only one true candidate for villain of the Big Ten, and much to my chagrin he happens to coach my favorite football team. I too used to hate Urban Frank Meyer, because he handed my team the single-most painful ass-kicking of my 26 empty years on this planet. The guy won, and I figured he was dirty.
It turns out Urban Meyer is simply driven to be in the upper echelons of his job, and when he demands the same from his players (who are already some of the nation's best because he's a monster recruiter) good things tend to follow. He went 12-0 a year after Ohio State stumbled through a 6-7 nightmare of a season. Urban will draw his haters because he's the new face of a program that has been laying waste to the Big Ten the last 20+ years.
Urban Meyer is just another highly intelligent football coach trying to bring prosperity to the Big Ten. After the Big Ten Media Days, it's evident he isn't the only one. What's bad for personal grudges is inevitably good for the conference, however, and as someone who is utterly sick of the SEC's reign of terror, perhaps that's a welcomed development after all.