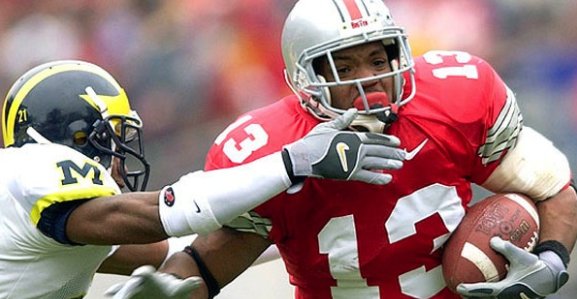 For much of this offseason, Urban Meyer's latest crop of freshmen have enjoyed their share of hype collectively, though there wasn't a clear cut choice among the faithful pegged for first year stardom. 
Linebackers Trey Johnson and Mike Mitchell were once thought of as possible candidates to challenge Curtis Grant for a starting spot but once Urban gave Grant his blessing following spring drills, hype surrounding those two cooled a bit. Safety Vonn Bell was a signing day coup for Meyer and comes with all the bells and whistles that fans drool over but he's got a pair of seniors in front of him in Christian Bryant an C.J. Barnett. Eli Apple looked like a future star in spring drills but will also likely have to wait his turn to truly be an impact player. 
Offensive weapons Ezekiel Elliott and Jalin Marshall have also taken turns in the limelight thanks to freakish skill sets though the running back and slot positions are loaded with competition, tempering talk of either player being a truly dynamic factor as a freshman. 
That's not to say any and all of these guys may not turn out to be solid contributors as freshmen, it's more about the reality first year players don't often come in and immediately become irreplaceable stars of the team.  
An exception to the rule might be just off in the distance, however, as last week's Big Ten media days saw Braxton Miller and Christian Bryant rave about Dontre Wilson, a burner out of Texas who fell into Meyer's lap after Chip Kelly bolted from Oregon. 
Miller gushed extensively about Wilson, proclaiming he "better be starting" while Bryant added, "Dontre looks to be a special player."
The glowing endorsements from Miller and Bryant have turned Wilson into the overwhelming choice among the fans to be the freshman that emerges as a dynamic factor. 
So, does Wilson have the chops to be a game breaker right off the rip? Only time will tell. In the meantime, here's my short list of the greatest freshman seasons in the history of Ohio State football. If Wilson can approach the impact made by any of these guys, it's going to an electric fall in Columbus. 
5. TED GINN JR. 
Ginn Jr. might be seen as a bit of a reach by some since his overall offensive statistics weren't awe-inspiring but when I think about freshman impact players in Ohio State history, Ginn Jr.'s dynamic contributions in 2004 are tough to overlook.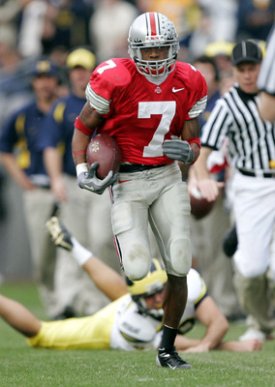 The Glenville product came to Columbus as a five-star prospect known for his blazing speed and versatility. As a receiver, Ginn Jr. finished 2nd on the team with 25 receptions for 359 yards and a pair of scores –though still causing defensive coordinators to be aware of his whereabouts on every snap – but it was his work on special teams that earned him a spot on this list. 
Simply put, as a freshman, Ginn Jr. was the best return man in school history. Though he had just 15 chances, Teddy took four punts to the house, mostly in freakishly-easy fashion, and averaged a mind-boggling 25.6 yards per return. Again, just the threat of Ginn Jr. on the field forced opposing coaching staffs to alter their game plans which in and of itself is a major testament to Teddy making this list. 
Ginn Jr. beat Sparty all by himself tallying touchdowns via a rush, a reception and a punt return, added his a fourth punt return touchdown to set the school record in a win over Michigan and earned offensive MVP honors in Ohio State's win over Les Miles and Oklahoma State in the Alamo Bowl with 118 combined rushing/receiving yards and a score. 
Slotting Ginn Jr. 5th means I bumped Robert Smith's 1990 campaign in which he tallied a then OSU freshman record with 1,126 rushing yards and a ridiculous 6.4 yards per carry. I just couldn't get past the fact Smith had just eight touchdowns on a combined 187 touches (4.2%) while Teddy racked up eight touchdown himself, on just 55 touches (14.5%). 
4. ARCHIE GRIFFIN
Archie's arrival at Ohio State in 1972 just so happened coincide with an NCAA ruling that would once again grant freshmen varsity eligibility meaning fans wouldn't have to wait long for a taste of the Archie Griffin Experience.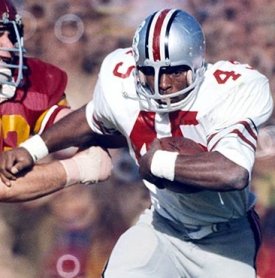 In of the weirder debuts in school history, Archie played just one snap in the season opener as he and quarterback Dave Purdy combined to fumble away a pitch but that play would be forgotten in game two against North Carolina. Despite being listed as 5th string headed into the matchup with the Tar Heels, Archie got a shot at redemption late in the 1st quarter and promptly peeled off 239 yards, scoring his first collegiate touchdown on his final carry of the day. 
With a spot in the Rose Bowl on the line against Michigan, Griffin scored what proved to be the game winning touchdown in a 14-11 victory over Michigan thanks to two huge defensive stands. 
Griffin led the team in rushing with a then school record 867 yards on 5.5 yards per carry and with his help, Ohio State captured a share of the B1G championship before taking it on the chin in the Rose Bowl against USC. 
Griffin's freshman campaign put the nation on notice as he would place 5th in Heisman voting as a sophomore before winning back to back stiff-arms over his final two years in Columbus. 
3. ORLANDO PACE
Strong as an ox, Pace became the first true freshman offensive lineman in OSU annals to start in the season opener way back in 1994.  Even more impressive, Pace accomplished the feat starting at the most important spot on the line at left tackle. 
Pace captured B1G Freshman of the Year honors as prelude to winning back to back Lombardi Awards and making a legit run at the Heisman as a junior. 
In the estimation of many, Pace was the greatest offensive lineman in college football history and while he wasn't quite at that level as a true freshman, he still gave fans a taste of just how dynamic a duo he and Eddie George would be in 1995. 
Blessed with amazing feet that helped him earn 2nd team All-Ohio in basketball as a high school senior, Pace was immovable in pass pro and without question the best downfield blocker you've ever seen.
2. ANDY KATZENMOYER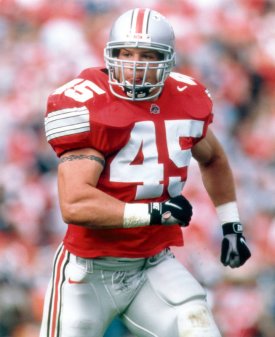 Similar to Pace before him, Katzenmoyer became the first Buckeye linebacker to start every game as a freshman in 1996. 
With the Buckeyes already boasting a ton of talent on defense including guys like Mike Vrabel, Matt Finkes, Luke Fickell, Shawn Springs and Damon Moore, Katzenmoyer was plugged right in the middle of it all and turned in a record setting season. 
On the way to B1G Freshman of the Year honors, Katzenmoyer finished 2nd on the team in tackles and racked up the 2nd most tackles for loss in school history with 23.0 and the 3rd most sacks in Buckeye annals with 12.0. In fact, both those totals are indeed school records for linebackers. 
Katzenmoyer was white lightning roaming sideline to sideline and his five TFLs in the Rose Bowl win over Arizona State is still tied for the school record. 
With Katzenmoyer anchoring the defense, Ohio State finished 11-1 and ranked 2nd in the polls. 
1. MAURICE CLARETT
Though he left a mess in his wake, I think Clarett's freshman campaign stands as the most important in school history. 
Despite missing three games due to injury and playing with a nagging injuries in a handful of others, Clarett rushed for 1,237 yards and 16 touchdowns. 
Beyond the numbers, he brought a certain swagger that became infectious and his penchant for delivering in the clutch went a long way toward Ohio State securing the 2002 national title.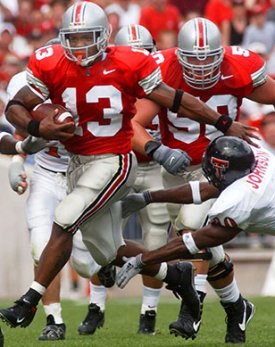 He burst onto the scene with a jaw-dropping 175 yard, three touchdown effort against Texas Tech and added 230 yards and two scores in an early season win over 10th ranked Washington State, running with a dogged determination on each and every touch. 
Clarett saved his most clutch performances for the biggest of stages. Against Michigan, with a spot in the BCS championship game on the line, Clarett talked Jim Tressel into calling his number on a wheel rout and Maurice subsequently hauled in a 26-yard completion setting up the game winning score. 
Playing for all the marbles against the heavily favored Miami Hurricanes, Clarett's strip of a Sean Taylor following the defensive back's interception of Craig Krenzel in the end zone allowed Ohio State to eventually escape what could have been a disastrous sequence of events with a field goal. The incredible play helped the Buckeyes stretch their lead to 17-7 midway through the 3rd quarter. 
Later, in the 2nd overtime, Clarett would score the championship-clinching touchdown, his 2nd of the night, on a five yeard plunge up the gut. 
Bottom line, Clarett's overall season and ability to produce in the biggest of moments makes his freshman season the best in school history.