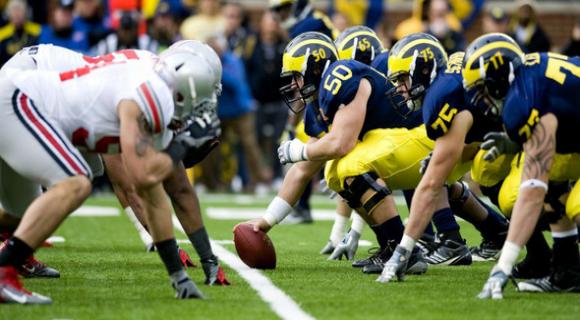 CHICAGO — Throughout his head-coaching career, Urban Meyer has dealt with great expectations on a yearly basis. Each team approaches those beliefs differently, he said, and it can be a chore keeping 18-to-22-year-olds on task.
Last season presented Ohio State with a rare set of goals. Winning every game is always at the top of list, but a postseason ban eliminated conference and national championship aspirations. Back in the NCAA's good graces, the Buckeyes are primed for a title run.
Now is the time to ease up on the conversations that center on January 2014.
"I think we could potentially be a championship-caliber team by November," Meyer said.
Until Ohio State positions itself as a contender late in the season, talk of championships should be rendered irrelevant. Meyer will deliver that message to his team when they reconvene on Aug. 4.
"The Chase" is on schedule, according to Meyer, which bodes well for the atmosphere inside the locker room and effort displayed on the practice field. After going through a 12-month cycle of adversity two years ago, the Buckeyes are as equipped as any team in the country at tempering expectations.
Grinding through summers is the norm for teams at the top level of college football. But there's that extra something in the truly elite teams. To paraphrase Supreme Court Justice Potter Stewart, "You know it when you see it."
For Meyer, he already knows about 2012's undefeated season and good reports from summer workouts. He just needs to see all of that put together on the field.
Last summer's sessions were especially gruesome because it was the introduction to Marotti, and a ceiling already capped the upcoming season. That is no longer the case.
"I think it's a big step for us knowing we have a chance to compete for a national championship and a Big Ten championship," senior safety Christian Bryant said. "Coming off the season we had last year, I think the first game this season is going to light a fire under us, knowing what we could have done last year. We want to keep that streak going."
The numbers 26-0 have been discussed among the players, almost certainly a conversation Meyer will squash during camp. But the confidence and possibility of back-to-back undefeated seasons are goals Meyer and his players cherish.
"It feels great," said quarterback Braxton Miller. "You get a reward at the end. We played the whole season (last year) without any type of award. At the end, we expect something this year."
Miller went on to explain that the team received commemorative shirts. Not quite the same as a crystal football.
DOCTOR, DOCTOR
Meyer has made it clear distractions and disrupting team chemistry are the biggest detriments to building a championship-level football team. Third in line are the injuries. With fall camp around the corner, the Buckeyes' health is not a concern for the head coach.
Linebacker Ryan Shazier has fully recovered from a sports-hernia that limited him during spring practice, giving the defense an added boost in the form of one of the best players in the country.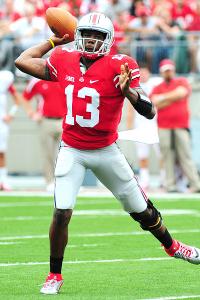 Offensive players Corey Linsley, Antonio Underwood and Kenny Guiton won't be 100 percent at the start of camp, but there are no concerns about their future, according to Meyer.
Linsley, the Buckeyes' starting center and one of the team leaders, also missed some of the spring after suffering a foot injury during the 2012 season. A screw was inserted, but Meyer said he's in a walking boot and is able to run.
"Linsley is about 85 percent," he said. "He'll be full speed eventually, but not at the beginning of camp."
Underwood, a fellow offensive lineman, tore his ACL during the spring and is still on the road to recovery. He surprised many with a solid spring until the injury, which hampers depth along the line. Meyer said he's still limited and will miss camp, but spoke in an optimistic tone.
The same came for Guiton, someone Meyer called "a great kid." He broke the ring finger on his throwing hand moving furniture this summer, limiting how much he can toss the football.
"It'll be two more weeks until he can throw," Meyer said.
Guiton came in for spot-duty several times a year ago when Miller was injured, including the miracle Purdue comeback. That isn't on the agenda for 2013.
Friendly Rivals 
Insults and good-natured ribbing are not only part of rivalries, but give them an added spice. Brady Hoke's use of "Ohio" is seen as vile name-calling from Ohio State supporters. At the same time, though, it has injected the Ohio State-Michigan rivalry with a much-needed cocktail of animosity.
Three years of Rich Rodriguez combined with a down year for the Buckeyes made The Game stale for a brief period. With two head coaches who "get it," late November is again one of the most anticipated weekends not only in the Big Ten but nationally.
The barbs are in the news again, but this time the headlines aren't because two college teams despise on another. For once, Ohio State and Michigan have come together. All it took was an emotional journey by a 12-year-old Buckeye fan.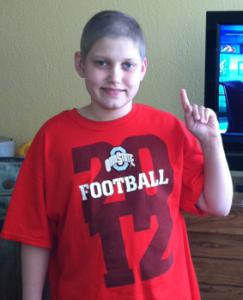 When Grant Reed was diagnosed with cancer, he vowed he'd beat the disease and named his tumor "Michigan." On Wednesday, Hoke said the Wolverines' 8-5 season a year ago was unacceptable. As Michigan readies for the 2013 season, it already has one "L" in the loss column, because Reed defeated cancer.
"We were glad," Hoke said. "We were excited for that young man. And being a father, our children are so important and you try and put yourself through what that family has gone through. So him beating Michigan, in this context, we were all for it."
Hoke touched on a personal experience, mentioning how tough it was for his family when his daughter spent five months in the hospital as a newborn.
Reed finished his chemotherapy in July and has drawn national attention ever since for his clever determination. He was invited to November's Ohio State-Michigan game in Ann Arbor, happily accepting Hoke's offer. Reed will be the lone attendee in Scarlet and Gray that draws an ovation.
"I spoke to Grant a little bit. He's doing well. He was excited," Hoke said.
Michigan quarterback Devin Gardner chuckled when he was asked about rooting against his own team.
"Though we play football and the rivalry is so big, what (Reed is) fighting is so much bigger," Gardner said. "If what he needs to do is name his cancer 'Michigan' and says he needs to beat 'Michigan,' I'll fully support it. Beat Michigan in that aspect.
"When it comes to the game. I don't support that in any way."
I won't back down
When Gardner made his much-publicized comments in June about beating Ohio State, his words struck a chord with both fanbases and immediately went viral.
"We always have room for improvement, but this is definitely a championship-caliber football team that will win in the 'Big House' against Ohio State," Gardner said on "The Huge Show" in Detroit. "We don't feel like we're inferior to anyone in the country. We're going to give it our all."
A month later, he is not pleased with how his words have been twisted.
"I'm not going to retract my statement," Gardner said. "I never said 'promise' and I never said 'guarantee.' I said we're going to work hard and we're going to do our best, and I do believe we're going to win the game. That's not arrogant.
"I wouldn't expect any player, from any team, to answer that question differently. And if they do, they don't deserve to be on that football team."
By the way, The Game is only 128 days away.