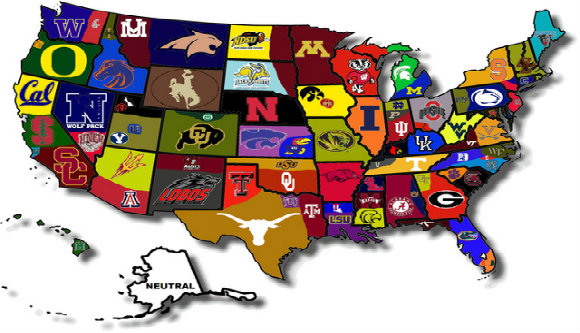 Last week, I wrote about the disparity among the number of scholarship offers between Urban Meyer and Jim Tressel. In a three year span, Meyer offered nearly 400 prospects to Tressel's near 200. With the help of Eleven Warriors member Gravey, we can now take the data one step further and see where the offers went under these two elite coaches. 
Not only did Meyer and Tressel have differing philosophies on how many prospects to offer, it is also apparent that the two had different ideas on where to focus their attention. Tressel focused on Ohio and Florida. These two states would account for over 50 percent of Ohio State's offers from 2009-2011. Only three other states – Pennsylvania, Georgia and Maryland – had double digit offer totals in the same period. Overall, Ohio State would send scholarship offers to prospects in 24 different states. 
Meyer spread offers to a total of 31 states and another continent – landing a commitment from Australian punter Cameron Johnston. Of those with offers, 12 states had double digit offer totals (in order): Florida, Georgia, Ohio, Texas, Virginia, North Carolina, Illinois, California, New Jersey, Pennsylvania, Tennessee and Michigan.
Under Meyer, 20 states have at least five recruits with offers from Ohio State – compared to just 10 under Tressel.  What does this prove? It shows Meyer spread his offers throughout the nation better than Tressel. Yes, Meyer offered double the amount of prospects, but you can move the focus away from the number of offers to the percentage of offers. 
The collected data also disproves two of the common misconceptions of Ohio State recruiting under Urban Meyer, while supporting another widely held opinion. 
Misconception: Urban Meyer doesn't recruit Ohio like Jim Tressel did. 
From 2009 to 2011, Tressel offered 50 prospects from Ohio, which is almost 26 percent of his total offers in that period. There is no denying Tressel really focused on in-state recruiting, and those numbers confirm it.
Meyer, on the other hand, has only offered 37 prospects from Ohio, which is about 9.5 percent of his total offers. Tressel offered 13 more Ohio prospects in 2009-2011 than Meyer did in 2013-2015.
However, Tressel's total accounts for three complete recruiting classes, while Meyer has only completed the 2013 class. The 2014 class might not see more offers go out to Ohio prospects, but Meyer will definitely offer some of Ohio's elite 2015 prospects. Currently, Meyer has only offered four Ohioans in the class of 2015, but that number will definitely grow, when the staff shifts their focus after National Signing Day. 
Tressel focused on in-state recruiting more than Meyer, but Meyer has – by no means – ignored the state. When Meyer fills out his classes, I'd expect the three year in-state offer totals to be similar. Although, Meyer's Ohio offer total will be a much smaller percentage of his total offers. 
Misconception: Meyer's Florida ties have resulted in more offers and better success in Florida recruiting. 
At first glance, the data shows that Meyer offered 78 prospects from Florida – 40 more than the next highest state. Twenty percent of Meyer's offers were to prospects from the Sunshine State. Tressel topped that percentage, though, with offers to 48 prospects, amounting to 25 percent of his total offers from 2009-2011. Meyer offered 30 more prospects, but Tressel gave a higher percentage of his offers to Florida. 
In 2013-2015, Meyer has only landed Joey Bosa and James Clark from Florida. It's not entirely fair to compare, since it is still very early in the recruiting process for that time period. Tressel landed seven signees from his 48 Florida offers, which isn't too bad of a percentage of prospects to pull from a southern state. In Meyer's defense, he really doesn't need to dominate Florida because he's shown the ability to successfully recruit nationally.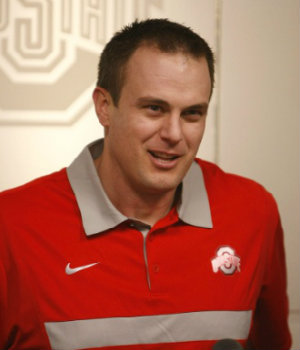 Opinion: Meyer's additions of Everett Withers and Tom Herman have expanded OSU's recruiting territory. 
It's hard to disagree with that statement. The numbers back up the claim.
The states where Ohio State's staff have previous ties to, unsurprisingly, received the greater number of offers. Florida has the most offers in the Urban era, which comes as no surprise since Mark Pantoni, Stan Drayton and Meyer have ties to the talent-rich state.
Due to Everett Withers' ties to the area, Georgia and North Carolina show up at second and sixth, respectively, on our list of total offers. Texas checks in at fourth, due in large part to Tom Herman's coaching ties in Texas. Zach Smith has led the charge in recruiting Virginia, with 22 offers – good for fifth on the the list of total offers. 
While Tressel recruited these areas, the current staff has been recruiting these states much harder. The data shows that more offers and a higher percentage of total offers have been given to each of these states. The success in landing prospects from these states can be partially attributed to the coaches' ties. 
Meyer and Tressel State by State Offer Data