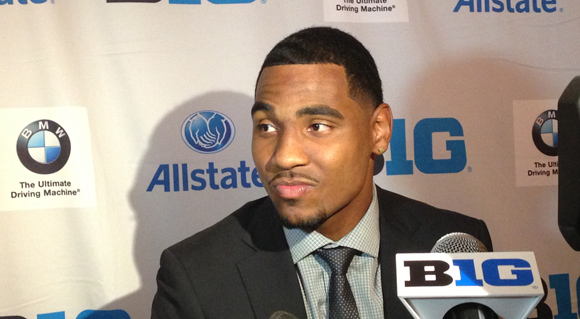 CHICAGO – The opening day of the 2013 Big Ten media days is in the books and though the day was short on hard news, we did have the opportunity to ask Braxton Miller, Jack Mewhort and Christian Bryant a few of the questions you submitted.
Although we didn't have a chance to get to all of the top-rated questions, we'll have another session tomorrow morning, so, stay tuned.
First up, is safety Christian Bryant and his thoughts on the new targeting rule – which carries an automatic suspension. Bryant indicated that he did not believe a play should result in an ejection if it is not intentional, but followed by saying, "It's not my rule, but I will be abiding by the rules this year."
We had the chance to ask quarterback Braxton Miller about his goals and expectations for this season. When asked specifically about his goals, he hit it out of the park: "To just be the leader I am, the leader of this team, and hoping to get two more wins after the 12-0 we had last year.
We asked tackle Jack Mewhort about the biggest eater on the line. "I don't want to say me, that's embarassing," Mewhort said, before going on to single out guards Andrew Norwell and Marcus Hall. "Those guys can eat. I think it would be a competition between those two."
Later on, we asked Bryant who the team's best trash-talkers were. He paused for a moment to reflect and then said, "On defense, I would just say me and Roby. But, on the offensive side, it's Philly [Brown]. Philly gets after it."
Bryant also pointed out that the team took a hit in the talking department with the departure of several players, including defensive tackle Johnathan Hankins.
Gardner Backtracks
Remember when Michigan quarterback Devin Gardner told a Detroit radio station that the Wolverines would beat Ohio State this year? Gardner said Michigan was "a championship-caliber football team that will win in the 'Big House' against Ohio State."
In Chicago today, Gardner softened his stance:
"I never said the word guarantee or promise. The media's going to make a story at a time like that where there's nothing going on but baseball. They're going to make a story where they see fit. I'm not going to retract my statement. I never said promise and I never said guarantee. I said we're going to work hard and we're going to do our best, and I do believe we're going to win the game. That's not arrogant. I'm confident in my football team, and if that's not OK with the media, I don't know what to tell you. That's me being me. I'm confident in my football team, and they're confident in me."
Andersen Praises Meyer
New Wisconsin coach Gary Andersen was everything Bret Bielema is not, namely charming, eloquent and thoughtful. Andersen, if you weren't aware, served as Urban Meyer's defensive line coach at Utah in 2004 and he was asked about his relationship with Meyer.
Q. You coached with Urban Meyer for a year at Utah. I was wondering if you could describe your relationship with him and any influence he's had on you if any?

COACH ANDERSEN: Very good. You know, Coach has been very good to me. I have a lot of respect for him, the way he carries himself. We had a great run.

I tell people all the time when they ask me about Urban Meyer, my first thing is it was great for me. We were 12-0 and won a BCS Bowl, so there wasn't a lot of confrontational times in that situation for us.

But very good friend. Somebody I reach out to when I have questions about things. I think there's very much a mutual respect there. And look forward to seeing him this morning and hopefully we'll be able to spend a little time as we go through. It's great to compete against your friends.

That's going to be a big game. It's way down the road at this point, and we're excited about the opportunity to compete. But he's a good person, good family man, and somebody I have great respect for.
You stay classy, Mr. Andersen. Meanwhile, we'll be busy recalibrating all of our hateful Badger thoughts.
​Today in Weird
Today's weirdest question, by far, directed to Michigan coach Brady Hoke, who, to his credit, handled it gracefully.
Q. How has the situation in Detroit, the bankruptcy, the economic, affected your program and how your personnel that are from the Detroit area?

COACH HOKE: Sure. I think that, you know, everything's a little different for every kid. Every individual, every family. It's a little bit of a different path they all have taken.

Obviously we're pulling for Detroit. We're pulling for the city and the state to get together or the federal government, because it's a great town. It's a great city. For our kids, I think every situation is different, but I think all our kids, you know, maybe they haven't thought in detail enough about it. But it's all been positive.
Come forward and name yourself, weird question-asking reporter.
Speaking of Brady Hoke and class, it's becoming harder and harder to dislike this guy.
Q. What were your thoughts when you initially heard Michigan being compared to cancer, and what was the reaction from Grant Reid when you called him and offered him tickets to the game?

COACH HOKE: Well, number one reaction is we were glad. We were excited for that young man. And being a father, our children are so important and you try and put yourself through what that family has gone through.

So him beating Michigan in this context, we were all for it. But it's just something -- I'll be honest with you, it was something that we had talked about, Justin Dickens (Michigan Sports Information Director) and myself, because our kids do an awful lot in Mott Hospital, C.S. Mott. And our daughter was five months in the hospital when she was born, and so you just imagine what that family was going through.

And I spoke to Grant a little bit. He's doing well. He was excited.
Please, start saying boorish things again, Brady.
2013 B1G Media Days
Big Ten Football Watch List
The Big Ten announced its third annual football Players to Watch list today, naming 10 players – five from each division – and Buckeyes dominated the Leaders side.
Braxton Miller was a unanimous selection, making the list at quarterback, while cornerback Bradley Roby and linebacker Ryan Shazier joined him.
Joining the three Buckeyes are Penn State wide receiver Allen Robinson and Wisconsin linebacker Chris Borland. Named to the Players to Watch list on the Legends side are Michigan quarterback Devin Gardner and tackle Taylor Lewan, Michigan State linebacker Max Bullough, Nebraska quarterback Taylor Martinez and Northwestern running back Venric Mark.