Welcome back to the fourth part of our summer series introducing some of the top players in the 2015 recruiting class.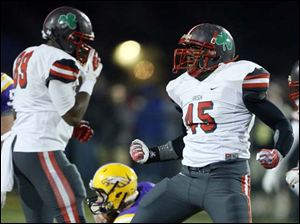 Last week we caught up with Cleveland (OH) St. Benedictine athlete Jerome Baker who is regarded as one of the top players in Ohio's 2015 class. He already holds an offer from the Scarlet and Gray.
This week we're staying in the state of Ohio again, chatting with a very talented player who has flown way under the radar in the recruiting process: Toledo Central Catholic linebacker Chris Green.
Despite being ranked the 124th-best prospect in his class and the number seven overall player in the state of Ohio according to the 24/7 composite rankings, Green has yet to pick up any major offers.
The talented inside linebacker totaled 96 tackles to go along with five sacks and two forced fumbles in his breakout season for the Toledo Central Catholic Fighting Irish. He also helped lead his team to a state championship.
Only two schools have offered him to this point, but he's hearing from a lot of college football's top schools.
"I currently have offers from Toledo and Bowling Green," he said. "I am also getting looks from Michigan, Michigan State, Arkansas, Tennessee, Ohio State, Northwestern, and Eastern Michigan."
Green camped at Michigan and Ohio State this summer and had very good experiences at both of the camps.
"I camped at Michigan in June. It was a lot of fun. Their coaches were great and I felt I learned a lot from them," he said. "They were talking to me a lot. I was kind of surprised they all knew me. They told me they really like the way I played."
His experience at the Ohio State camp was very similar to his experience at Michigan's camp.
"The Ohio State camp was a lot of fun too. I got to talk to coach Fickell for a little while. He was also instructing me at the camp," Green told Eleven Warriors. "He was at my championship game last fall so we talked about that too."
The standout linebacker, who hails from the same high school as Buckeye freshmen safety Jayme Thompson, hasn't had too much contact with the Buckeyes just yet, but that could definitely change as the recruiting process is just getting started for most of the recruits in the 2015 class.
"I haven't talked to them too much just yet," Green continued. "Coach Withers did come to my school right before the state championship game though."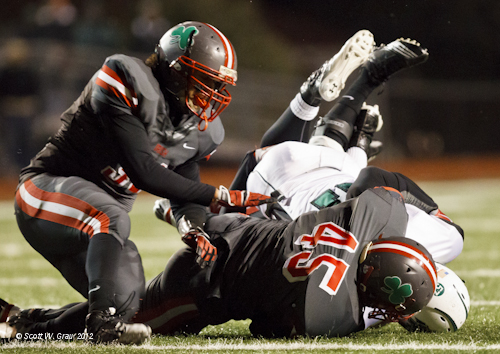 While Green hasn't had extensive contact with the Buckeyes or Wolverines, he would love to get an offer from either or both schools.
"If got an offer from one of those schools it would be amazing. They are a couple of the top programs in college football and are very close to home."
The 6-0/225 linebacker grew up rooting for the Buckeyes, but likes both of the schools a lot.
"I grew up as a Buckeye fan, I like them a lot. Michigan is also a really good school," he said. "To get a offer from just one of them would be awesome. If both offered me it would be a long, hard thought decision making process."
If the Buckeyes and/or Michigan offered, they would likely move to the very top of Green's list.
"Yeah if they offered me, they would probably move to the top of my list of schools," Green said.
In a day where many recruits want to get their college decision out of the way sooner, rather than later, Green has a different line of thinking.
"I don't want to make my decision too early," Green told Eleven Warriors. "A lot of guys decide too early, then end up de-committing. I don't want to be one of those guys which is why I'll probably make a late decision."
When he sits down to make a decision, his future role on the schools he considers will be his biggest factor.
"The biggest factor will be my future role on the defense," he continued. "How early will I be able to get on the field? Does the coaching staff specialize in coaching linebackers? Things like that will be important."
Last season was Green's first playing linebacker, but that didn't stop him from having a breakout season for the Fighting Irish.
"Last season was my first playing linebacker. I did a lot better than I thought I would," he said. "I have great coaches. They taught me what I needed to know and I adapted as the season progressed. Then in the state championship game it all came together. I had a few big plays that helped my team win the championship."
It's unlikely Green will take anymore visits this summer. He's focusing on the upcoming football season for Toledo Central Catholic and defending their state title.
"My goal for next year is to be more of an impact player for our team after a lot of impact seniors left," he continued. "Of course I want to win another state title too. I think we have the potential to accomplish that goal."