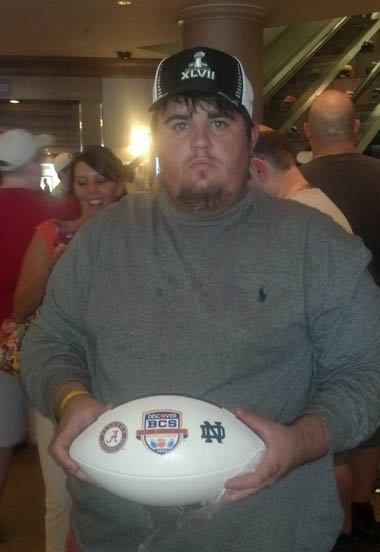 Thursday was Alabama day at SEC media days, which means hundreds thousands (?) of Crimson Tide football fans showed up at the Hyatt Regency in the Birmingham suburb of Hoover to show their support for Nick Saban, A.J. McCarron and other dignitaries from college football's reigning juggernaut.
One fan paid homage with a $300 national championship ring hat. Others preferred to express their appreciation with analogies. Like Lee from Decatur:
"He's a winner, he just does what he wants to do," says Lee Allen, an Alabama fan from Decatur. "He's kind of like Hitler. He's a dictator. He brought us back to the top and I figure we're going to be here for a while. Money well spent."

Wait, what? Hitler? You mean that as a compliment? "Yeah," Allen says in between discreetly spitting tobacco juice into a water bottle in the lobby.

Allen, a college student, arrived in Hoover on Sunday with his RV, even though SEC Media Days didn't begin until Tuesday. "I had nothing else planned this week," he says.
#ROLLTIDE